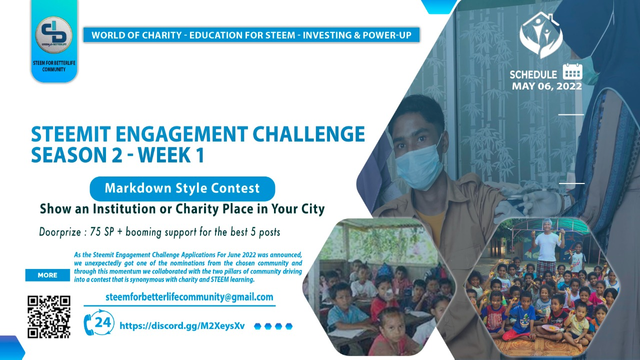 The Charity For The World, Education For Steem, Investing and Power-Up are the main pillars of STEEM FOR BETTERLIFE Community in realizing the vision and mission of the community. We consistently hold contests initiated by admins, moderators and volunteers with various themes.
As the Steemit Engagement Challenge Applications For June 2022 was announced, we unexpectedly got one of the nominations from the chosen community and through this momentum we collaborated with the two pillars of community driving into a contest that is synonymous with charity and STEEM learning.
The first topic that we bring up in the Steemit Engagement Challenge Session 2 was "Markdown Style Contest: Show an Institution or Charity Place in Your City". In this contest you can choose any institution or charity in your city, for example, a free education center, a free medical center, a free training center, a nursing home, an orphanage, a humanitarian service center, a child counseling center, a women's counseling center, community economic empowerment, or other charities you find interesting.
Every post content has the opportunity to get support from the World Smile Project, such as support for relevant program activities with budget availability and feasibility evaluation by World Smile Project Int Management or the formation of a World Smile Project Representative in the country in question based on their loyalty and integrity assessment of Charity activities.
Must be posted in the STEEM FOR BETTERLIFE community - (Mandatory)
Plagiarism is strictly prohibited (which mean, the content must be exclusive and original with the #steemexclusive tag) - (Mandatory)
All relevant languages ​​are allowed
Show the original condition of the building and if possible also show details from each side of the institution or charity place such as about the condition of the beneficiaries and with service providers in that place - (Mandatory)
Use a maximum of 8 original photos and one of them must take a selfie with the background of the charity place (don't use sourced photos) - (Mandatory)
The story about the institution or charity that you visit is as complete as possible, both from the condition of the building and the condition of the beneficiaries by including various accurate information from them with a minimum of 300 words - (Mandatory)
Use Post Title Steemit Engagement Challenge Season2 #week1 | Markdown Style Contest: Show an Institution or Charity Place in Your City - Name of Institution or Place of charity (Mandatory)
You must use the tag #markdownstyle, #contest #yourcountry (ex : #indonesia ) and #steemexclusive try among your first 4 tags - (Mandatory)
Participants may not use any auto-vote services - (Mandatory)
Include a map of what3words.com as the location for the orphanage - (Mandatory)
Support #worldsmileproject (@worldsmile) or to Steem Better Life Offcial community account (@steembetterlife) will be concidered, but Not Mandatory
Paste your post link in this post to make searching easier - (Mandatory)
Upvote and resteem this post - (Mandatory)
| Description | Information | Score |
| --- | --- | --- |
| Steemexlusive | ✅ or ❌ | 10% |
| Plagiarism Free | ✅ or ❌ | 10% |
| Bot Free | ✅ or ❌ | 10% |
| Status Club | ✅ or ❌ | 15% |
| Markdown Style | ✅ or ❌ | 25% |
| Location / Map | ✅ or ❌ | 10% |
| Support WSP / Community | ✅ or ❌ | 20% |
| Total Score | | 100% |
Steemexlusive, Free Plagiarism, Bot Free and Club Status are the rules that must be followed, otherwise you are automatically disqualified
75 SP + Booming Support For The Best 5 Posts
We do not guarantee that every participant will be supported by steemcurator01 or steemcurator02
The more you use the markdown type and explain it, the greater of your chances to win the grand prize and the more you edit the post, the less chance you will get.
The jury's decision is irrevocable
Conclusion and Expectations of the Contest
Every steemian can make interesting posts using the various types of markdowns available on the steemit platform. And steemian will be able to display an institution or charity that will serve as a guideline and consideration for the World Smile Project Int team to develop assistance to one of these if possible.
Signed STEEM FOR BETTERLIFE Community Team
Thank You