Dear Steem For Better Life Member
Follow up the message from the steemit team in this case @steemcurator01 wrote a comment 2 days ago here
If @steem.education is the community account post community reports etc on that account. Although the name of that is confusing when the community is called Steem for Better Life. Maybe start a new community account and have a big push for building up Steem Power.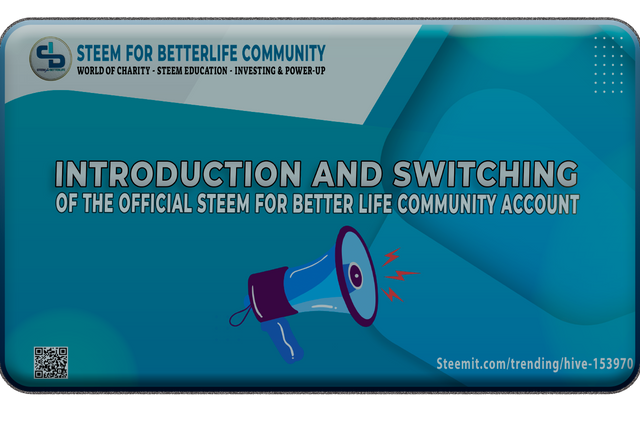 image @irawandedy
We Community team registered a new official account Steem For Better Life community
Community official account background
Since the birth of the Steem For Better Life community, from the collaboration between the Steem Education community (Now Steem For Better Life) and the Better Life Community. The @steem.education account as the official Steem Education community account is used to curate posts on the Steem For Better Life community and make a community account to provide information to community members
Community official account switching
Currently Steem For Better Life is launching a new account @steembetterlife as the official Community account to provide curation on Steem For Better Life Community posts and provide important information in the form of announcements for all steemian.
All Steem Power @steem.education and other assets are transferred to the @steembetterlife account by way of delegation. Delegators are expected to withdraw Steem Power delegates on the @steem.education account because the account has been officially closed. then the delegator can re-delegate Steem Power to the @steembetterlife account.
This community account switch will implement several rule changes such as reward distribution and curation using the
@steembetterlife
account
1. Reward Distribution
Steem For Better Life implements profit sharing with the delegator, but extends the duration in the span of one month. The distribution of 30% reward from post @steem betterlife account is done at the beginning of every month, and 70% reward from post to Power Up the account @steembetterlife to increase account strength.
2. Curation
@steembeteerlife will give seats to the Delegator with a percentage that is adjusted to the amount of steem power delegated and members of the Steem For Better life community.
The introduction of the new official Steem For Better life community account in the hope that Steem For Betterlife will become an independent community in the future
CC : @steemcurator01
Admin @el-nailul @Irawandedy @miftahuddin
Mod @klen.civil @sofian88 @liasteem @mariana4ve

Best Regards

Steem For Better life Team

Posted by @heriadi