In accordance with what has been published by our brother @ubongudofot regarding the fire disaster that occurred in Nwanaiba, Uyo in Nigeria, resulting in an electricity crisis in several parts of Nigeria, the power outage due to the fire incident affected a large part of the population there and according to our information According to the current leadership of WSP Nigeria, the power outage will last for a very long time, thus requiring other alternatives to deal with the case.
From the results of the discussion of the World Smile Project Int Team through the WhatsApp group media with the leader of WSP Nigeria @ubongudofot. For the handling that will be carried out is Solar Installation with a capacity of 1000 Watt, therefore the World Smile Project Int Team decided to support the 1000 Watt Solar Installation project in Nwanaiba, Uyo in Nigeria.
I as part of the World Smile Project Int Team will support this project by setting up a part of the payout to the @smilenigeria charity account to accelerate the collection of the funds needed for the project, as we know from the publication of the official @smilenigeria account that the budget needed for the project This is very large, so it requires the support of all of us to be implemented immediately.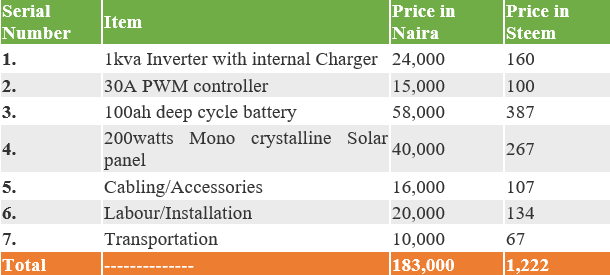 BoQ / Estimated budget for 1000 Watt Solar Installation Project
In addition, we also invite all donors and steemit users to be generous in supporting our brothers and sisters who are affected by the electricity crisis in Nwanaiba, Uyo - Nigeria, considering that the beneficiaries of this solar installation also include our brother @ubongudofot and several other steemian Their Solar Installation Project can be active again on the steemit.com platform, because one of the main resources to be able to access the internet is an adequate electric current.
---
Links related to Solar installation project in Nwanaiba, Uyo in Nigeria
Location:
| Propose Location | No.130 Ekpri Nsukara Road |
| --- | --- |
| Potential Beneficiaries | 40 and Above Including Steemians Living Within |
| Plus Code : | Link |
| Map: | Link |
| What3word: | Link |
Cc: @steemcurator01 @steemcurator02 @el-nailul @pennsif @heriadi @miftahuddin @irawandedy @klen.civil @mariana4ve
Best Regard
No friendship is good, except for a conversation that never ends