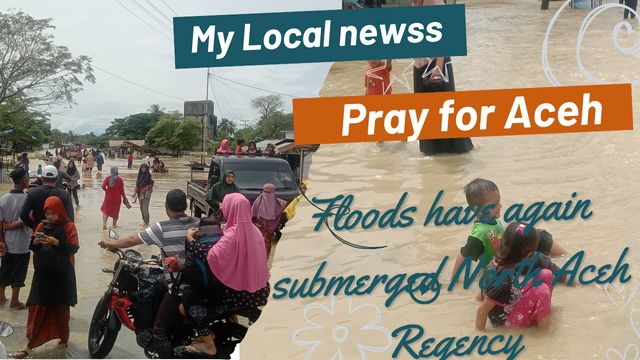 The last few days heavy rains have continued to lash the North Aceh Regency, a number of river embankments have been reported to have overflowed and several river embankments have collapsed, drowning thousands of houses in Cot Girek, Paya Bakong, Tanah Luas, Matang Kuli, Lhoksukon and several sub-districts. other sub-districts in the North Aceh Regency.
9 months ago I posted about the flood conditions in North Aceh Regency that drowned thousands of people's houses, and today I again witnessed firsthand in the same location, the overflow of water that continues to increase so that it requires residents to evacuate to highland areas that are difficult to reach. by the overflow of the river.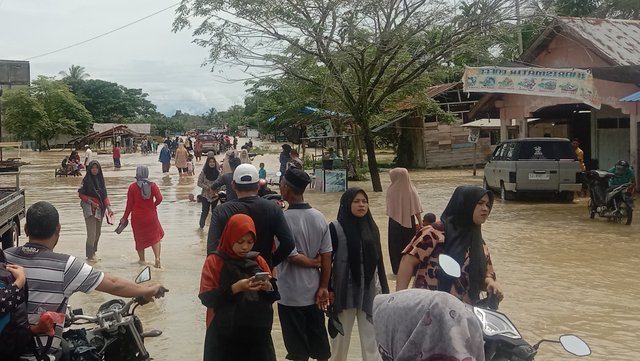 Currently access to the flooded area has been closed and only the evacuation team has been able to enter, the evacuation process continues to be carried out by residents with various efforts starting from this morning until now.
And now at 16.30 WIT the rain is falling again very heavily, the UMKG predicts the potential for flooding will increase and urges all residents in flood-prone areas to immediately vacate their places and evacuate.
It rains again very hard
We hope that our friend @alee75 is doing well there, and hopefully he can provide the latest information about the current flood, considering that @alee75 is a steemian who lives in the Matang Kuli sub-district. (Worst flood area)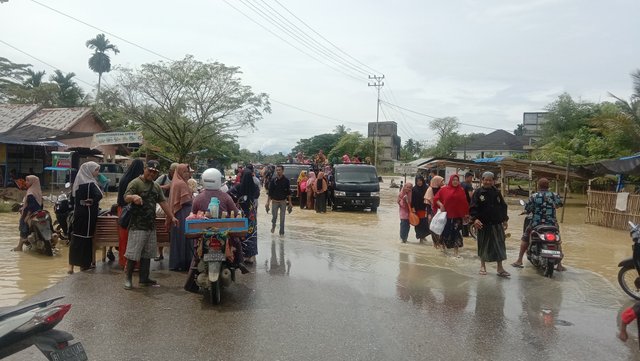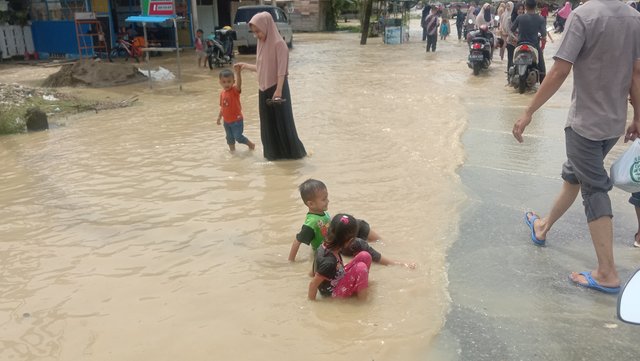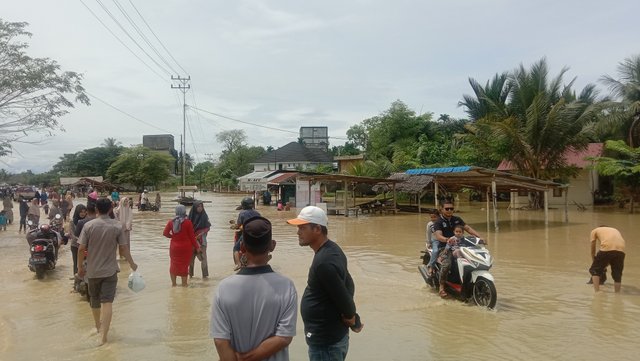 We hope that help can come soon to help evacuate the victims who are still trapped inside.
---
---
Indonesia
Beberap hari terakhir hujan deras terus mengguyur wilayah Kabupaten Aceh utara, sejumlah tanggul sungai di informasikan telah meluap dan ada beberap tanggul sungai yang jebol sehingga menenggelamkan ribuan rumah warga yang berada di Kecamatan Cot Girek, Paya Bakong, Tanah Luas, Matang Kuli, Lhoksukon dan beberpa kecamatan lainnya yang berada di wilayah Kabupaten Aceh Utara.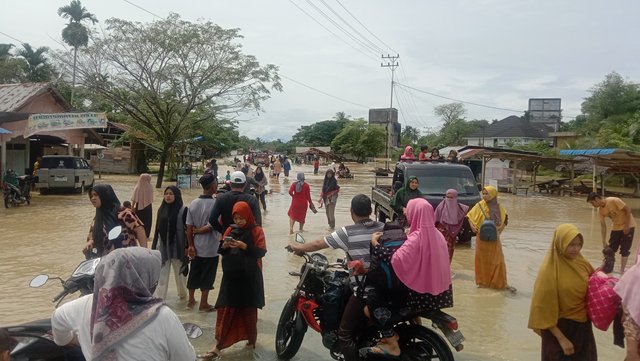 9 bulan yang lalu saya pernah memposting tentang kondisi banjir di Kabupaten Aceh Utara yang menenggelamkan ribuan rumah warga, dan hari ini saya kembali menyaksikan secara langsung di lokasi yang sama, luapan air yang terus meningkat sehingga mengharuskan warga untuk mengungsi ke daerah dataran tinggi yang sulit dijangkau oleh luapan air sungai tersebut.
Saat ini akses untuk menuju ke daerah banjir telah di tutup dan hanya tim evakuasi yang diperoleh masuk, proses evakuasi terus dilakukan warga dengan berbagai upaya mulai dari sejak tadi pagi hingga saat ini.
Dan sekarang pukul 16.30 Wib hujan kembali turun dengan sangat deras, pihak UMKG memprediksikan pontensi banjir akan semakin meningkat dan menghimbau seluruh warga yang berada di daerah rawan banjir untuk segera mengkosongkan tempat dan melakukan evakuasi.
Hujan kembali turun dengan sangat deras
Kita berharap kawan kita @alee75 baik-baik saja disana, dan semoga beliau dapat memberikan informasi terbaru mengenai banjir saat ini, mengingat @alee75 merupakan salah satu steemian yang berdomisili di kecamatan Matang Kuli. (Kawasan banjir terparah)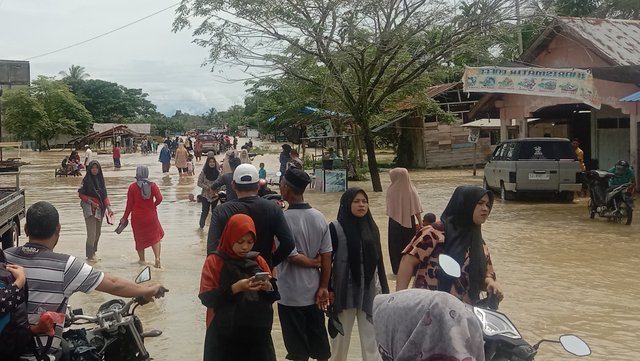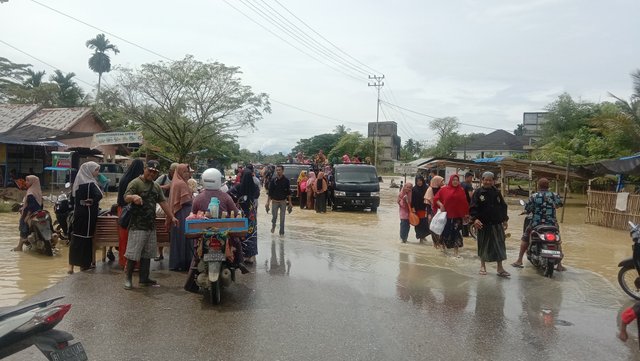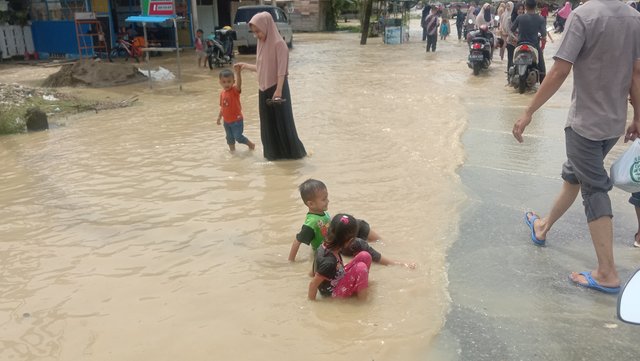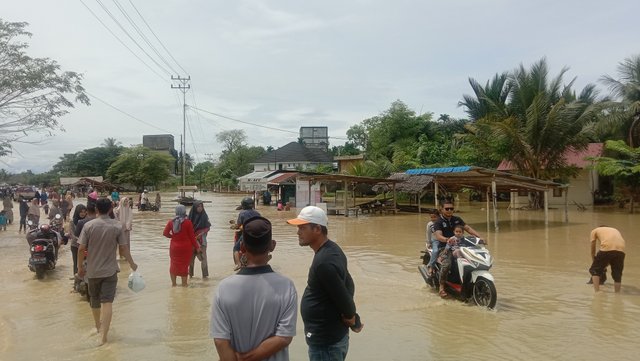 Kita berharap bantuan dapat segera datang untuk membantu melakukan evakuasi para korban yang masih terjebak di dalam.
Note : 50% Rewards donated to charity account