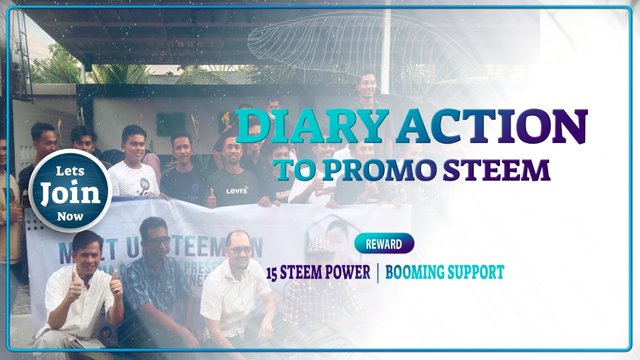 There are many stories that we can share every day and now there are many activities that we can do, and there are many good things that we can do every day and even many places to promote Steem on this platform, and all of them require real action to support all the concepts we plan.
Due to some of the reasons above, we need real action that brings trust and confidence to ourselves and can convince others on this platform, just as many people believe in other social media platforms like Facebook, Twitter, Instagram, Tik-Tok, etc. So with that condition all this Contest is here adopted from the vision and mission of STEEM FOR BETTERLIFE in an effort to increase user activity in the STEEM FOR BETTERLIFE Community. Now we wrap this vision and mission in the form of Diary Action to promote the Steem.
Diary Action to promote the Steem is a way used by participants to tell all activities about steem investment, promo-steem, cryptocurrency, and Steem power ups by combining them through daily stories.
You can tell about your daily life about the Diary game as you usually publish, but about this Diary Action you tell about how you promote Steem or steemit with the simplest things starting with printing a logo, for example, or a banner, then sharing it.
You can also tell about your meeting with the steemian, such as the Meet Up event which was held a few days ago in Indonesia MEET UP with Country Representative, Curator and Steemian Indonesia
You can also tell your daily life about how you promote Steem through your daily work, or
You tell daily stories about how you invite friends, family, or relatives to join the Steemit platform and this community.
You can tell your daily life about how you learn cryptocurrency and use it in your daily life, (buy products with Steem, SBD, TRX or other cryptocurrencies).
Make you have fun with daily activities by promoting steem and make steem a part of your life.
Subscribe to the STEEM FOR BETTERLIFE Community
Sharing Rewards from 25% post results for @worldsmile accounts
Participants can use any language they want.
Original or exclusive content and open to the public.
Post in the STEEM FOR BETTERLIFE Community.
Unlimited creativity, make writing as interesting as possible.
Use post title Diary Action to promote the Steem, + 'title of your entry'.....
Use the tag #diaryaction #promo-steem #club that suits you right now #yourcountry in the first four tags
Plagiarism is prohibited. Participants who commit plagiarism will be immediately disqualified
Use at least 250 words (use photo with source if not original file)
Put your post link in the comments field below.
Resteem this post so that many other users see it
Invite three of your friends to join.
If any of the above rules are not met, you will not be eligible to win the contest.
Posts that have been edited will reduce the value
The best 3 contestants will each get 5 Steem Power and Booming Support.
This entry is valid from May 21 to May 26, 2022
All entries will be judged by the STEEM FOR BETTERLIFE Community Team
The jury's decision is final and irrevocable
My thanks to the Steemit Team and the STEEM FOR BETTERLIFE Community and also to all users.
Signed, Contest Organizer
@sofian88
Thank you for your attention, and thanks to;
@pennsif
@worldsmile
@disconnect
---
Best Regard
No friendship is good, except for a conversation that never ends