Hello guys today I decided to start a local business review, I'll be touring around the street of Lagos I hope you enjoy the review.
Today 13th of May, 2022, I'll be reviewing Mallam ISSA Mini Jewelries stall, In terms of beauty, he sells everything you need in regards of cosmetics. Mallam ISSA's stall is located on Old Otta Road, Lagos Abeokuta Expressway, Nigeria, which is a very advantageous location. Because this store is visible from the road, all pedestrians to the Ile Epo market usually purchase the majority of their cosmetics from Mallam ISSA. In this article, I'll provide a list of a few of the products available in Mallam ISSA Jewelries' stand, as well as their prices.
---
About Mallam ISSA
---
I had the opportunity to interview Mallam ISSA, who is from Kano in northern Nigeria. He was born and raised in Kano before moving to Lagos to work and support his family. He ships his goods from Kano State in the north and sells them in Lagos.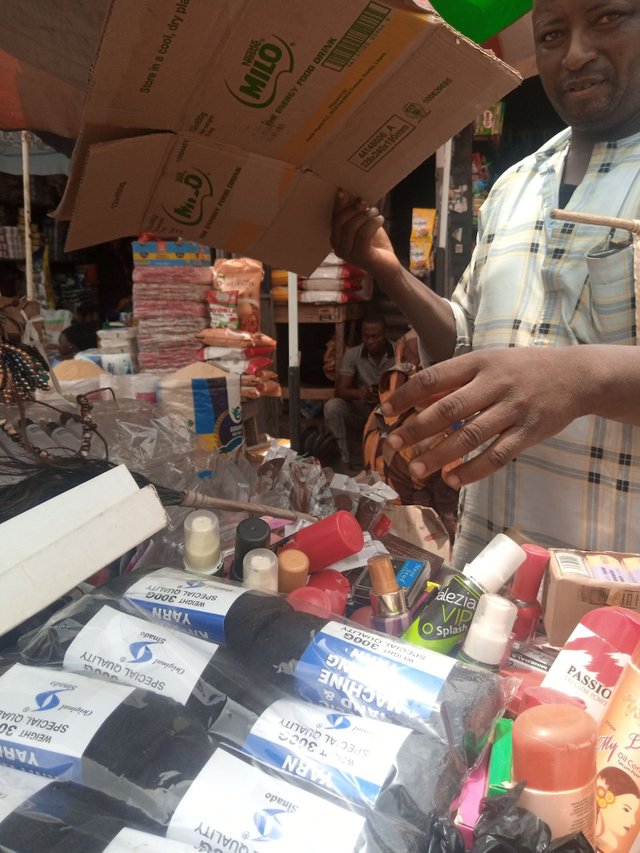 We briefly discussed how insurgency and terrorism in the north have impacted his business and profits.
He is no longer able to live in his hometown, but he still sends money and prays for his elderly parents.
He can't afford to move everyone down here because that would mean they'd lose their inheritance and homes in Kano.
---
Products In Malam ISSA Mini Stall
---
Mallam ISSA, as previously stated, sells all types of cosmetics, including women's earrings, customized and standard bracelets, Brazilian wools, hair buns, powder, perfume, body and hair cream/lotion and so on.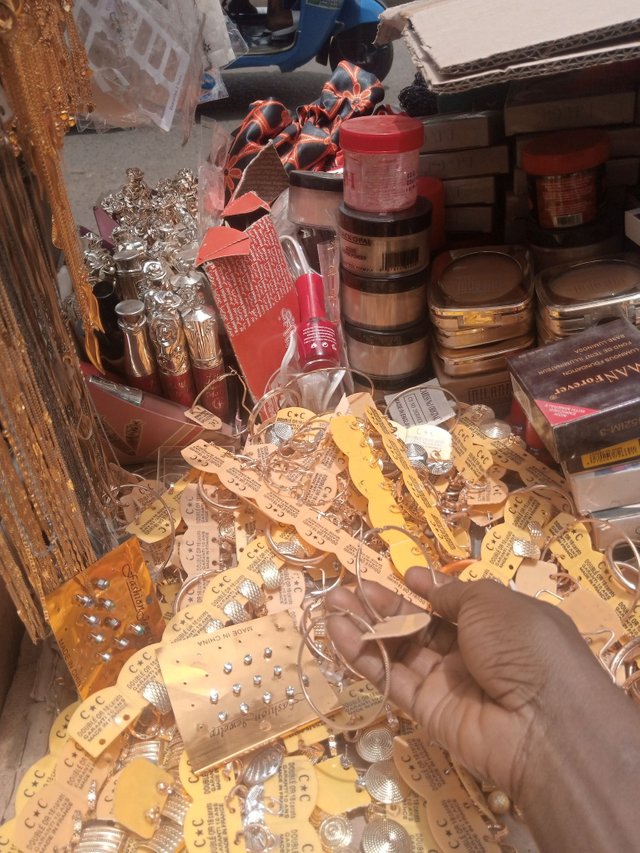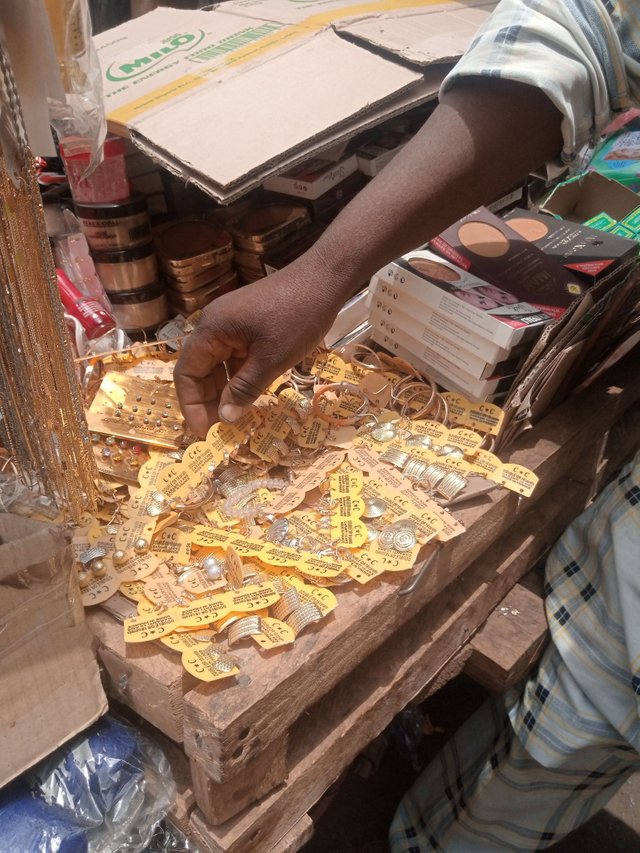 There are many various sizes and designs of earrings and bracelets in this category. On the table, everything is on display. The earrings and bracelet cost between N200 and N1500, or 0.9 and 6 STEEM, respectively (at the current price of STEEM).
Brazilian Wool & Hair Bun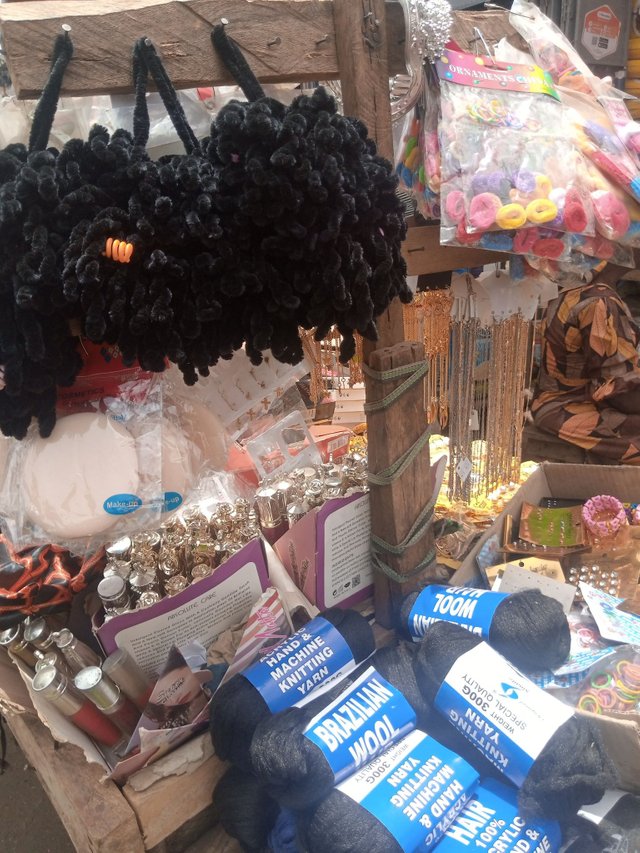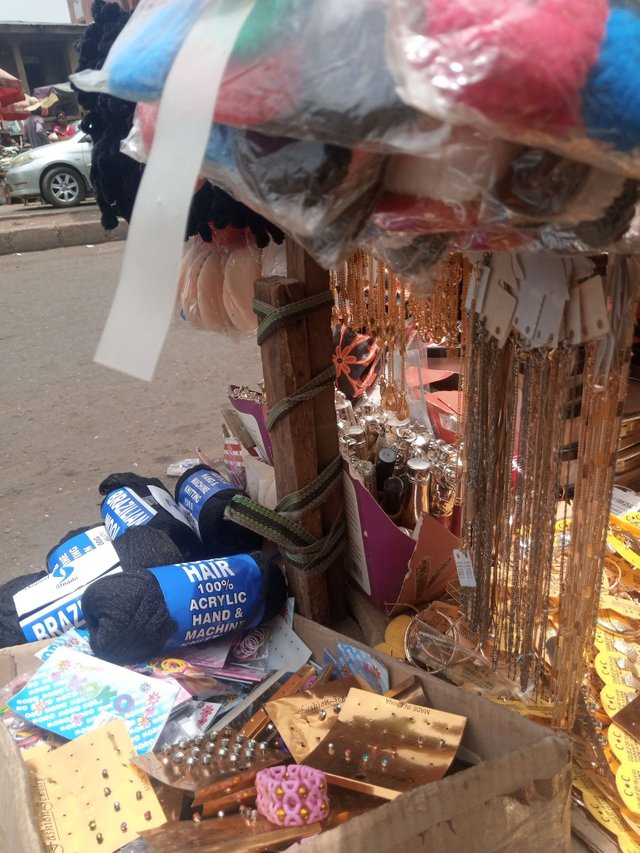 Brazilian wools and hair buns available in a variety of colors, and the hair buns come in a variety of designs, which determine the price. Brazilian Wool, on the other hand, has a fixed price of N500 (2 STEEM) regardless of color. According to Malam ISSA, the cheapest hair buns cost N1000 (4 STEEM) and the price varies based on the design.
---
Conclusion
---
Mallam ISSA has truly distinguished himself from other traders in Ile Epo; his grin and customer-focused approach have helped him set a new benchmark; despite the problems in his hometown, he remains committed to working and providing a good livelihood for his family. He's a hard worker who gives outstanding customer service. Hopefully, Nigeria will experience more peace, allowing his business and lifestyle to develop.
But for the time being, this is his mini stall in the market, with all of his goods and items displayed on a table that he can easily maneuver.