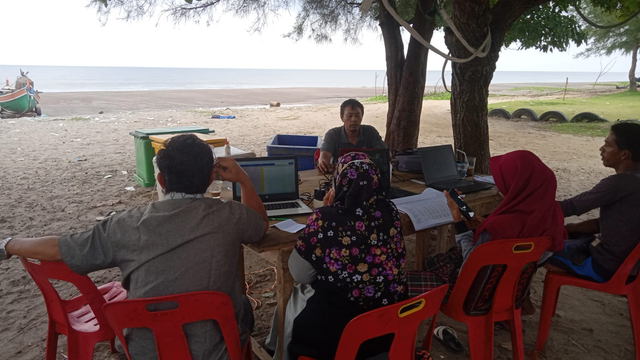 The beginning of the year was busy with meetings with related parties. One of them, our field assistant team, must meet with experts based in the district capital for the smooth running of all teams in the field in understanding all regulations regarding central government policies.
In this meeting, 27 sub-district coordinators were present in each sub-district. There we shared an understanding of the provisions regulated in the latest regulations regarding budget submissions made by the village. So it is necessary to revamp the regulations together with experts in their respective fields.
This meeting took a long time because there were many things that had to be discussed together to be forwarded to the team in the field so that the planning process carried out could be carried out more optimally without anyone misunderstanding the existing provisions.
As long as the pandemic still doesn't go away, it will be difficult for the village to complete all planning processes, because the regulations that will come out will also have changes in accordance with current natural conditions. All need good cooperation so that the policies of the government can be felt by all levels of society.
One of the policies taken is the distribution of cash assistance to the extreme poor who have not been touched by aid so far. The elderly single family who still live in huts. Also to people who have lost their livelihoods during the pandemic.
So far, there has been a lot of unemployment among young people in the village, they don't have adequate jobs to be able to continue a perfect life, so they need help from the government to create jobs.
One of the mainstay activities is the village cash labor-intensive which was initiated by the ministry to be carried out in every village so that the lower levels of society can have jobs to cover their daily needs. In this case, the village must allocate wages in excess of 50%. so that all those who are unemployed get good results and can increase high community participation.
𝐬𝐮𝐜𝐜𝐞𝐬𝐬 𝐰𝐢𝐥𝐥 𝐛𝐞 𝐨𝐛𝐭𝐚𝐢𝐧𝐞𝐝 𝐛𝐲 𝐚 𝐭𝐫𝐮𝐞 𝐩𝐞𝐫𝐬𝐨𝐧
Cc : @pennsif @steemcurator01