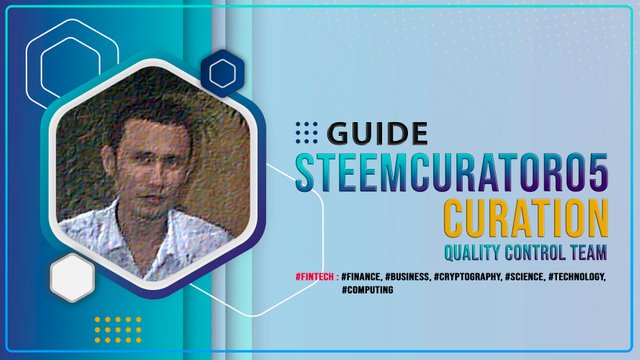 This is my 5th month curation journey as part of the Quality Control team, however, as in the previous curation period, I, who was part of the "Quality Control" Curation Team, was again entrusted being part of the team, thank you I say to steemitblog who has given us the opportunity and trust again in providing curation @steemcurator05. Today's journey is certainly thanks to the integrity of the Team who continues to work with high dedication.
The "Quality Control" team composed of great individuals, has demonstrated integrity and commitment and worked professionally in providing curation with relevant themes. The Finance & Technology theme : finance, business, crypto, science, technology, computing is a theme that has plagiarism vulnerabilities so the team must work extra to check each content publication carefully.
In previous curation periods since I joined the Team, I admit that as part of the Team I had a lot of difficulty finding content to curate, this did not escape how the contestants understood the use of tagging according to the theme. I had to go through a lot of content for a few reasons:
Identified plagiarism
Content not relevant to the Theme
Not belonging to one club, either club100, club75 or club5050.
Using Upvote Bot services
Have received 3x support over a 7 day period

using tagging that is irrelevant to the content so that the content is simply skipped:

Checking for Plagiarism
Plagiarism is the initial foundation for users when actively steemit, this is in accordance with the guidelines in the Newcomers community to complete Achievement 3 on Plagiarism. The point is that plagiarism is a prohibited activity and I consistently check it using 2 plagiarism detection websites:
I also read one by one the posts that were suspected of plagiarism by doing a manual search, because I had found content that circumvented the article by using a text scrambler application so that it was not read by the system. We also found content that quoted content from youtube, then converted it into text either manually or using special applications such as Convert Voice to Text, or other similar applications. This is prohibited because it is a form of plagiarism.
Through this publication, I hope that users will continue to actively produce quality content according to their capacity so that they have maximum curation potential. And in accordance with the provisions released previously, per week each user is only allowed to get a maximum of 3 curations. And the Team is trying to distribute the votes evenly to other users.
Note: This article is published based on references from Finance And Technology | Quality Control team Guidelines and Reexplanation
Best Regards,
@irawandedy
Cc: @kouba01 , @ozenozge, @pelon53 , @fredquantum , @steemdoctor1 , @chiabertrand, @steemcurator01