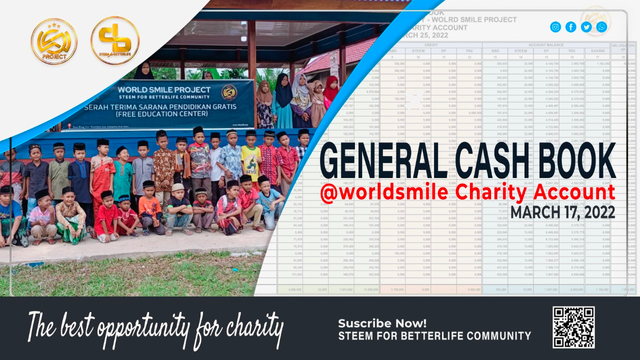 World Smile Project Contributors...!
As a form of transparency and accountability for the income and expenditure of the @worldsmile account which is part of the World Smile Project, as a World Smile Project Manager I continue to publish weekly cash flow reports. In principle, public disclosure management is an important indicator in running the World Smile Project Program so that it continues to receive support from users.
We thank you for the support that has been given by members, moderators and admins who totally and loyally support every activity that has been carried out through share rewards. We will not be able to continue with world-based charity work if you stop providing support.
Through this regular cash flow publication, we hope that share reward activities will continue to receive support on a regular basis every day because through our hands, all the dreams of the world community can be realized according to their essential needs and in accordance with the budget capabilities of the community concentrated on the World Smile Project.
The current income from the World Smile Project through a Charity account can be seen in the General Cashbook below.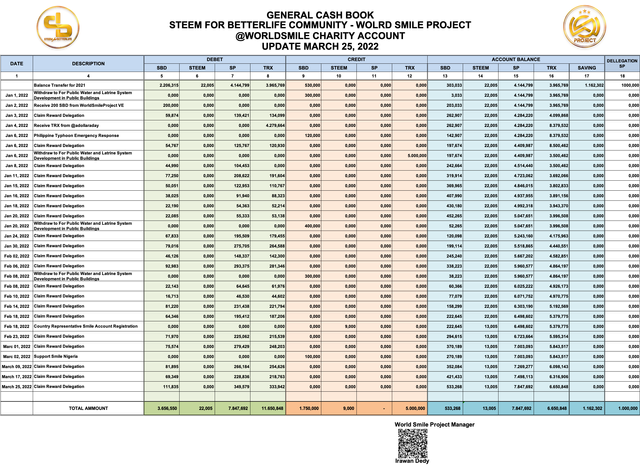 In the Cash Book above there are 4 main columns:
Debit: This column describes the overall account income before being allocated for the implementation of the Program, there is a line, The total amount that can be seen so far is 3,656.550 SBD as of March 25, 2022, continued on the left side of 22.005 STEEM, 7,847.692 SP, and 11,650.848 TRX.
Credit: This column describes the number of assets used, so far 1,650.000 SBD has been used in 4 program activities, including the development of a Free Education Center in North Aceh Regency, Aceh Province, and Early Childhood Education Assistance in North Aceh Regency, and January 20, 2022, Public Water and Latrine System Development in Public Buildings. This activity has been completed and today will be the handover of the Free Education Center. Disaster Response assistance for Philiphiness. And 9 Steem is used to register a Country Representative Charity account. In Early March 2022, we also made a transfer of 100 SBD to support Smile Nigeria
Account Balance: This section describes the current cash condition, meaning that the total income is reduced by the allocation of funds for the program. The general cash book above shows the cash position in the form of 533,268 SBD, 13.005 STEEM, 7,847.692 SP, and 6,650.848 TRX.
DELEGATION: We already have 1,000.000 SP Delegates by chriddi
The following is the cash position of the charity account in the form of a screenshot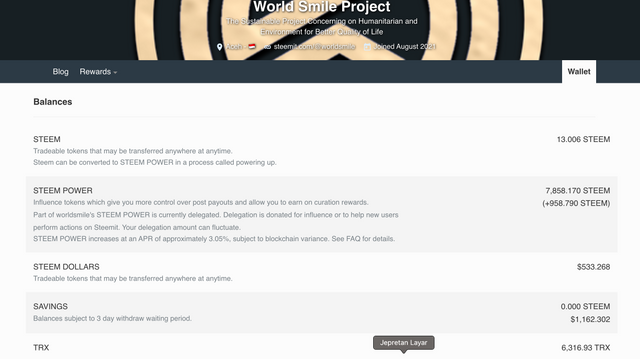 Ongoing Charity Program:
Currently there are no activities being carried out, but we have prepared a work plan for the implementation of the next activity and it will be realized this month.
Soon to realize other Programs as inaugural programs in Nigeria and Pakistan
SPREADING SMILES THROUGH @SMILEPAKISTAN || RATION BAG TO A WIDOW || #CLUB 100 || 10% TO @SMILEPAKISTAN
Provision of Garbage Disposal Sites for the community
Clean water supply, and Some other programs that are relevant to the budget.
Free Educational Facilities for Early Childhood
European War Victims Donations (In the Coordination Stage with the Responsible Person/Aid recipients and decided at the World Smile Project Meeting)
Thank you for the support of donors and the Steemit Team (@steemcurator01) so that we can respond to every important problem in the world step by step, we cannot do it alone without your intense support. For that, we continue to look forward to this support through sharing rewards and upvotes for the sustainability of the World Smile Project program in the future. Only with this can help them and substitute Promo-Steem in every Donation that is distributed. We believe that we will grow investors and users with an essential birth program that touches all aspects of the lives of the poor.
Cc: @el-nailul @pennsif @heriadi @miftahuddin @klen.civil @sofian88 @mariana4ve @bien