Dear Delegator...
In connection with the change to the new official account of the Steem For Better Life Community @steembetterlife, which we announced a few days ago in the following post : Introduction and Switching of the official Steem for Better Life community account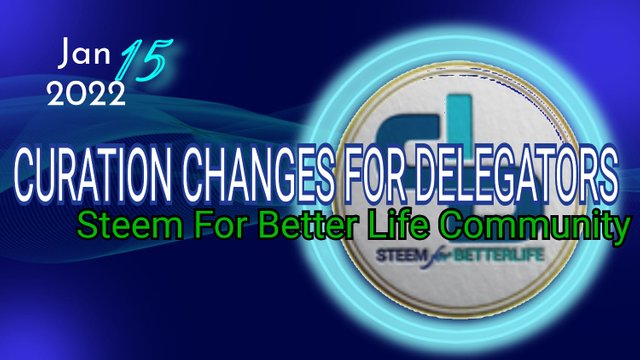 @steembetterlife will continue to provide curation (votes) to all delegates with a percentage adjusted to the amount of Steem Power (SP) delegated to the @steembetterlife account, the greater the Steem power (SP) delegated, the greater the percentage of curation given as an award has support Steem For Better Life community.
To increase active posters in the Steem Better Life community, Starting January 15, 2022 the curator of the Steem For Betterlife Community will curate all posts that have the label 'Member' and 'Delegator' on the Steem Betterlife Community page.
For Delegators who do not have Active Posts in the Steem For Betterlife community, they still get curation from the @steembetterlife account with a smaller percentage of votes compared to curating active posts in the For Betterlife community.
We hope that the cooperation of all parties can build the Steem For better life community in the future. Thus, we convey this announcement so that you can understand it, Thank you
---
---
Perubahan Kurasi Untuk Delegator @steembetterlife
Sehubungan pergantian akun resmi Komunitas Steem For Betterlife yang baru @steembetterlife, yang telah kami umumkan bebrapa hari yang lalu pada postingan berikut : Introduction and Switching of the official Steem for Better Life community account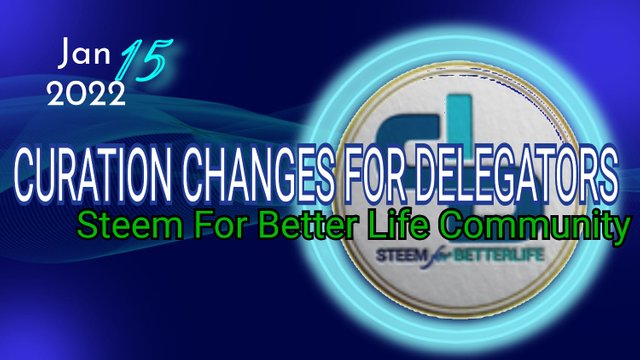 @steembetterlife tetap akan memberikan kurasi kepada semua delegator dengan persentase di sesuaikan dengan jumlah Steem Power (SP) yang di delegasikan ke akun @steembetterlife, semakin besar Steem power (SP) yang di delegasikan semakin besar pula persentase kurasi yang di berikan sebagai penghargaan karena telah mendukung komunitas Steem For Better Life.
Untuk meningkatkan aktif poster di komunitas Steem Better Life Mulai Tanggal 15 Januari 2022 kurator Komunitas Steem For Betterlife akan memberikan kurasi pada semua postingan yang memiliki label Member dan Delegator yang ada di laman Komunitas Steem betterlife.
Kepada Delegator yang tidak memiliki Postingan Aktif di komunitas Steem For Betterlife masih tetap mendapat kurasi dari Akun @steembetterlife dengan persentase suara lebih kecil di bangdingkan dengan kurasi postingan aktif di komunitas For Betterlife
Kami mengharapkan kerjasama semua pihak agar dapat membangun komunitas Steem For better life di masa yang akan datang. Demikian penggumuman ini kami sampaikan agar anda dapat memakluminya, terimakasih.
Cc: @steemcurator01 @pennsif @el-nailul @irawandedy @miftahuddin @klen.civil @sofian88 @mariana4ve @liasteem
Best regards