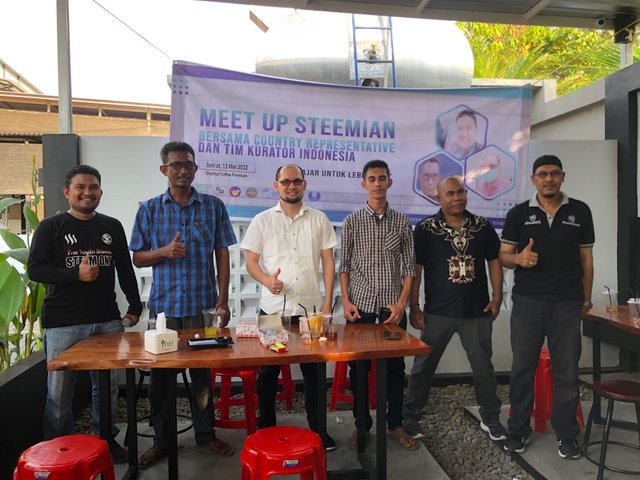 Hello, my dearest Steemians!
First of all, I want to apologize to you for a long time being inactive. This is not intentional for me, but my job request requires me to leave many things for a while — family, friends, and of course, my Steem world!
As you know, I miss many things during my abstinence from all of my friends in Steemit. I miss the time when reading all of your journals and diaries. It's a shame to pass the writings and beautiful works of Steemians from all over the world. I also want to return to gathering in forums full of ideas, both online and offline. Remember how it feels to hear and give ideas to other steemian fellows for the progress of the SFB community and the World Smile Project. So satisfying.
But don't you ever worry, because, in my spare time, I always take the time to monitor the development of the SFB and the World Smile Project community that we built together. Periodically I routinely monitor the struggle of two of my friends who are far to the eyes but close to the heart, @mariana4ve and @ubongudofot. These two figures have shown selfless hard work to all of us. In different parts of the world, they work the same hard.
I congratulate @ubongudofot on the success of the Solar Power Energy project that you have developed. I represent Steemians from Indonesia to apologize for not being able to attend the launch event later, given the distance and time that did not allow us to participate in the launch event. Hopefully the event will run smoothly. I also personally apologize for not being able to be directly involved in this project. But rest assured, my prayers and hopes always accompany your efforts.
And @mariana4ve, I want to wish you a happy birthday. I know it's too late, but isn't it better late than never LOL. Hopefully, you are always given strength by the Almighty to continue to do the best for those around you. What about the development of the #OKMontalban Center? It seems that everything goes according to plan, right? Your idea to realize the #OKMontalban Center is amazing and should be appreciated. It was great to see the Montalban children smiling happily. Tell my greetings to my little friends right there, okay!
Once again, congratulations on the success of the project that you still and have been running. For my other friends, keep the spirit of running everyday in the Steem world and your real world. See you soon!