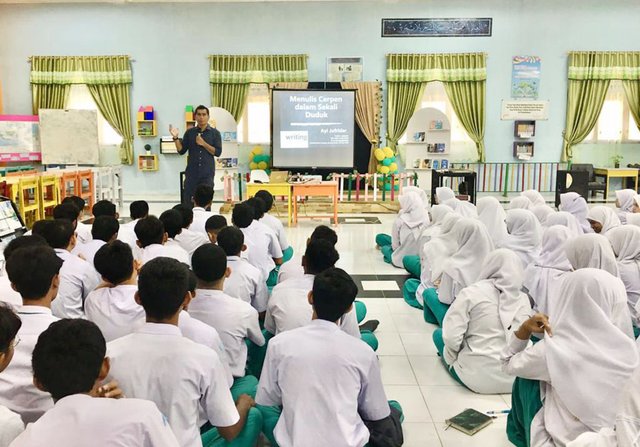 Saya berbagi tips menulis cerpen di Sekolah Sukma Bangsa Lhokseumawe.
---
Short stories or short stories are one of the most popular literary works and are often one of the stalks of art festival competitions, both for students and college students. It's no wonder that short story writing training and discussions are still being carried out until now. Not even a few short stories writing training quoted fees from the participants.
For Sukma Bangsa School, writing is an obligation for every student as one of the graduation standards. The director of the Sukma Bangsa Lhokseumawe School, Zubir, said that every student must have at least one work before graduating. To support these literacy activities and other activities, Sukma Bangsa School often invites guest teachers.
This time, SMA Sukma Bangsa Lhokseumawe invited a short story writer, lecturer, and journalist from Malikussaleh University, Ayi Jufridar, to share experiences as well as motivation for students. Not only theoretically, but in the meeting for more than two hours, the students of class XI science and social studies showed their work to be assessed for their strengths and weaknesses.
Ayi describes her experience and the experiences of other writers in writing short stories and other works of fiction. According to him, every writer has their own creative process which is not necessarily suitable for young writers to imitate. Young writers are expected to find their own creative process through their fidelity to the world of literacy.
"The way is to keep reading, writing, and discussing with friends and teachers," said Ayi Jufridar during the training which took place in the Sukma Bangsa School Library, Lhokseumawe, last Tuesday, September 20, 2022.
The idea of ​​writing short stories or other writings can be obtained from anywhere such as your own experience, the experiences of others, various references, spectacles, and even dreams. Every time ideas are milling around him, so all it takes is how to capture the idea and put it in written form.
"But what is more important than ideas is the willingness and ability to put them in writing. Many great ideas only stop as ideas when they don't create them in writing," continued Ayi.
The students of SMA Sukma Bangsa Lhokseumawe were very enthusiastic about discussing the creative process of writing. Danish Iqbal from Class XI Carl Ritter questioned the tips for packaging literary works if the ideas were too broad. Meanwhile, Nawar Gaddafi from class XI Dmitri Mendeleev asked about the genre of short stories that readers could accept. There was also a question from Nayla who is also from Class XI Dmitri Mendeleev about the use of non-standard language in the dialogue of short story characters.
Another question came from Defa Rizky Ghaisan from Class XI Nicola Tesla about tips on building characters in fiction writing to make them more alive. Meanwhile, Rifqi Alfin from Class XI Dmitri Mendeleev questioned the process of getting inspiration when the mind is stuck.
The students who were accompanied by two teachers Sri Yenda Sukma and Suci Aulia Zahman were required to write at least one short story in the next few months. It is planned that the short story will be recorded after going through a process of repair and editing in several stages.
According to Sri Yenda, to support the learning process of writing materials, school programs are needed that can help students get to know and understand the material being studied. One of these programs is a guest teacher. This activity is one of the routine activities and must be carried out by the teacher as one of the supports for teaching and learning activities in the classroom.
"This guest teacher will discuss tips for writing short stories. This activity is also an effort to improve student's literacy skills and support school programs in writing books," said Sri Yenda. []
---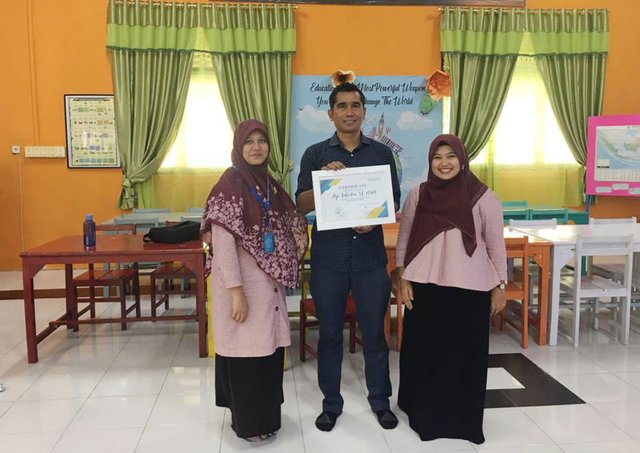 Menerima sertifikat dan Bu Yenda dan Bu Suci.
---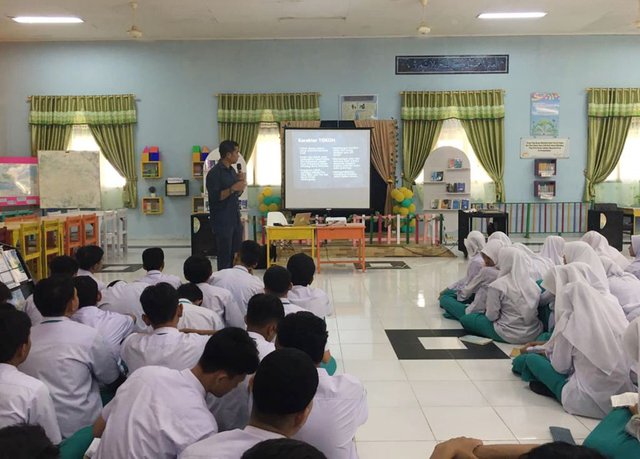 ---
Berbagi Proses Kreatif Menulis Cerpen di Sekolah Sukma Bangsa
CERITA pendek atau cerpen menjadi salah satu karya sastra yang digemari dan sering menjadi salah satu tangkai lomba festival seni, baik bagi pelajar maupun mahasiswa. Tidak heran jika pelatihan dan diskusi penulisan cerpen masih sering dilakukan sampai sekarang. Bahkan tidak sedikit pelatihan penulisan cerpen mengutip bayaran dari para peserta.
Bagi Sekolah Sukma Bangsa, menulis menjadi kewajiban setiap siswa sebagai salah satu standar kelulusan. Direktur Sekolah Sukma Bangsa Lhokseumawe, Zubir, menyebutkan setiap siswa minimal harus memiliki satu karya sebelum lulus. Untuk mendukung kegiatan literasi tersebut dan kegiatan lain, Sekolah Sukma Bangsa sering mengundang guru tamu.
Kali ini, SMA Sukma Bangsa Lhokseumawe mengundang cerpenis, dosen, sekaligus jurnalis dari Universitas Malikussaleh, Ayi Jufridar, untuk berbagi pengalaman sekaligus motivasi bagi para siswa. Bukan hanya secara teoritis, tapi dalam pertemuan selama dua jam lebih itu, siswa kelas XI IPA dan IPS menunjukkan karyanya untuk dinilai kelebihan dan kekurangannya.
Ayi memaparkan pengalamannya dan pengalaman penulis lain dalam menulis cerpen dan karya fiksi lainnya. Menurutnya, setiap penulis memiliki proses kreatif masing-masing yang belum tentu cocok untuk ditiru para penulis muda. Para penulis muda diharapkan menemukan proses kreatifnya sendiri melalui kesetiaan menggeluti dunia literasi.
"Caranya dengan terus membaca, menulis, dan mendiskusikannya sesama teman dan guru," ujar Ayi Jufridar dalam pelatihan yang berlangsung di ruang Perpustakaan Sekolah Sukma Bangsa, Lhokseumawe, Selasa 20 September 2022 lalu.
Ide menulis cerpen atau tulisan lainnya bisa diperoleh dari mana seperti pengalaman sendiri, pengalaman orang lain, berbagai referensi, tontonan, bahkan juga mimpi. Setiap Saat ide berseliweran di sekitarnya, sehingga yang dibutuhkan hanyalah bagaimana menangkap ide tersebut dan menuangkan dalam bentuk tulisan.
"Tapi yang lebih penting dari ide adalah kemauan dan kemampuan menuangkannya dalam tulisan. Banyak ide besar hanya berhenti sebatas ide ketika tidak mengkreasikannya dalam tulisan," lanjut Ayi.
Siswa SMA Sukma Bangsa Lhokseumawe begitu antusias berdiskusi mengenai proses kreatif menulis. Danish Iqbal dari Kelas- XI Carl Ritter, mempertanyakan tips mengemas karya sastra jika ide yang ada terlalu luas. Sedangkan Nawar Khadafi dari kelas XI Dmitri Mendeleev, bertanya tentang genre cerpen yang bisa diterima pembaca. Ada juga pertanyaan Nayla yang juga dari Kelas XI Dmitri Mendeleev tentang penggunaan bahasa tidak baku dalam dialog tokoh cerpen.
Pertanyaan lain datang dari Defa Rizky Ghaisan dari Kelas XI Nicola Tesla tentang tips membangun karakter tokoh dalam penulisan fiksi agar lebih hidup. Sementara Rifqi Alfin dari Kelas XI Dmitri Mendeleev mempertanyakan proses mendapatkan inspirasi ketika pikiran sedang buntu.
Para siswa yang didampingi dua guru Sri Yenda Sukma dan Suci Aulia Zahman diwajibkan menulis minimal satu cerpen dalam beberapa bulan ke depan. Direncanakan, cerpen tersebut akan dibukukan setelah melalui proses perbaikan dan editing dalam beberapa tahap.
Menurut Sri Yenda, untuk menunjang proses pembelajaran pada materi penulisan, diperlukan program sekolah yang dapat membantu siswa lebih mengenal dan memahami materi yang sedang dipelajari. Salah satu program tersebut adalah guest teacher. Kegiatan tersebut merupakan salah satu kegiatan rutin dan wajib dilaksanakan oleh guru sebagai salah satu penunjang kegiatan belajar mengajar di kelas.
"Guest teacher kali ini akan membahas kiat-kiat dalam menulis cerpen. Kegiatan ini juga merupakan salah satu upaya meningkatkan kemampuan literasi siswa dan mendukung program sekolah dalam menulis buku," ujar Sri Yenda. []
---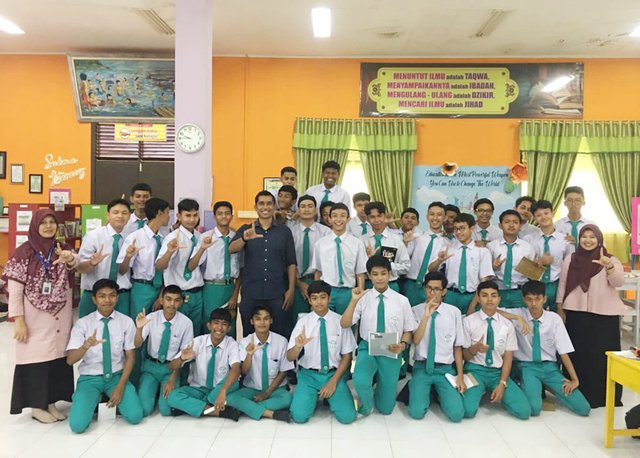 ---