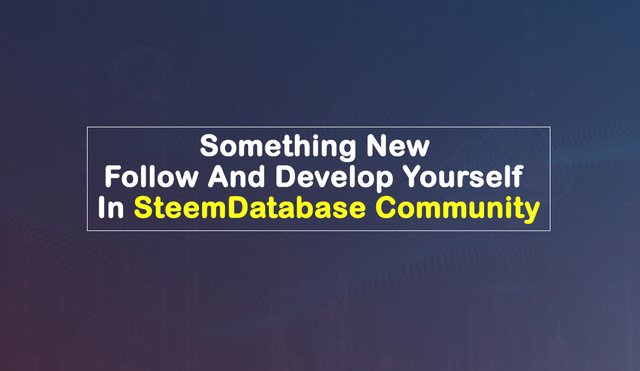 Hello steem database friends, I hope you are all in good condition and always blessed by God, especially in health, finances and in many things that you are going through at this time. Glad to see you continue to be and fully contribute to the steem database community, a tremendous appreciation of course for all of us in whatever case we present to posts in the steemdatabase community. Thank you for supporting this community to survive, rise and develop even better in the future.
But there is something happy that I want to convey in this post, of course this is all for the welfare of community members in choosing the topic of posts to be published in the steemdatabase community. The addition of this topic aims to make it easier for steemdatabase contributors to choose posting material, increase the number of active steemdatabase posters and of course also to inspire active steemit users who have post ideas but have no place to contribute.
Background
Seeing several communities that have been powering down, this certainly has a very big effect for active members of the community, one of which is in choosing posting materials and the absence of a place to accommodate the creative writings of several steemians who have skills in that field.
As a result of several communities being neglected due to powering down, of course adding that most steemit users lack topics for posting materials and some of them stop writing, this is of course very unfortunate considering that steemit members in various regions are very enthusiastic and want to develop.
Therefore, the steemdatabase has the initiative to accommodate and add several post themes so that members in several communities who have been powering down can contribute and share their knowledge here (the steemdatabase community). This initiative is certainly for prosperity and revives the passion of all of us in contributing to steemit.
New Topic
Steem Infinity Zone, has around 4,000+ community subscribers with some interesting posting topics. We invite members of the Steem Infinity Zone Community to join and participate in the SteemDatabase community with the topic "Technology and Diary Tech".
New topic in @steem-database : Technology and Diary Tech.
With this, the SteemDatabase community has added 2 new topics, of course anyone who is connected and wants to participate in these topics please share your posts in the steemdatabase community, of course with the terms and conditions that apply to the community.
The following are some of the terms/conditions that apply to the steemdatabase community, it is hoped that those of you who want to contribute to this community always follow the available rules. Also make sure your posts deserve to be selected into the daily top posts and get BOOMING curation.
Posts must be original and of high quality, must not be prephased.
Plagiarism is strictly prohibited.
Post a minimum of 300 words, excluding opening and closing.
Include at least 3 images.
Posts must be #steemexlusive (never been published on another website).
To get BOOMING curation, further you must follow the community guidelines in the following post: Guidlines Booming Support | Steem-Database. Thank you for following the available rules, have a nice day and keep the spirit to provide the best posts.

Thanks To : @steemcurator01, @stephenkendal
Best Regards,

@ponpase | ADMIN Leader ⭐
@pojan | ADMIN Community Manager
@steem-database | Official Curation Account
@msharif | MOD Bangladesh
@ashkhan | MOD Pakistan
@victoh78 | Plagiarism & Abuser Checker
@alejos7ven | Guide And Tutor Team
@ikmalhariamuna | MOD Indonesia
@fredquantum | MOD Nigeria
@ozenozge | Monitoring Team

JOIN DISCORD !
https://discord.gg/95aXdrH6
CURATION TRAIL
Follow the Steem-Database community curation trail through https://worldofxpilar.com/dash.php?trail=steem-database&i=1
DELEGATION
We are very open to receiving delegations from anyone who wants to support the community. if you are interested in becoming a delegator for Steem-Database you can give any delegation you like :
Alternative links delegates to @steem-database