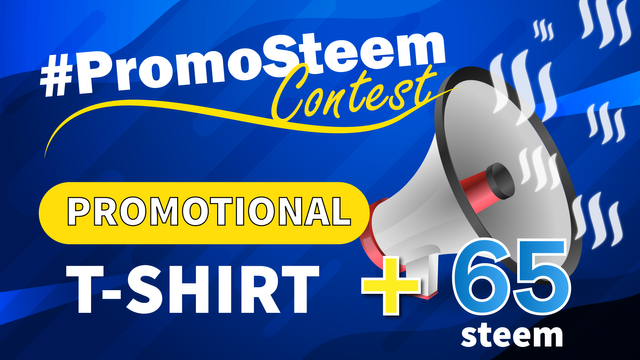 We continue with the contests to promote Steem, this time the contest is about Make a design of a promotional shirt with the Steem Logo and add a representation of your country, be it the name of your country, flag, place, emblems, or something significant from your country. The shirt must be white, this is very important. The winner of this contest will win the shirt with their created design, plus 15 STEEM.
If the winner of the contest is in Venezuela, I will personally have the shirt printed and then I will send it to your home.
If the winner is outside of Venezuela, the prize will be $15 USD (Approx. 30 Steem) for the winner himself to send his shirt to be printed. Additionally, I will transfer 15 STEEM and so the prize is higher, that is, he would have 45 Steem in his wallet.
Please be original, Good luck.
RULES

Please read the following rules carefully:
Title
The title of the post should be:
PromoSteemContest 📣 Design a promotional Steem t-shirt. by @youruser
Note: Please change "Youruser" to your username.
Tags
Include the tags:
#promotionaltshirt #contest #promo-steem #steemexclusive #yourcountry
Note: Please change yourcountry, and write the country where you reside.
Share on social media
You need to share your participation on social media with the tags: #steem #steemit #promosteem #yourcountry
Take a screenshot of your promotion on social media and post it in your contest entry to verify your participation.
Give this post a reestemd and invite 3 friends to participate.
Additional rules:
Make sure that you post your entry in the PromoSteem community.
Copy the link of your entry in the comments of this contest.
Only one entry per user.
If you use a reference image please leave the source link.
If any type of plagiarism is discovered, the user will be disqualified.
If you do not comply with any of the rules, you will not enter the list of participants.
Language: spanish and english.
Please resteemd this post to reach more Steemians.
Aspects to evaluate:
| Quality | Originality & Creativity |
| --- | --- |
---
Prizes
| 1st place🏆 | 2nd place🏅 | 3rd place🏅 |
| --- | --- | --- |
| 15 STEEM + T-Shirt | 18 STEEM | 12 STEEM |
| 4th place🏅 | 5th place🏅 | 6th place🏅 |
| 9 STEEM | 7 STEEM | 4 STEEM |
---
We are calling on all Steem blockchain artists to participate!!
This contest ends on Saturday, September 04 at 23:59 (Venezuelan time) and the winners will be announced the next day.
---
Steem on! 🚀
---
10% of the rewards from this post go to @promosteem.com
PromoSteem Team:
@arie.steem , @pojan , @ponpase

Alternative links delegates to @promosteem.com