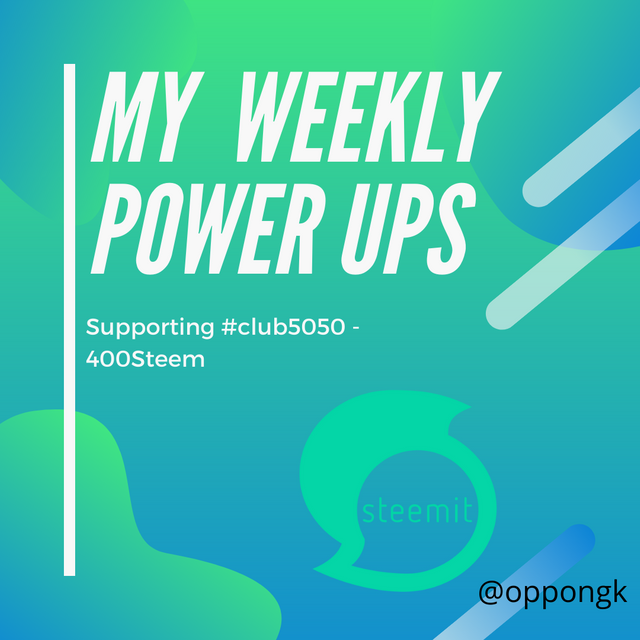 ---
Those without dreams and vision would doubt and think of what they would get to spend today and not tomorrow. But those who have great vision and dreamers would gaze the future successes to be a long time effort whose result wouldn't achieved greatly today. In this case, the visionaries and dreamers start to gather in bit focusing what he is going to get in future.
---
With club5050, I am planning to get great impact in future. I am strategically accumulating through powerups. This week I was a ble to power up 400Steem to my investment.
---


---
On average I am able to power at least 500steem per week. This is the middle of week and I would be hitting my target of powering up to 500 Steem. I would like to reach 20k by the end of the year. Reaching Double Dolphin 🐬 would help me to support many Steemians.
---
I encourage members to invest through club5050 initiative. One needs to plan for future by powering up in bit. Let's invest for our future and be able to support our families.
My Kind Regards
PromoSteem Sponsor :
@stephenkendal , @siz-official, @around-theworld
PromoSteem Team:
@arie.steem As Community Leader
@pojan As Team Support
@ponpase As Team Support
Promoters Team:
@mcsamm - Ghana
@nattybongo - Ghana
@cryptokraze - Pakistan
@oscarcc89 - Venezuela
@talktofaith - Nigeria