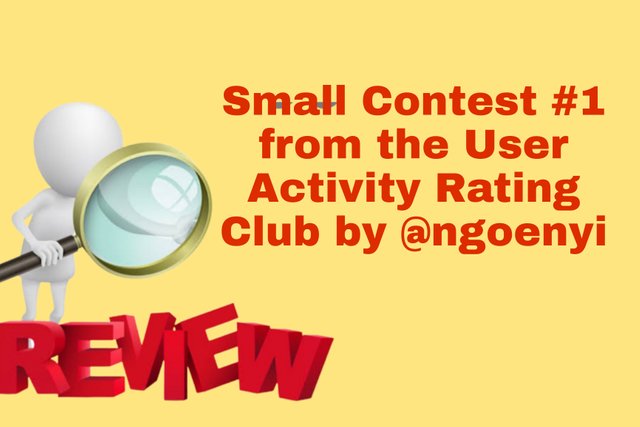 image designed in PicsArt app
Dear @alexmove.witness, it is my pleasure to take part in this contest you have organized. Rating users activities shows our interest in them and can even help us to commend, encourage and suggest possible ways for improvements. That is what friendship is all about and steemit being a Blockchain based social media platform, gives me such opportunity to do so.
Over the past days, I have taken part in the engagement challenge and have made my own publications which I have received a good number of comments on. I have also read some wonderful publications and reviewed them. These have made me to learn and as well encourage the authors of such posts.
In this entry, I will like to review 5 publications which I had read and dropped my comment on.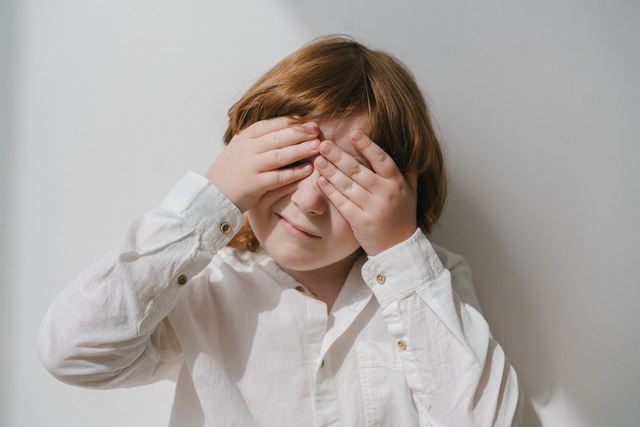 link
The user wrote in details how she faced a the worst situation of her life as she came face to face with some hoodlums or criminals or assassins who were bent on snatching her handbags away from her and who also had other motives that were not know at the moment. This user resiliently fought with all her might and was able to rescue her life.
The style of her writing was as though I was there in the scene. She was so detailed that I had to leave this comment in the screenshot below for her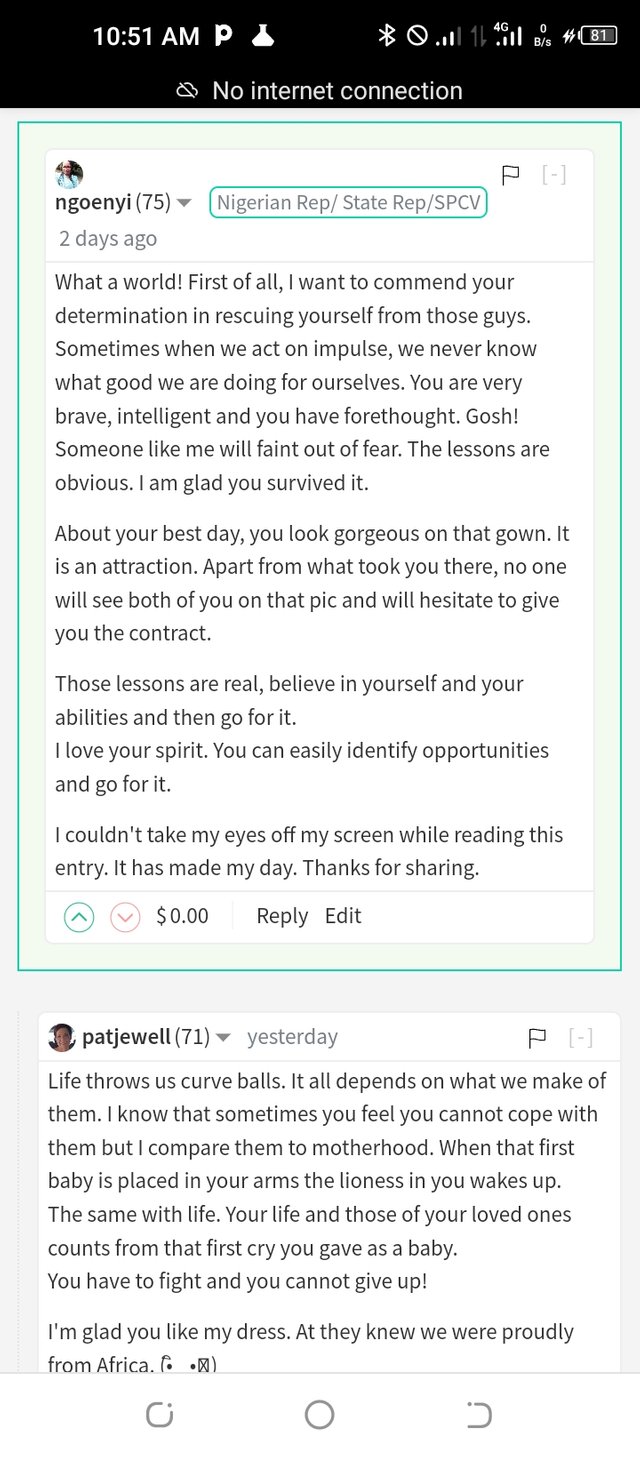 https://steemit.com/hive-167622/@ngoenyi/re7ati#@ngoenyi/re7ati
That triggered a conversation because she was able to reply.
She as well applied a markdown styles on her publication, she didn't plagiarize and the length of her post is more than 300 words. This post was made in steemalive community.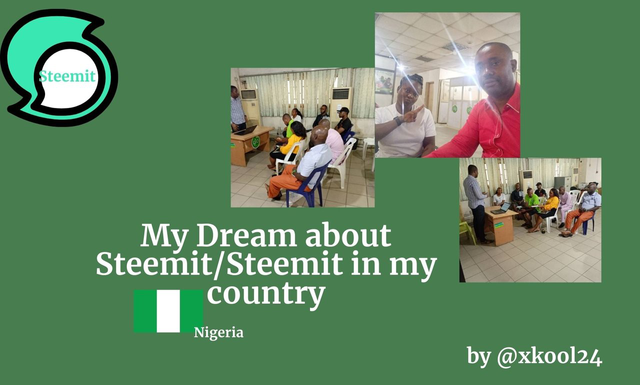 link
This user was able to table some points as regards his dream of steem/steemit in his country. He also outlined some the efforts he has made so far in contributing to steemgrowth by organizing seminars and trainings.
The post made sense to me when I read it and that made me to leave a comment and a review because he made the post in the community that I am part of the admin that reviews publications.
Below is the screenshot of the comment I left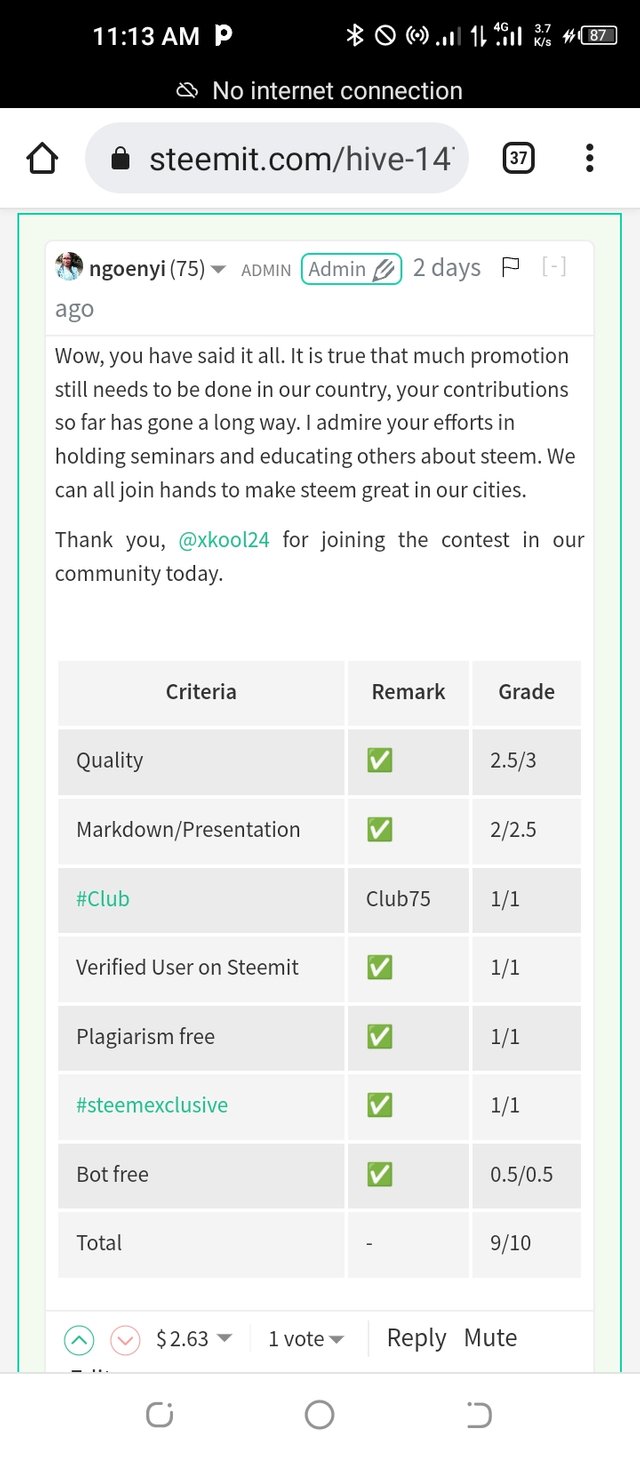 link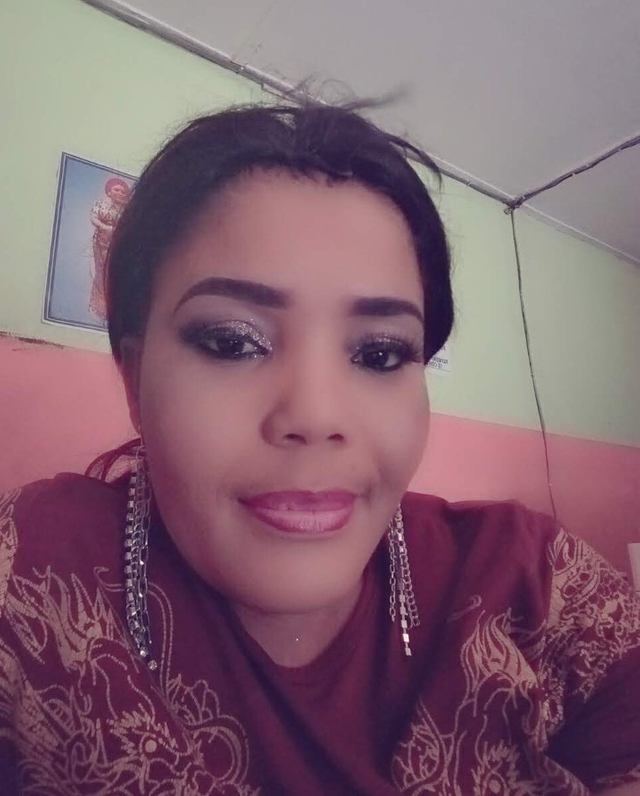 link
This user wrote about the occupations she has engaged in at any stage of her life. From her post, she has recorded so many successes. She has owned wine shop, printing press and other things.
Her post is well arranged and detailed. I enjoyed reading it and that made me to leave a comment on it as you can see in the screenshot below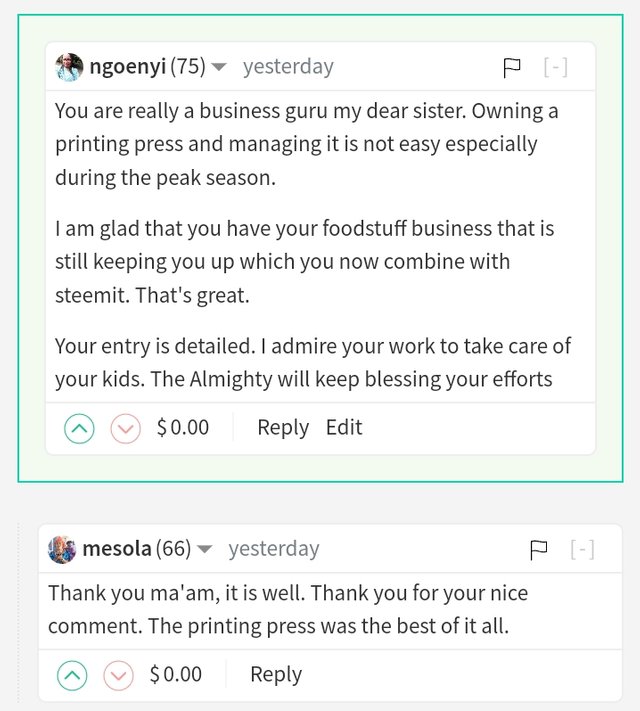 link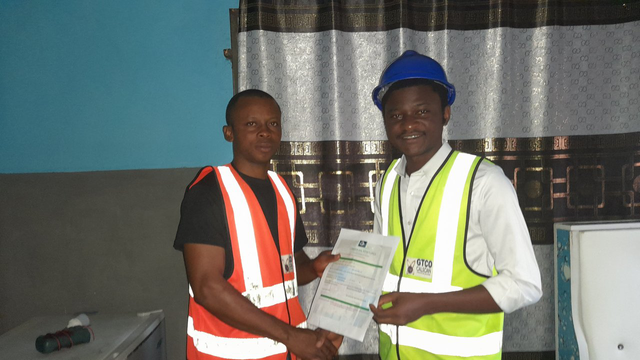 link
The next publication that I will like to rate is the one made by the user above. He has written about his recent Achievement as a solar panel installer. He under went the training and was issued the certificate.
The post detailed everything that went through within the day lol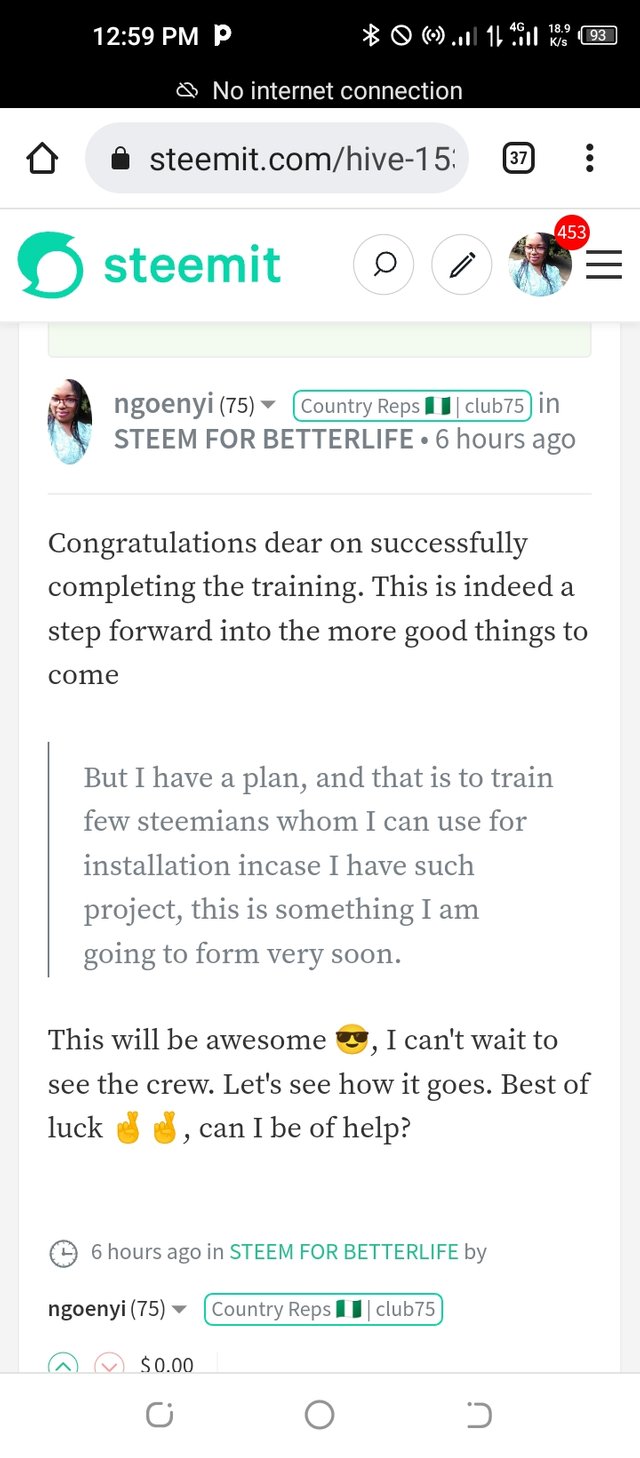 link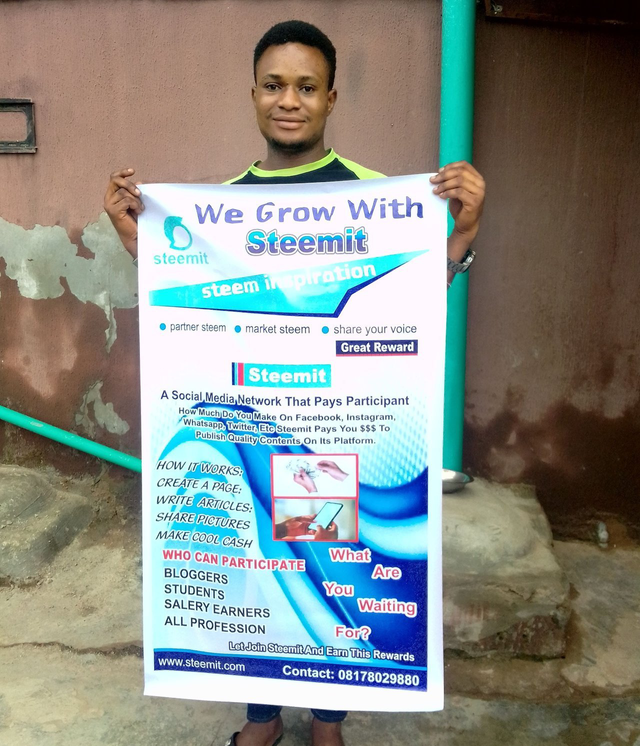 link
This user wrote a very detailed post about the dreams he has about steem/steemit in his country. He as well wrote about his own contributions so far to ensure the growth of steem.
The entry is a detailed one that prompted me to leave a comment as can be seen in the screenshot below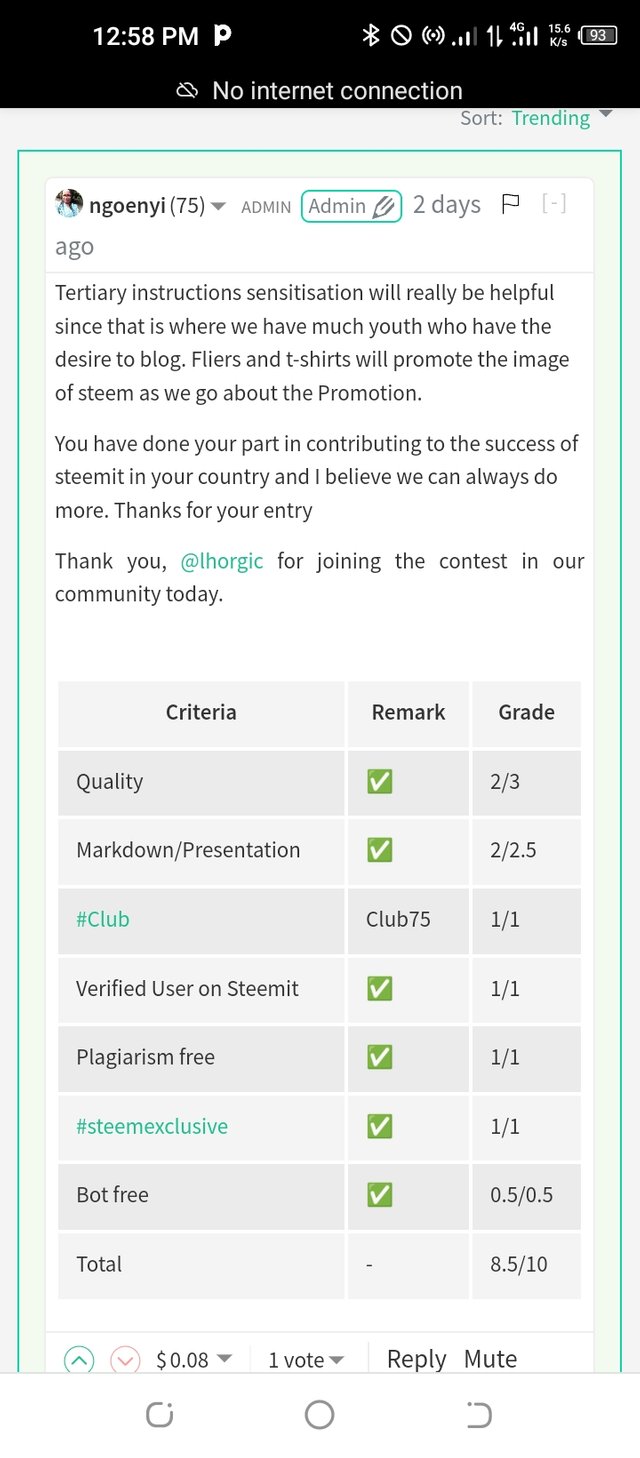 link
Conclusion
From all the Publications I have reviewed, they made wonderful presentations, they applied good and quality markdown styles, they all followed the clubs, and they didn't plagiarize. All of them responded to my comments to show that they too love engagements.
Thanks a lot once more @alexmove.witness for this wonderful contest idea. I am glad to have taken part in it.
I therefore invite @benton3, @fortwis09 and @wizzyboy3 to take. Here is the entry link