Hey learners!
Introduction
I hope you're doing well right now. And ready to address a great alternative to gain extra income by just setting few parameters in an automatic service of robots that we can find in most centralized exchangers. Not always we have enough time or the proper experience to deal with graphics all the day. So, moreover of copy trading, you can also try this way to get money from market movements by using the several options of trading strategies that exchangers are currently offers and one of them are the futures grids.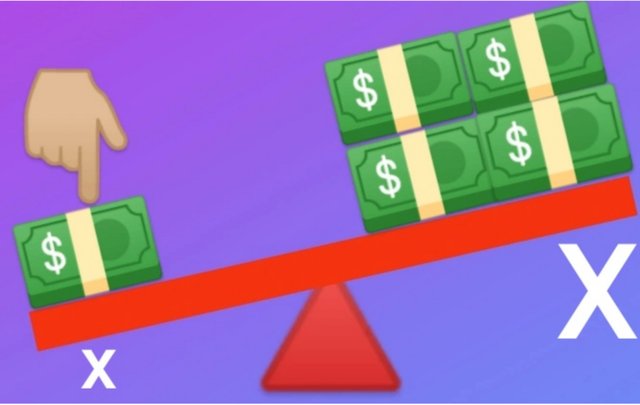 ---
Definition
Futures Grid is an automated process that we configure in the corresponding futures area of course in order to buy with lower/sell with higher prices than the point of starting, where there's a number of imaginary lines or grids that are having the nature of limit orders with certain distance between them plus an amount of crypto reference for each one to cover the cost of contracts because in futures you're not really acquiring tokens but the mentioned contracts, which are perpetuals (no expiring date) due to the 24 hours work of crypto markets.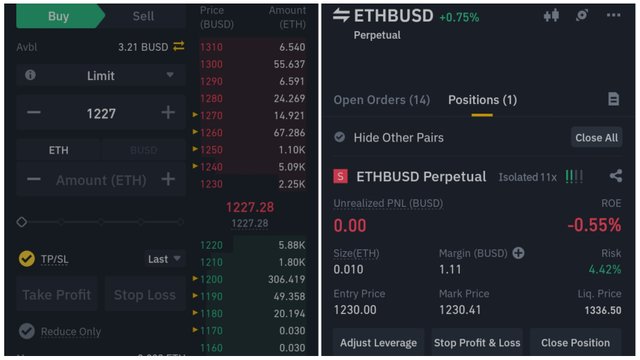 You can select the arithmetic (equal net interval) or logarithmic criteria (equal % of difference) for price change according to the required needing and previous analysis of graphics, moreover of at least three types of situations to address the different market directions, like going in long, short or neutral... Although for this article I will be explaining the last one with an arithmetic operation for purposes to show you all how it works. Let's get started with these easy steps from the Binance app as the selected site to explain this specific topic.
---
Steps
🟡Open your Binance application and select the futures option displayed in the main interface or directly at the home screen in order to make click on the strategy trading button that is available as is shown in screenshots.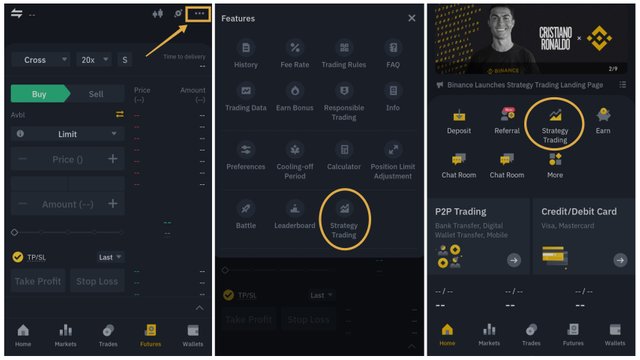 🟡Choose your preferred pair of tokens (square) and mode between cross or isolated (circle), then the wished exposition of risk through the leverage (arrow) and the neutral trading we'll be using to this practical instance for the article.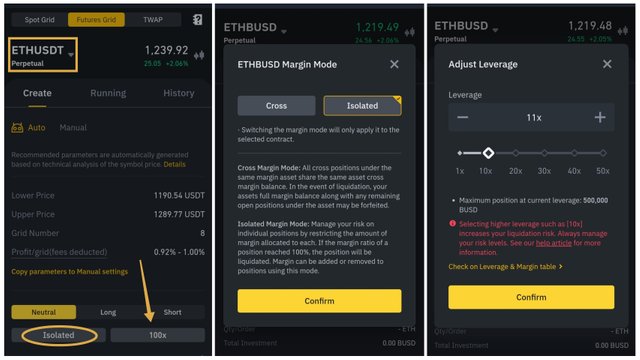 🟡Binance recently got available an automatic proposed limits according to the scenario in markets based in Bollinger bands and ATR indicators with standard deviation; the idea is to help newbies to set the better figures for upper and lower limits of grid, which will be the boundaries for this robot to stop working in case of passing out of price beyond of them. Just go to create your grid and that's it after to say yes on the agreement of risk disclaimer.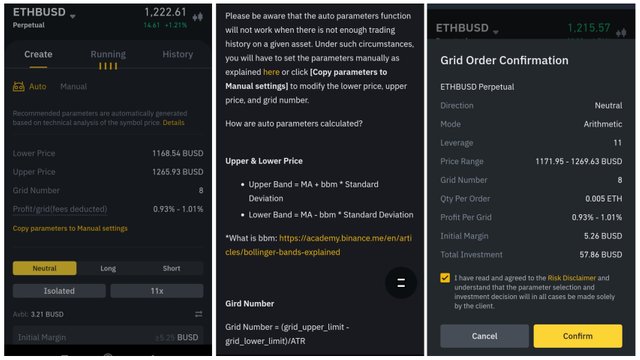 🟡If you want to have your customized grid, switch to the manual option and then set both of limits with the desired number of grids, keeping on the arithmetic criteria to separate grids for this example where I wished a grid of 1110 and 1310 as lower and higher limits respectively with five grids to obtain an equal distance of (1310-1110)/5=20 for each grid to execute an order once price of ETHBUSD reach the corresponding figure. Robot will show the minimum investment to start the grid: the more leverage you set, the less money you need but the risk is even more dangerous. In optional parameters you can select the Mark or Last reference of price and close/cancel the orders to stop the grid in case of price by getting outside of limits in order to avoid bigger losses due to a sudden volatility. Some traders prefer to uncheck both of them because they consider price to go out temporarily and then get back into the grid again and keep working with it. After all of these, check the displayed details and click on confirmation of grid.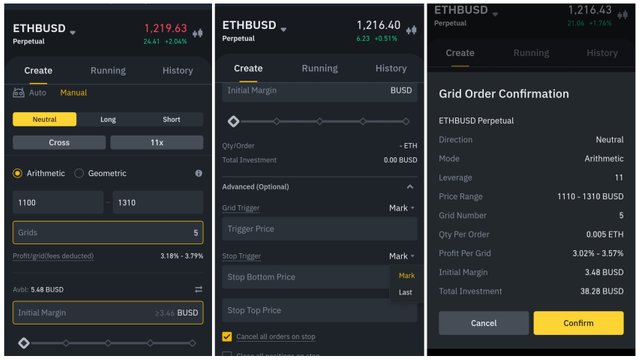 🟡 It's possible to see how is the grid going with profits according to the duration in the running tab and then check all the history of previous ones when you cancel them. By clicking on view option below that is outstanding in the middle and below of screenshot, you can have a glance of grid details by analysing aspects such as margin, completed orders, investment, % of profit per each order and more.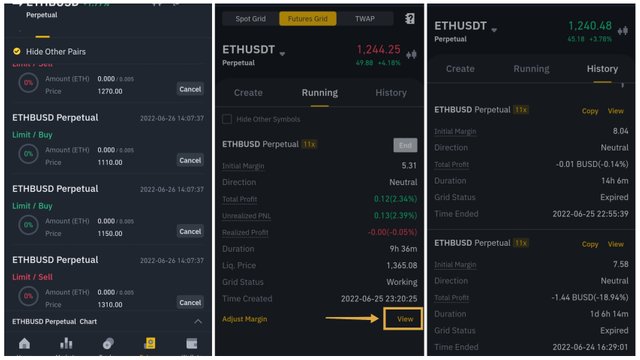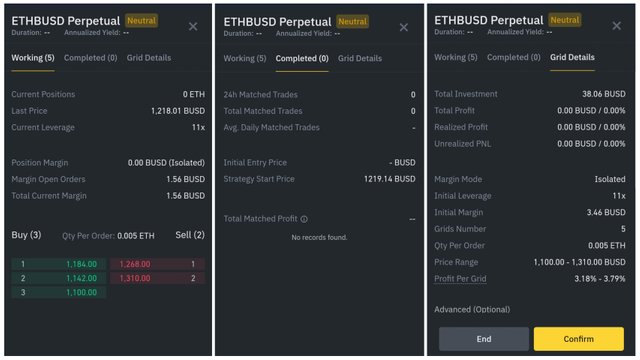 ---
Considerations
🟨 Because the nature of humongous volatility from crypto markets, it's very advisable to turn always to the isolated mode in order to avoid liquidation of all your funds, unless you have certain experience and put in risk a low amount when leverage is very high. Cross mode takes your money proportionally to the point where price went in the wrong direction of your position.
🟨 Maintain an extra amount of the native token of exchange (BNB for the case of Binance) to save more money from deductions of fees during performance of futures.
🟨Make a good analysis of selected token's graphic and ensure to not put too close/away grids to activate the robot.
🟨 Keep an eye on the grid at least a pair of times a day in order to close it with the highest positive profit when it's possible. If not due to a non go back of price that went too far away and it's not showing a reversal outside of the limits, wait for the market movement and do the finishing to get the lowest loss.
---
Conclusion
That's all my practical article about automatic grids in futures, hoping you had a great acknowledge from it and take advantage of markets by doing almost nothing. Receive my best regards from Latin America. Greetings.
Join the Binance futures from this link:
👷🏻‍♀️>>~•Alegn@•~>🎶
The screenshots belongs to the Binance platform and they were taken by a Xiaomi Redmi7A cellphone camera in Venezuela.
*** See you in next post *** 📝