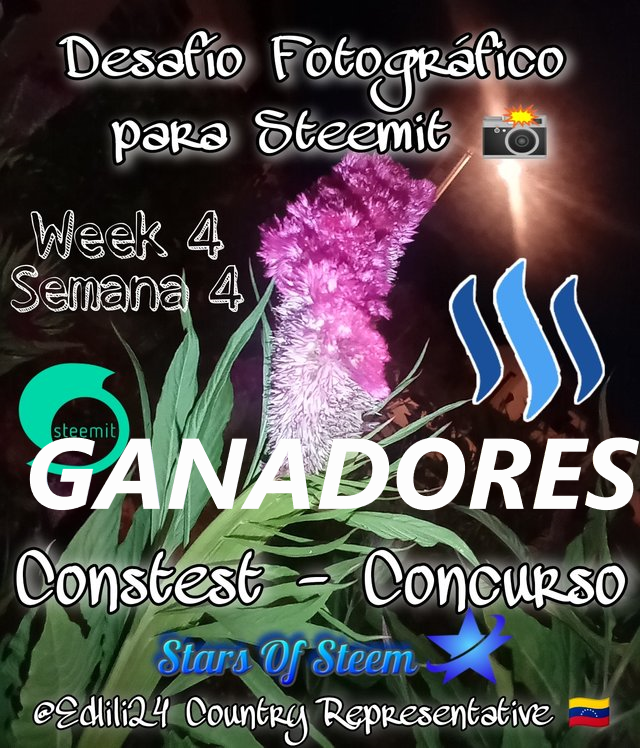 Un saludo especial a todas las estrellas que hacen vida en esta hermosa comunidad de Artistas y Artesanos, hoy tengo el gusto de anunciar a tres ganadores del desafió fotográfico numero 4 en donde anuncie premios especiales, tomando en cuenta la constancia de sus publicaciones en Steemit, tambien con mas participaciones en los desafíos fotográficos y por ultimo y no menos importante sus participaciones en el #club5050 continuación nombrare los ganadores que se llevan como premio la selección de una publicación de calidad y exclusiva para Steemit, en la cual deben realizar una publicación alusiva a la navidad.

Ganadores 📸
Felicitaciones a Todos 📸.

Es importante que cada uno de los ganadores realice una publicacion alusiva a la navidad la cual debe cumplir con los siguientes requisitos:
Participar efectivamente en el club5050, club7575 o club100.
Debe realizar la publicación en la comunidad Stars of Steem.
La publicación debe contener minimo 300 palabras acordes a su tema escogido o fotografías.
Mínimo debe contener 3 Fotografías.
Debe usar la etiqueta club5050 o la etiqueta del porcentaje en el cual este participando y la etiqueta #starphoto no puede faltar.
Titulo que le desee colocar.
Debe colocar el enlace de su publicación en un comentario debajo de este post.
Exito para todos el Lunes empezamos con El desafio fotografico numero 5.

Post Ganadores de la selección Booming durante la ultima semana:
-https://steemit.com/hive-151446/@flormelendez/contest-desafio-fotografico-para-steemit-dia-sabado-color-rojo-por-flormelendez.
-https://steemit.com/hive-151446/@teretiti/desafio-fotografico-para-steemit-4-calidez-y-pasion-en-el-color-rojo-por-teretiti-apoyo-30-hive-151446-club5050.
-https://steemit.com/hive-151446/@ruthmelendez/desafio-fotografico-para-steemit-sabado-13-11-2021-mi-hermoso-dia-coloreado-con-rojo.
-https://steemit.com/hive-151446/@oliveroluis142/contest-desafio-fotografico-para-steemit-4-bolso-de-la-salvacion-por-oliveroluis142.
-https://steemit.com/hive-151446/@jaicelis/desafio-fotografico-para-steemit-el-rojo-de-los-cuadros-de-mi-hogar-por-jaicelis.
-https://steemit.com/hive-151446/@yahnel/contest-desafio-fotografico-para-steemit-4-sabado-rojo-pasion-por-yahnel



Tips para hacer tus publicaciones:
Haz uso de los formatos, para justificar, centrar y ordenar textos e imágenes. (Inf. Aquí)
Usa subtítulos en tus fotografías, que describan los hechos de las mismas.
Usa un lenguaje fácil de comprender.
Ordena las ideas por párrafos entre 8 y 10 líneas.
Haz uso correcto de las etiquetas según el tema de tu publicación. (Inf. Aquí)

Si quieres saber más de mí visita este link

Te invito a formar parte de la Comunidad Stars Of Steem 👈🖱️ y la Comunidad Steem Venezuela oficial 🇻🇪, en ambas comunidades soy una de las administradoras, dale clic y suscribete para comenzar a postear en ellas, recuerda visitar, leer, comentar y dejar tus votos a otros Steemians en sus publicaciones.
Sígueme en mi redes Sociales
Cc. @steemcurator01 @steemcurator02 @stephenkendal @disconnect @pennsif. Gracias por su apoyo.