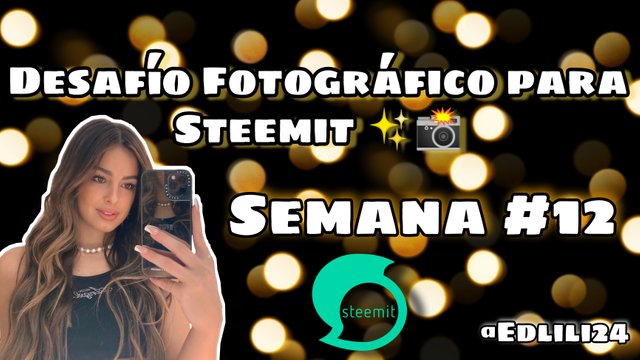 ---

Hello amig@squeridas estrellas de Steemit hoy empezamos un nuevo desafío fotográfico en el cual queremos ver tus mejores poses y fotografías, en esta oportunidad prepárate con tu mejor vestimenta, mucha actitud y tomate las mejores fotografías para hacer tu participación, siéntete el artista y haz tu sesión fotográfica para Steemit, tú debes ser el centro de tus fotografías no te quedes sin participar, acompaña tus fotografías con un escrito que te describa, cuéntanos sobre tus talentos y virtudes, también de tu experiencia como artista dentro de Steemit ✨, no olvides que tus fotografías no deben ser en las mismas poses o escenas, diviértete y cambia las escenas así como también los enfoques, si haces alguna edición menciona el programa y como lo hiciste 👍.
---
Requisitos para participar:
El título debe ser: Desafío Fotográfico para Steemit 📸 #12 Mi mejor fotopose - título que le desees colocar.
Debes publicar en la comunidad Stars of Steem.
4 Fotografías o más.
Debe contener 300 palabras sobre las fotografías.
Usar las etiquetas #photography #starphoto #steemexclusive #venezuela agregar la etiqueta de tu país, puedes incluir la etiqueta #club5050 si estás haciendo el encendido de la misma cantidad de los retiros de tus recompensas líquidas .
Debes compartir en Instagram o Twitter colocando las etiquetas #steem #promo-steem #steemit y nombrarnos @starsofsteem.
Debes invitar a 3 usuarios a participar.
Mencionar el concurso en tu publicación y colocar el link de este concurso para que más personas puedan unirse.
Vota, comenta y dale reesteem a esta publicación.

Recuerda tu aporte es necesario para seguir creciendo como comunidad, con el objetivo de ofrecerte mejores curaciones seguimos trabajando en el aumento del Steem Power de la cuenta Comunitaria @hive-151446 Stars Of Steem casa de artistas y artesanos, actualmente cuenta con 32,360.39 Steem Power lo que representa 0,32 Valor de voto, deseamos seguir aumentando para que aumenten las posibilidades de tener mejor curaciones, así que no olvides configurar tus publicaciones con el beneficiario de la cuenta comunitaria Y participar en el #club5050.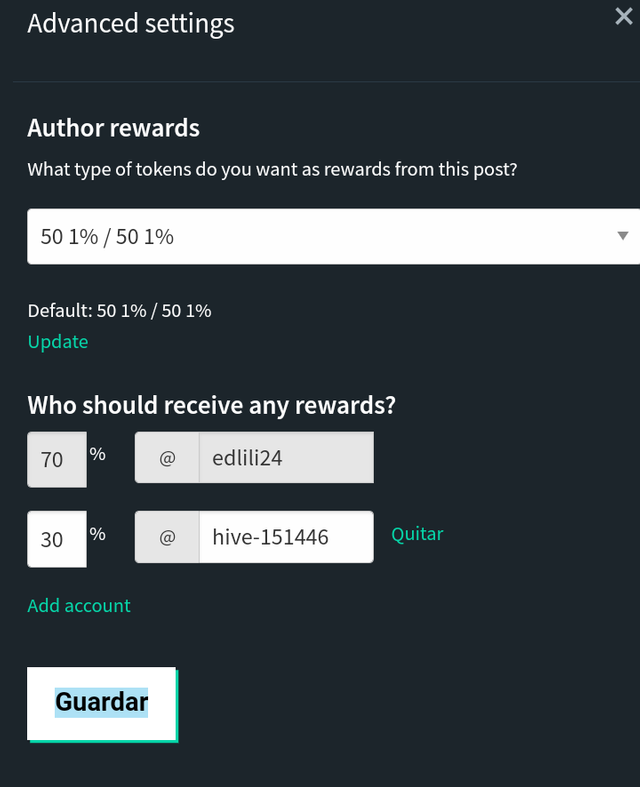 Configuración de las recompensas.

No olvides se creativo, pon a volar tu imaginación y no pierdas la oportunidad de participar para ser elegido para un voto #booming. 📸



Tips para hacer tus publicaciones:
Haz uso de los formatos, para justificar, centrar y ordenar textos e imágenes. (Inf. Aquí)
Usa subtítulos en tus fotografías, que describan los hechos de las mismas.
Usa un lenguaje fácil de comprender.
Ordena las ideas por párrafos entre 8 y 10 líneas.
Haz uso correcto de las etiquetas según el tema de tu publicación. (Inf. Aquí)

Si quieres saber más de mí visita este link

Te invito a formar parte de la Comunidad Stars Of Steem 👈🖱️ y la Comunidad Steem Venezuela oficial 🇻🇪, en ambas comunidades soy una de las administradoras, dale clic y suscribete para comenzar a postear en ellas, recuerda visitar, leer, comentar y dejar tus votos a otros Steemians en sus publicaciones.
Sígueme en mi redes Sociales
Cc. @steemcurator01 @steemcurator02 @stephenkendal @disconnect @pennsif. Gracias por su apoyo.