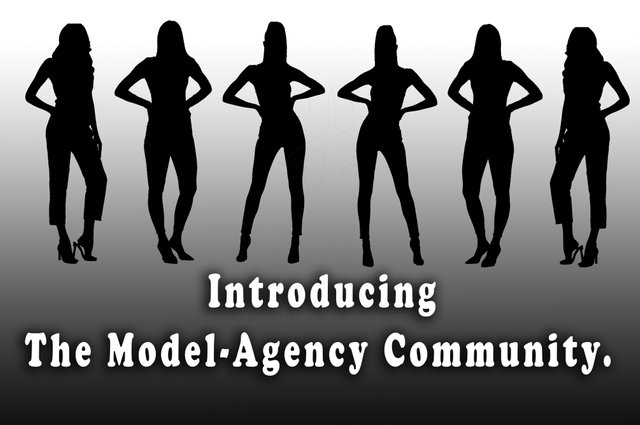 нι ѕтєємιт ρєσρℓє!
As we know that steemit is the social media platform and decentralized ecosystem that works on the base of cryptocurrency blockchain. As the era of cryptocurrency grows, the tendency of people are also increase on this steemit blockchain.
The steemit also has various communities who have their own roles and their own goals. In the today's era, steemit become more popular in this world, surpassing all other social media platforms.
In the age of cryptocurrency, we would like to introduce a community that has been formed on the steemit. Right now the MA community has few member yet, but i assure you that over time, a lot of people will be interested in it and it will be counted in a list of well established communities.
First of all, I just introduce the founder and name of this community to all of you. The community name is Model-Agency and it was created by @instagram-models. The moderator of this community is @bountyking5 that will handle the overall behavior of this community.
This is the photography community for models where you can share your own best photos with different style and pose.

ℝ𝕦𝕝𝕖𝕤 𝕥𝕙𝕒𝕥 𝕖𝕧𝕖𝕣𝕪 𝕞𝕠𝕕𝕖𝕝 𝕟𝕖𝕖𝕕 𝕥𝕠 𝕗𝕠𝕝𝕝𝕠𝕨

Plagiarism Mosquito not allowed.
NSFW and pornography not allowed.
Only unique model accounts are supported.
Post to other models photos are not allowed.
Submit your Daily best post content to win best weekly rewards.
Must use #modelagency #steemexclusive #country tags in first three tags.

𝕎𝕙𝕒𝕥 𝕨𝕖 𝕨𝕚𝕝𝕝 𝕕𝕠 𝕨𝕚𝕥𝕙 𝕄𝕠𝕤𝕢𝕦𝕚𝕥𝕠

After First warning, if repeat it, the post of Mosquito will be downvoted and permanently blacklisted.

𝕆𝕡𝕡𝕠𝕣𝕥𝕦𝕟𝕚𝕥𝕚𝕖𝕤 𝕗𝕠𝕣 𝕪𝕠𝕦

Every member of the Model-Agency community will receive a label award.
Chance to get 100% Upvote on their daily posts.
Chance to win the weekly contest and get reward according to weekly announcement.
The Model-Agency community team will select the three wining posts weekly and three best post for prize and upvotes.

𝔽𝕚𝕣𝕤𝕥, 𝕨𝕙𝕒𝕥 𝕪𝕠𝕦 𝕟𝕖𝕖𝕕 𝕥𝕠 𝕕𝕠

Subscribe Model-Agency community to encourage us.
Everyone resteem this post, so that more people subscribe this community.

I hope this community gets support from @steemcurator01 , @steemcurator02 and @booming01 team.

🅱🅴🆂🆃 🆁🅴🅶🅰🆁🅳🆂
Ⓣⓗⓐⓝⓚ Ⓨⓞⓤ