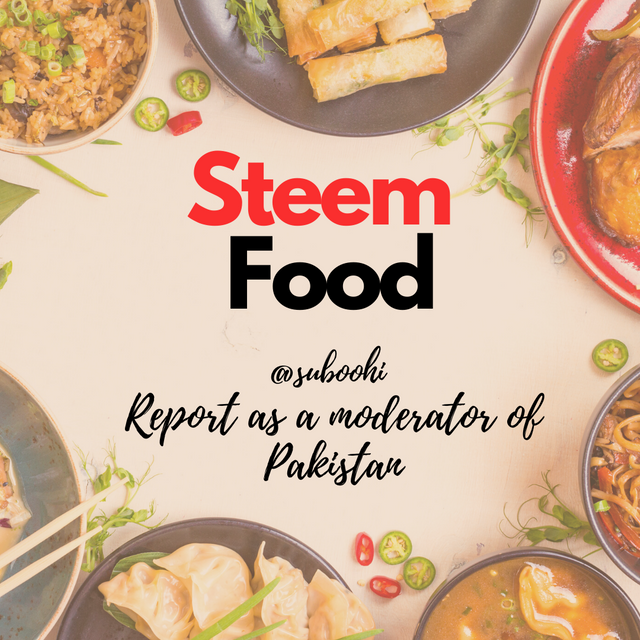 ---
---
MODERATOR STATUS
---
| Own Sp | 19879+sp |
| --- | --- |
| Delegation | 2500 |
| Power Up | 4990 +sp |
| Club | 100 |
| voting CSI | 14.5 |
---
Hi everyone!!!
---
I'm @suboohi, Pakistan's moderator at steem foods. This is my weekly working report on steem foods as pakistan's moderator . I am working and guiding and verifying the newbies of steemitfoods from pakistan.
---
How To Get Chance Of Vote From Curation team:
---
If you want curator's votes follow these instructions
Join any club (club5050, club75 or club100)

Make your post STEEMEXCLUSIVE

Avoid plagiarism.

For steemfoods posts use #food for curators vote
---
---
I'm showing Commitment to #club5050 project from the day one and now I'm #club100 member and I'm guiding steemfoods users about #club5050 ,#club75 and #club100 through WhatsApp group and many users have joined. Some have joined #club75 too.
---
Active User This Week From Pakistan
---
As steemit challenge has started from this week so number of new users from pakistan has joined this challenge 22 contest posts are from pakistan at steemit foods in this week.
---
---
Verification at steemfoods :
---
Many female users from Pakistan are wearing a veil /hijab, so I do their verification. I have verified many users from Pakistan as well as other Asian countries. The name of users that I confirmed are given below
---
Users from Pakistan That Verified
This week @wajihasheikh new member from pakistan has verified in steemfoods.
Here is the list of steemit food users verified by me.
---
---
---
Commenting and Voting
---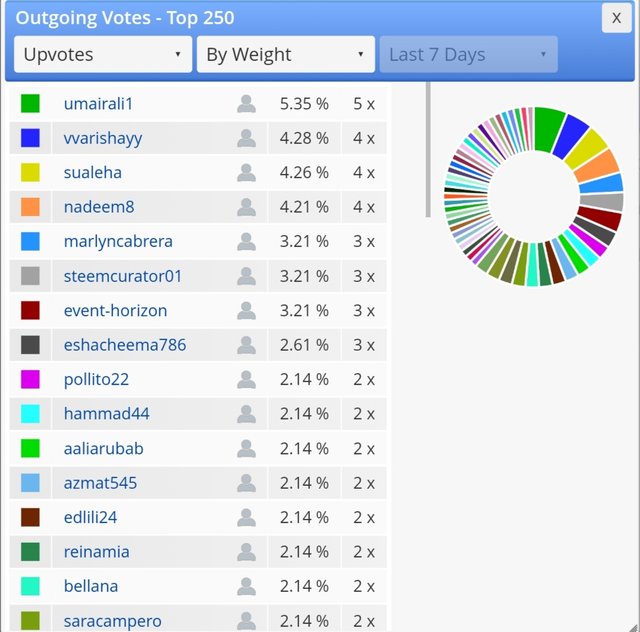 I have been guiding, commenting and voting on the posts from Pakistan who doesn't know many rules about steem food. I spend most of the Most of my voting percentage in voting the steemfoods posts, It's my honor to be a part of steem food and happily fulfilling the duties I have been assigned to.
---
Guidance through WhatsAppand Telegram group :
---
We have a Telegram and WhatsApp group for Pakistani members . You can also contact me at discord, my discord username is suboohi#9678.
---
Verified users from Pakistan in steemfoods
---
There are less number of active users from Pakistan. I'm promoting to be active in Steem foods. This week active posters from pakistan are 13.
These are varified users from pakistan
@syedahira
@ghazalach
@ashkhan
@kunwal
@mahishines
@arslanaj
@maha12
@aykiz07
@ansooch
@fatimawasif
@sonukhan
@faisalamin
@esha133
@arinaz08
@aaliarubab
@ansooch
@faiqach
@sanabl
@sualeha
@syed-abdullah
@arslanaj
@event-horizon
@drhira
@azizulhassan
@yousafharoonkhan
@amjadsharif
@suboohi
@iqrarana786
@fizaashraf
@drhuma
@iqrarana786
@fizaashraf
@vvarishayy
@abdu.navi03
@hiba445
@asad101
@safo
@salmaashraf
@lolyitsmaryam
@hafsasaadat90
@mizna.says
@israumer
@karam1
@ahsanbilal
@alirazaop
@hammad44
These names are find by me manually if there any varified user's name is missing let me inform I will add his name in this list
---
---
---
THANK YOU FOR VISITING

Special mentions to @steemitfoods and @alikoc07 for their support