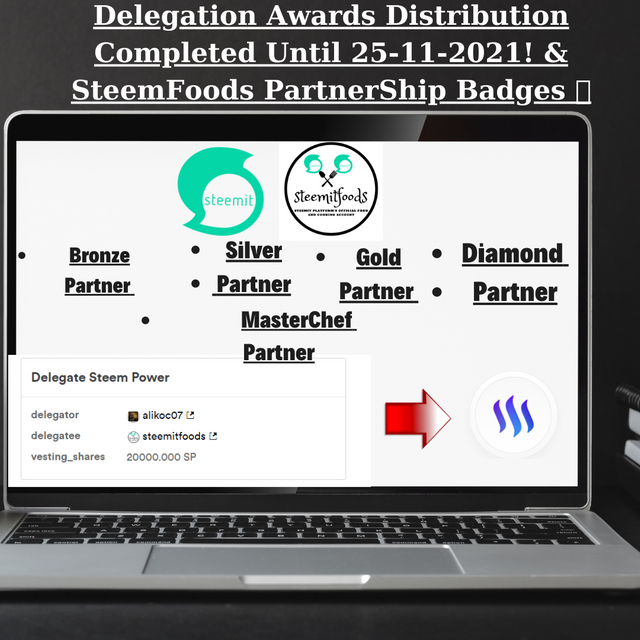 Hello Everyone:
Today, I will make a detailed announcement about the steem reward distribution that I distribute according to the amount of delegation made to @steemitfoods, the official curation account of the SteemFoods Community.
In this post, I will provide you with detailed information about the PartnerShip badges that I have distributed according to the amount of delegation made, and that I have completed the award distribution of our users who have completed the 1-month delegation period with the date 25-11-2021, who are delegating to @steemitfoods account.
First of all, we achieved a great success by reaching 200K+ SP in the steemitfoods account 3 days ago. I would like to thank all our users who supported by delegating to Steemitfoods account and supporting by setting up 50% benefactor in their posts for sf-charity. You can review the announcement in detail below that we have reached 200K SP.
FINALLY.... WE REACHED 200K SP 🚀 🚀 ! NEW TARGET 300K SP 🎯 | THANKS TO OUR USERS 👏 !
Our users who delegate to steemitfoods, the official curation account of the SteemFoods Community, are rewarded with steem+trx on a monthly basis. In addition, our users will have the Affiliate Badge next to their names in the SteemFoods Community according to the amount of delegation they make. You can get detailed information by reviewing the post below.
Delegation Rewards Increased by + 17.6% | For 1000 SP : 6 Steem + 6 TRX per month |
Delegation Awards Distribution Completed Until 25-11-2021! & SteemFoods PartnerShip Badges 💎
Delegation award distribution is made monthly as I said above. For example, if you delegated on 25-11-2021, I will send your delegation award to your wallet on 25-12-2021.
1️⃣ Since I distribute the delegation awards monthly, please do not withdraw your delegation without receiving your monthly award, this way I will not see your delegation on the list.
2️⃣ Also, please wait for your monthly period to expire when raising your delegations. For example, you delegated on 01-11-2021, but you want to increase your delegation, you should delegate on 01-12-2021 so that you do not have a problem in award distribution. I will share a Delegation Information Package by sharing information about this with you as soon as possible.
Delegation Award Distribution Calculation:
As of 25-11-2021, I have successfully completed the distribution of steem rewards to the wallet of all our users who have completed the 30-day delegation period.
Let's calculate the delegation award distribution together with our current delegation APY as of today.
I distribute 6 STEEM rewards per month for every 1000 SP delegation.
Delegation Amount to Total SteemitFoods Account: 107,503.77 x 6 x 1000 = 645.022 STEEM
Distribution of Delegation Awards until 25-11-2021 (All Photos from Re-to-Old)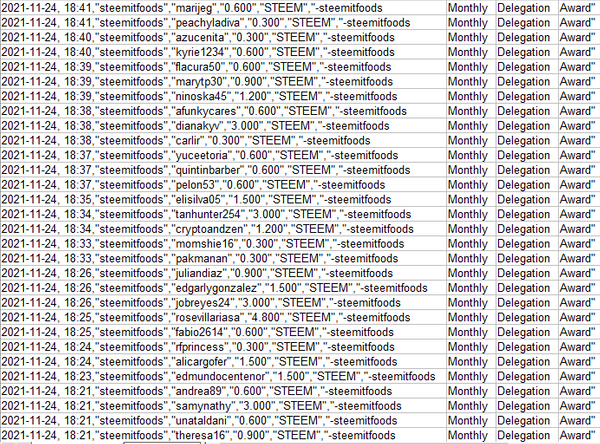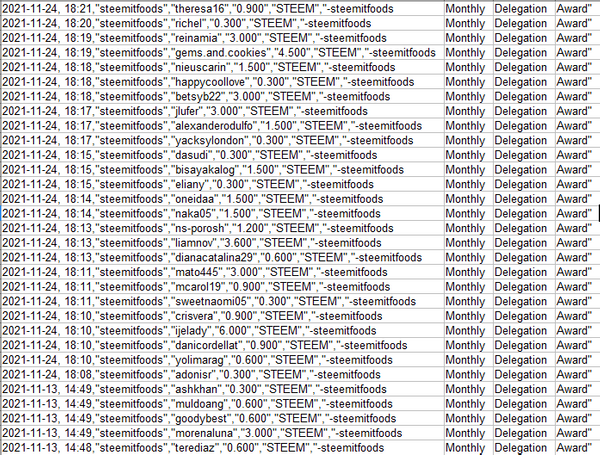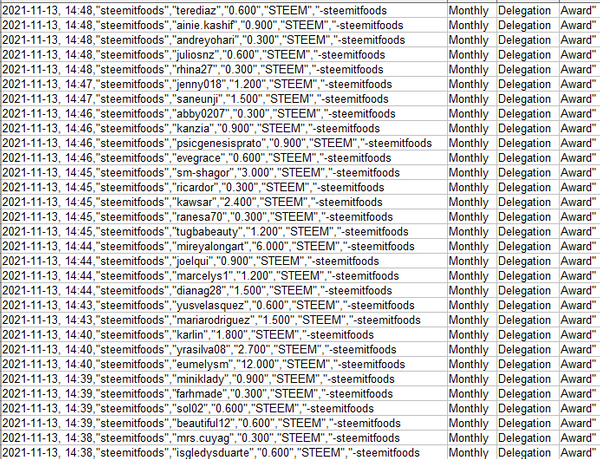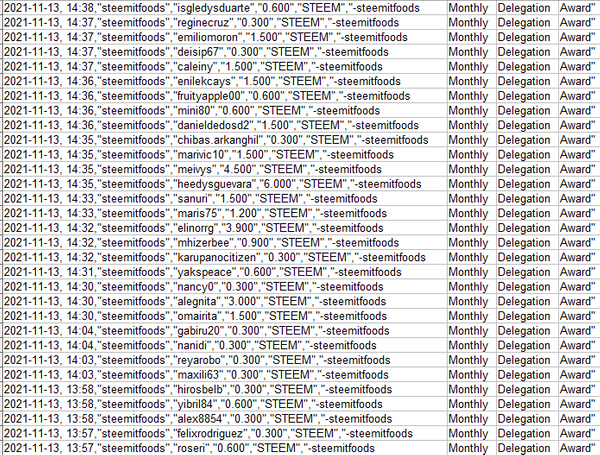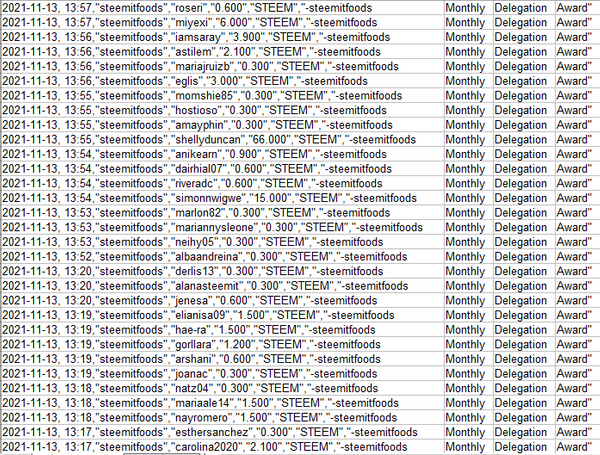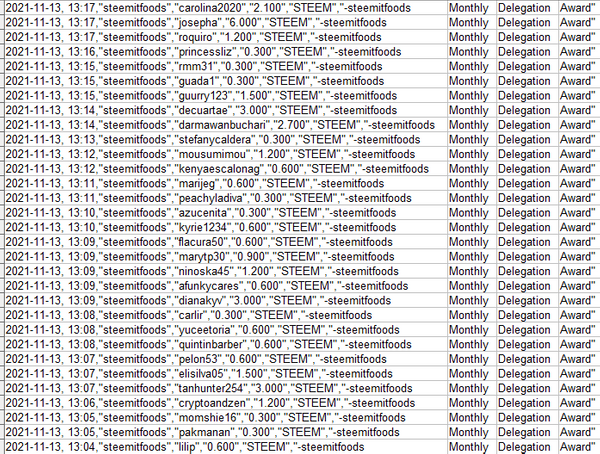 ---
1️⃣ NOTE: Please check your steemit wallet!
2️⃣ NOTE: If you have completed your 1-month delegation period until 25-11-2021 and did not receive your award, please contact me in the comments section of this post or on our discord - telegram channels!
3️⃣ NOTE: If you have delegated but your PartnerShip Badge is not added next to your name according to your delegation amount, contact me in the comments section of this post or on our discord-telegram channels!
---
APY Increase in Delegation Reward Distribution Coming Soon!
I will increase our delegation rewards by at least 16% so that our users, who provide the rules of the #club5050 - #club75 and #club100 hashtags initiated by the Steemit team, and at the same time increase the amount of SP in their wallets, can make the best use of their investments by delegation. All information will be with you soon...
To Join SteemFoods #club5050 Telegram Group:
By joining the SteemFoodsXClub5050 Telegram Group, you can ask your questions. I will help you as fast as possible...
https://t.me/joinchat/qdF-zXCJ0YgxMGI0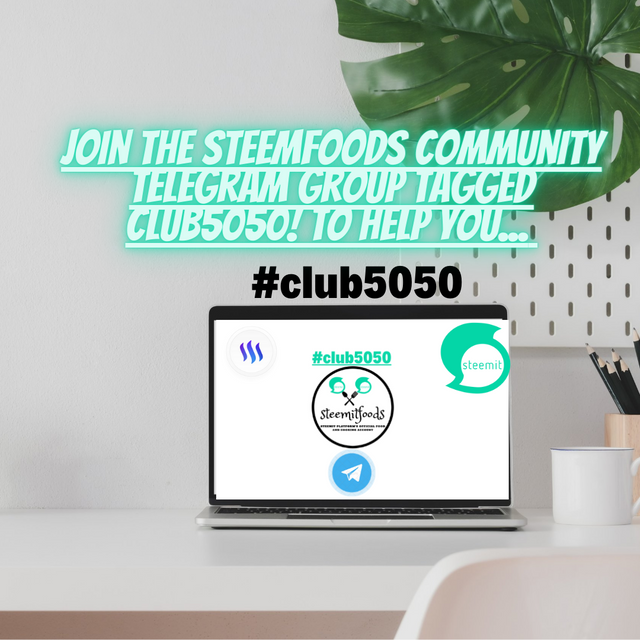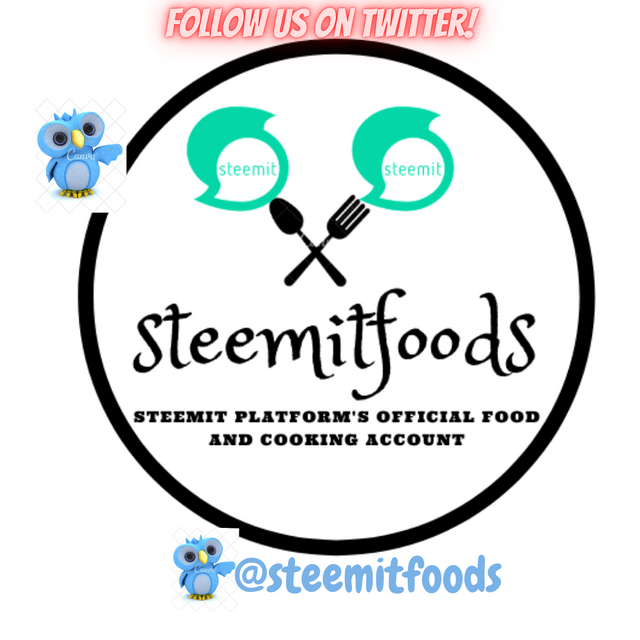 Quick Delegation Links: