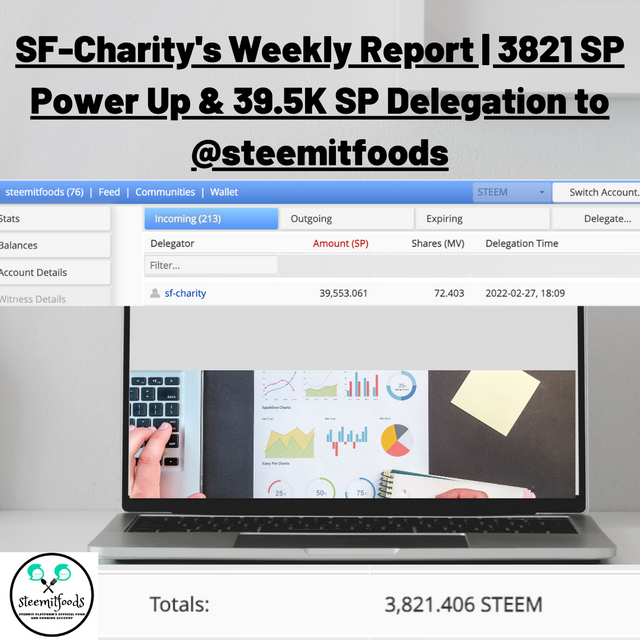 Hello Everyone:
Today I will share with you the weekly report of SF-Charity in detail. This report includes our activities between 20 February - 27 February.
We don't have an activity as a Charity Event this week, but I want to show all our users the activities we do with the income we get from @sf-charity transparently.
2 days ago, I shared all the Power Up transactions I made with the income we obtained from the @sf-charity account, and all the information about the SP delegation I made from the sf-charity account in the steemitfods account. You can view the report by clicking below. All of the benefactor rewards you have set for the SF-Charity account, I have used it to strengthen the SteemFoods Community (SP Power Up and Delegation) for the reward distribution of the events I organize with high STEEM rewards, for the delegation reward distribution. There is no personal or abuse. Please review the details.
After this announcement, I will give you transparent information about the purposes and program of our SF-Charity account. We will continue to organize Charity Events and reach our users who need donations on the steem blockchain. It should be noted that I use the SF-Charity account not only for charity events, but also as a fund account to strengthen our community and distribute our other award-winning events. After this announcement, I will let you see the details better.
SF-Charity's Weekly Report | 3821 SP Power Up & 39.5K SP Delegation to @steemitfoods 🆕
---
You can easily view our financial movements on sf-charity by clicking on the link https://steemworld.org/transfer-search. Anyone who wants to can do this easily, I work with awareness of our goals and your expectations. I hope together we will reach 400K SP as soon as possible. When we set our date period to last 1 week, you can see that I Power Up 3821.406 SP ( 3.8K SP) in @sf-charity account.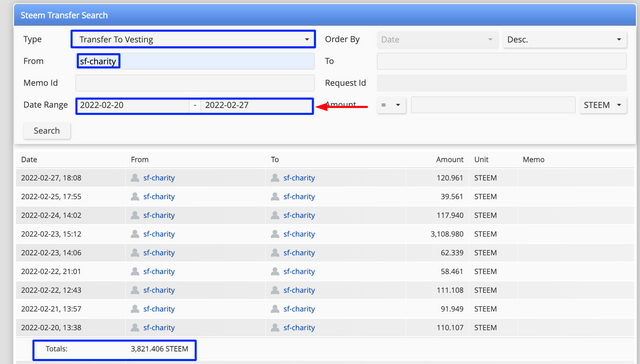 Between these dates, I did not transfer steem + sbd from sf-charity account to steemitfoods account for reward distribution.

Finally, 52 minutes ago today, I performed 120,961 SP Power Up operations for sf-charity.

Then we reached 39553 SP in @sf-charity account and I supported us to strengthen our official curation account by delegating 39553 SP to @steemitfoods account.

In this report, you can see all our financial transactions in the last 7 days, support for our award distribution, charity events, and I will add them to this report on a weekly basis.
We currently do not have any STEEM or SBD balances in our account that we do not use.

I hope this report will be useful for everyone and our users will see that we work in a transparent manner. The trust of our users is very important to us, as an extra, thank you very much for contributing to our development by set up the benefactor award on the sf-charity account...
---
✨ To get vote support by steemcurator01, you must be a member of at least #club5050. To increase your vote support chances, you can switch to #club75 and #club100. (You must provide the rules) Below you can see all the rules in detail...
[ 1️⃣] Single Post: Club5050-Club75-Club100 Fully Information Package Most Updated Version 💯
Please do not forget to visit @steemitfoods for our current announcements.
To Communicate With You: Join Our Discord and Telegram Groups
---