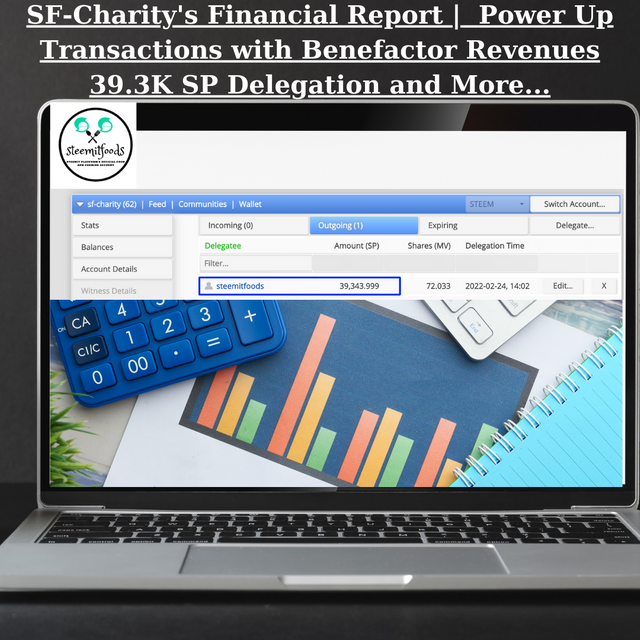 Hello Everyone:
Today, I will share with you the financial report of the benefactor revenues, which we have obtained with all the transparency of @sf-charity, the official charity fund account of the SteemFoods Community.
We have made Food + Medicine Donations for many families on the steem blockchain with the official charity fund account of the SteemFoods Community.
I told you that we will use this account not only for charity, but also for the strengthening of our community, as I have shared with you in many posts. Now I will share information about it below.
I have always tried to give you information about the Power Ups we have done with sf-charity.
I have always tried to give you information about the Power Ups we have done with sf-charity. You can see this in the photos below, those who want can review the SP information posts we share in our steemitfoods account every 10K SP increase.
1️⃣

2️⃣

3️⃣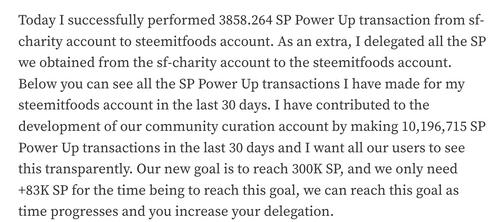 4️⃣

I would like to thank all our users who have set a 50% benefactor award for sf-charity in the SteemFoods Community and supported us so far. These benefactor awards have helped us a lot in reaching 310K SP in the current steemitfoods account.
We Reached 310K SP 🔝 ! Step by Step to 400K SP 📈 ! We Completed 77.5% of Our New Target 🎯
I had already thought about how to best use these revenues and I thought it would be more beneficial for everyone to Power Up with the revenues + then delegate to our community curation account.
---
Amount of Power Ups Made with Benefactor Rewards from SF-Charity
I made Power Up transactions for both our official curation account @steemitfoods and sf-charity for the benefactor awards you set up for SF-Charity. I made a total of 55,047,870 SP ( 55K ) SP Power Up transactions for @steemitfoods + @sf-charity accounts. With the Power Up transactions I made for SF-Charity, we reached 39K SP and I delegated all of it to my steemitfoods account. In this way, it helped us reach 17.7% of 310K SP in our curation account. None of the proceeds were used personally, all of them were used to strengthen our community.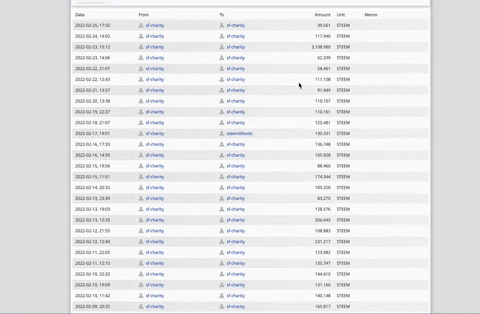 You can see the SP Power Up transactions we made with sf-charity via Steemworld.org by clicking on the (Transfer to Vesting) section.
I used the other part of the revenues from SF-Charity for our delegation prize distribution, event prize distribution and charity events for our The Food Diary Game Event, which I organized with 5 Seasons grand prize distributions.
SF-Charity has been our community fund account, apart from just being a charity account.
Since I always conduct my work with transparency, I can explain them to you. I wonder if other charity accounts will be able to show this with the same transparency.
It is a fact that we need support to run the community, if this support is not, how can the community be managed?
I already announced that I removed the 50% benefactor for sf-charity. The 50% benefactor award was valid for only two of our events. ( The Food Diary Game and SteemFoods Shopping List )
Other Transactions with SF-Charity's Revenues
I used the proceeds from SF-Charity for our SP Power Up + reward distributions. I have shared the SP Power Up processes we have already done with you above.
You can see all the transfers we have made by clicking the Normal Transfer section on Steemworld.org. Here you can see the steem+ sbd I sent for the 5 Season high award The Food Diary Game's award distribution, delegation award distribution, event award distribution and our charity events.
I had only once made a 3053.343 STEEM transfer from an sf-charity account to the stock exchange, and just a few days ago I made up for it by transferring 3100 STEEM from the exchange to the sf-charity account. All my transactions are open to everyone, anyone can review, anyone can ask. No personal or abuse just used sf-charity account to strengthen our community's SP with your support to develop our community account faster.
1️⃣

2️⃣

I am sharing our financial report because I want everyone to see it clearly. The question is, is it in a position to share the report of the revenues of other charity accounts to date? But it doesn't matter to me.
We need vote support for our community to continue in support. Currently, the amount of delegation to our curation account is 193K SP. Only monthly payment for this is 1544 STEEM.( I don't prefer delegation reward payment for my personal account and sf-charity.)

For the content in our community, we have the chance to vote with steemitfoods+ booming accounts.
It is not possible for us to independently moderate the content in the community because I know that the vote support every user expects is from steemcurator01. I'm not an administrator of the steemcurator01 account... ( Currently, steemcurator01's vote support is never guaranteed, if you do not get vote support by steemcurator01, the community is not responsible. I share with the steemitfoods account what you need to do to increase your chances of voting support by steemcurator01. Unfortunately there is nothing extra I can do...)
To get vote support by steemcurator01, you must be a member of at least #club5050. To increase your vote support chances, you can switch to #club75 and #club100. (You must provide the rules) Below you can see all the rules in detail...
[ 1️⃣] Single Post: Club5050-Club75-Club100 Fully Information Package Most Updated Version 💯
I hope everything will be better...
To Communicate With You: Join Our Discord and Telegram Groups
---