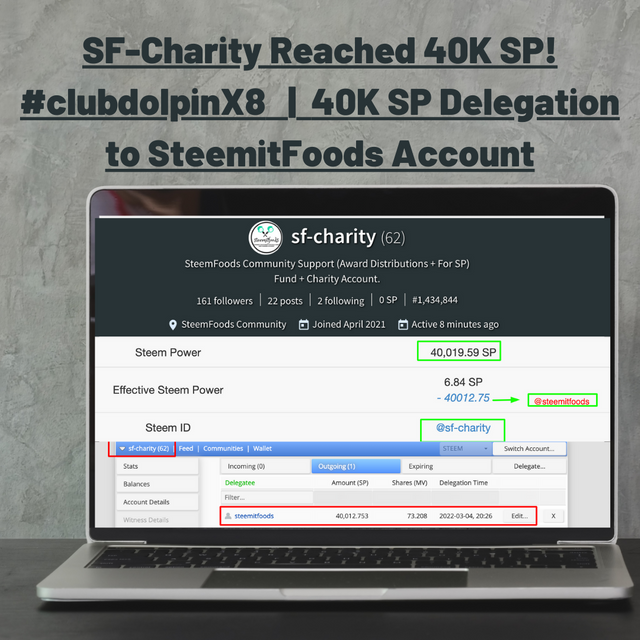 Hello Everyone:
Today, I will give you detailed information about the happy SP amount we have reached on @sf-charity, the official Support + Charity Fund account of the SteemFoods Community.
Before that, I changed the @sf-charity description and just shared an announcement so that our users can see in detail + transparently how we will use the income we get from the sf-charity account.
I do SP Power Up transactions for sf-charity & steemitfoods accounts with some of the income we get from the SF-Charity account, I use some of it as a support for our reward distributions in the community, and I will continue to organize charity events with the other part. I want the SF-Charity account not to be known only as a charity account and for all our users to see how we use + continue to use the rewards we get from it.
I have never needed to store the reward distribution we get from the SF-Charity account, so you can see the current amount of SP in the sf-charity account and the delegation we made to the steemitfoods account here. Now I will share information about it below.
📌 I converted 11,564 SBD, which we obtained from sf-charity account 19 hours ago, to 150,222 STEEM on steemitwallet/market, and then successfully executed 150,222 SP Power Up transactions for sf-charity.

I would like to announce to all our users that we have successfully reached 40K SP (#clubdolphin x8 category) in 150,222 SP Power Up transaction @sf-charity account.


By delegating all the 40K SP we reached to the steemitfoods account, I strengthened our curation account. We successfully reached 330K SP in the steemitfoods account with the 40K SP delegation I made from the sf-charity account yesterday. Below you can find information about it. Our goal will be to reach 400K SP by the end of June...
Thank you to all our users who have set a benefactor bounty on their posts for sf-charity so far, while reaching 40K SP on their SF-Charity account.
With this post, I wanted to transparently show our users the 40K SP we've reached in their sf-charity account.
---
I have previously informed you about the #clubdolphin tag launched by the steemit team in the SteemFoods Community on our steemitfoods account. You can find out about it by reviewing the post below.
If You Reach 5K+ SP Use Hashtag #clubdolphin - Get Vote Support By steemcurator01 & steemitfoods
---
Please do not forget to visit @steemitfoods for our current announcements.
To Communicate With You: Join Our Discord and Telegram Groups
---