Hi, dear Steemians and SteemFoodies!
Hope you're all doing well. I share my Day 8 of The Food Diary Game, Season 7, from the #SteemFoods community, led by @steemitfoods and @alikoc07. 10% of the rewards from this post will go to @sf-charity, so that I can help good deeds happen and help this great Community grow.
---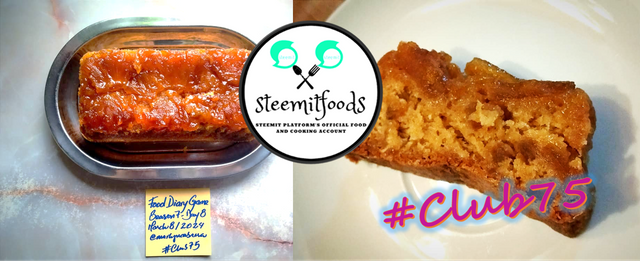 My food-day started early, with a good cup of coffee and buttered toasts. I had them in the studio as I had a lot of work ahead.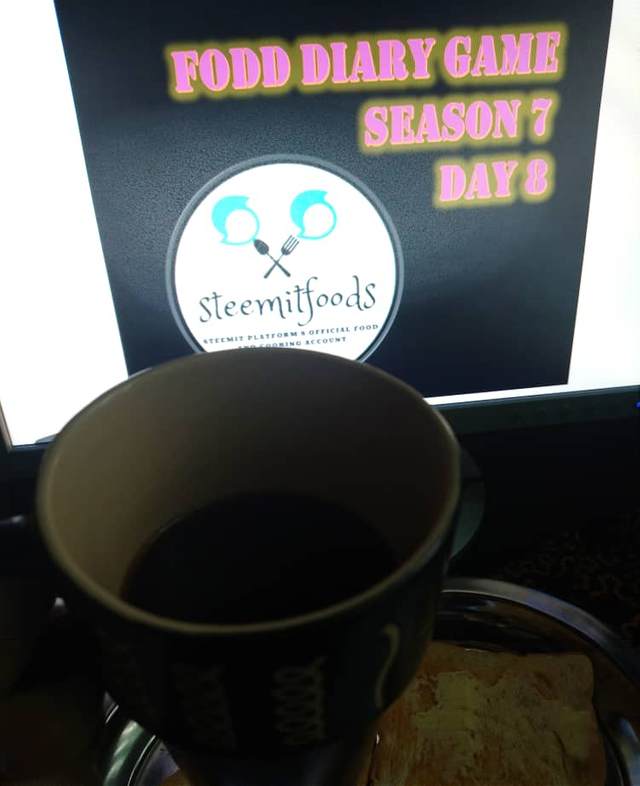 After a couple of hours, I shredded the chicken breast fillets leftover from yesterday's lunch and used it to fill our arepas for breakfast.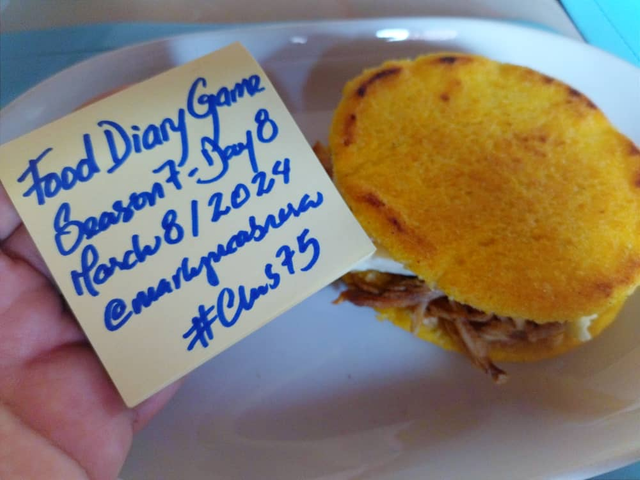 I also put some cheese in the filling.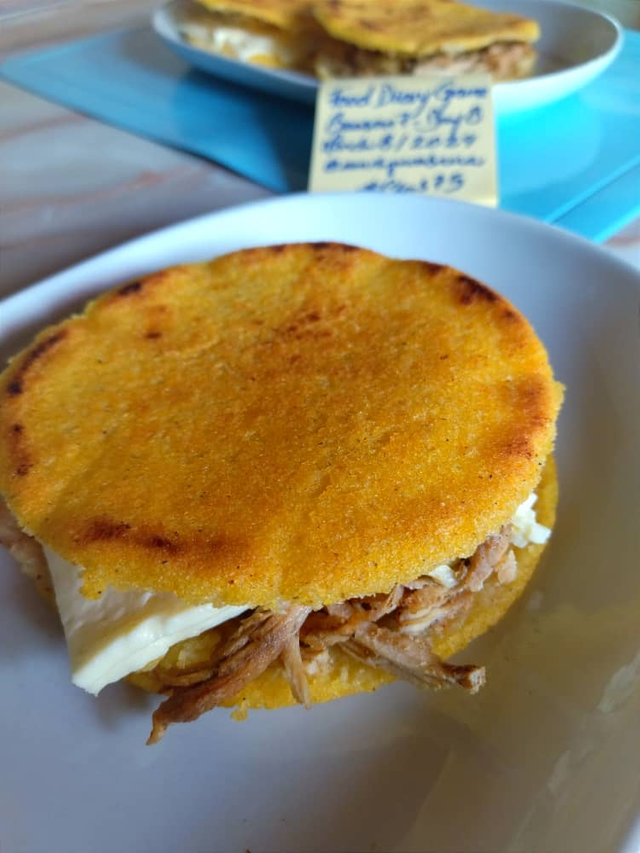 After I ate breakfast, it was time to make a little pineapple cake to treat myself on this Women's Day. I used the pineapple and orange syrup I had prepared the day before.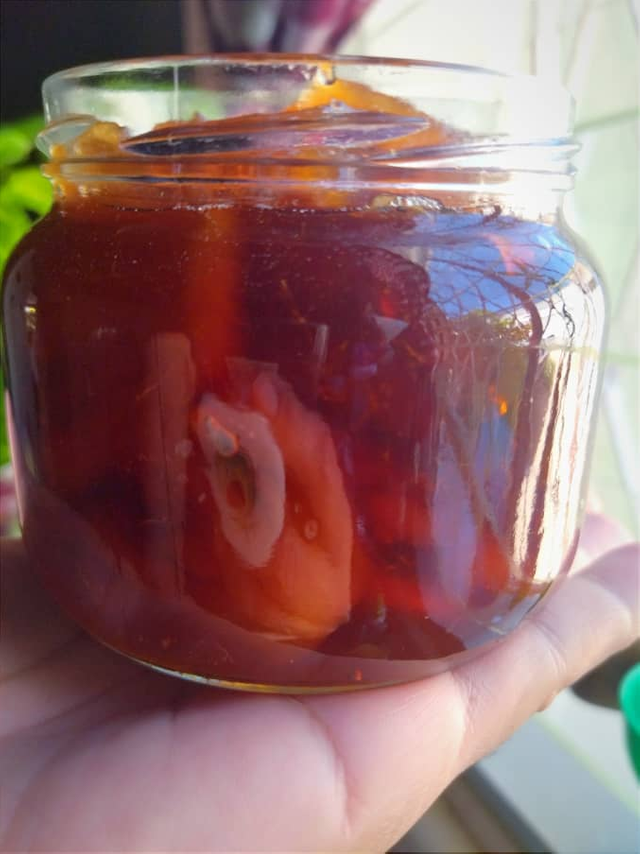 I love this cake and this is a recipe of my own. For the cake, I use:
1 cup sugar
1/2 cup corn oil
1 egg (L)
3 tablespoons vanilla essence
1 1/2 cups of leavening flour
1/2 cup pineapple syrup with pineapple chunks * 1/2 cup pineapple syrup with pineapple pieces
Enough rum to soften the mixture (this time I used 1/3 cup)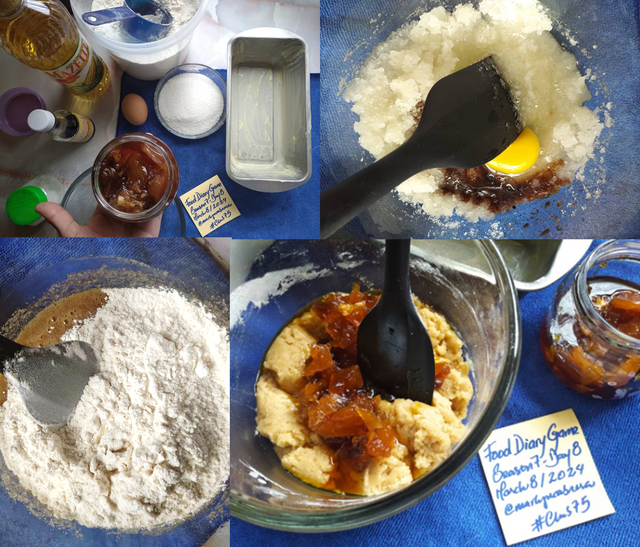 Preparing this cake is extremely simple. The difficult part is to unmold it.
To prepare it, you must have a well-greased pan (I used margarine with salt) and the syrup must be at room temperature to place a thick layer on the bottom of the greased pan.
In a bowl, add the sugar and oil and mix a little so that the sugar absorbs the oil. Immediately add the egg and vanilla essence. Mix well and add the flour, mixing until homogenized. Finally, add the pineapple syrup with the pineapple pieces and use rum to soften the mixture.
Once this is done, pour the mixture into the pan, over the syrup (which also has pieces of pineapple) and bake in a preheated oven at 250 degrees F. x 1 hour.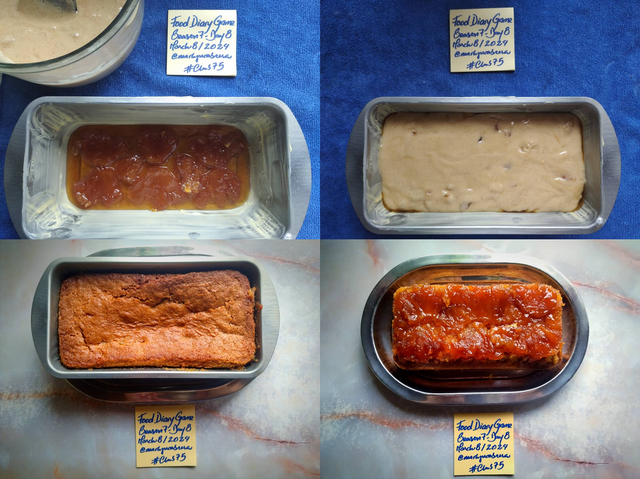 I had told them that the hard part was the unmolding. You have to wait 20 minutes or so, after the cake has come out of the oven. If you do it before that time, the cake can break because it is still very soft when we just turn off the oven, and if you wait for the syrup to cool too much, the cake will stick together and will also break when you try to unmold it.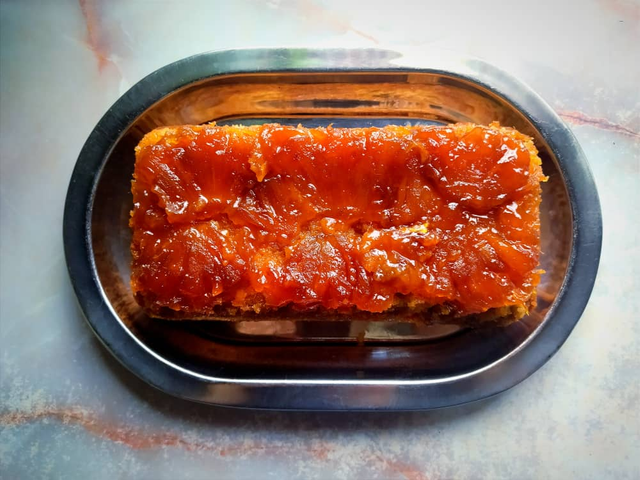 This cake has a smooth and thick texture. The pineapple, rum and caramel flavor is intense and very perfumed. It is one of my favorite cakes; its flavor is very reminiscent of pineapple quesillo. The secret? The orange in the syrup.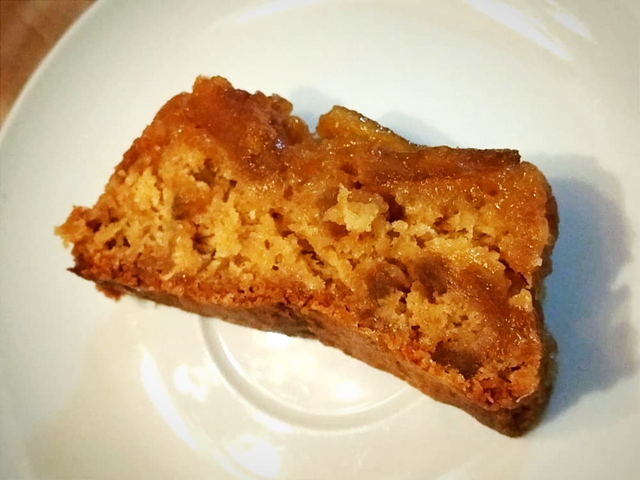 The syrup is prepared in advance. If it is weeks, the better. Just wash the pineapple well, peel it and cut it into pieces at your convenience. Boil it with enough water to cover it, a cup of sugar (half the volume of water), pinch of salt (very important) the juice of half a lemon and a dash of vanilla essence. When it starts to boil, take one medium orange, peel it and remove all the white parts and seeds and add it in small pieces. The syrup will be ready in about an hour. It should be cooked over low/medium heat. Your nose will know when it is ready. The caramel smell is amazing. It should be a little liquid so the cake won't stick.
We ate chicken soup for lunch. One of my favorite meals. I was lucky to have cassava and avocado.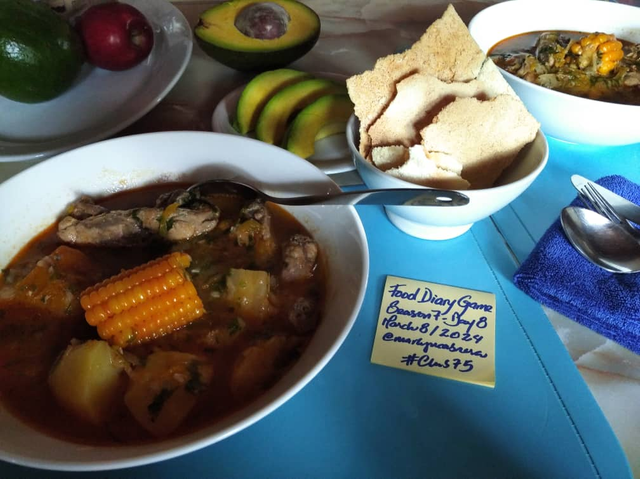 I enjoyed lunch a lot. The weather was rainy. We sat at the table and ate slowly while we enjoyed the fresh weather over our hot chicken soup.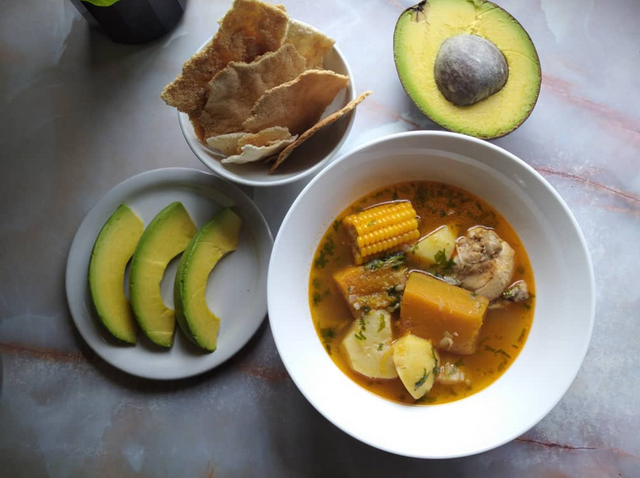 We had no room for dessert. We had our afternoon coffee...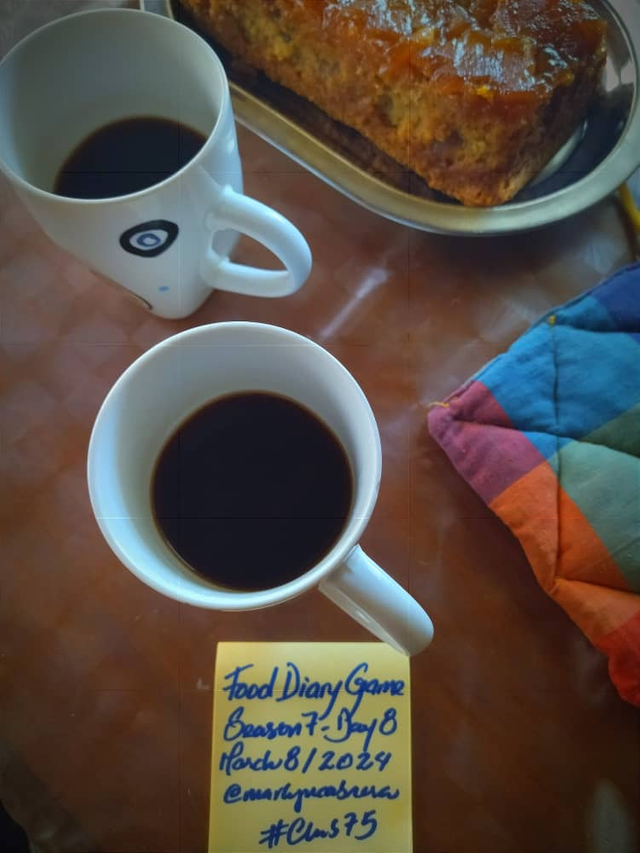 ...With cake.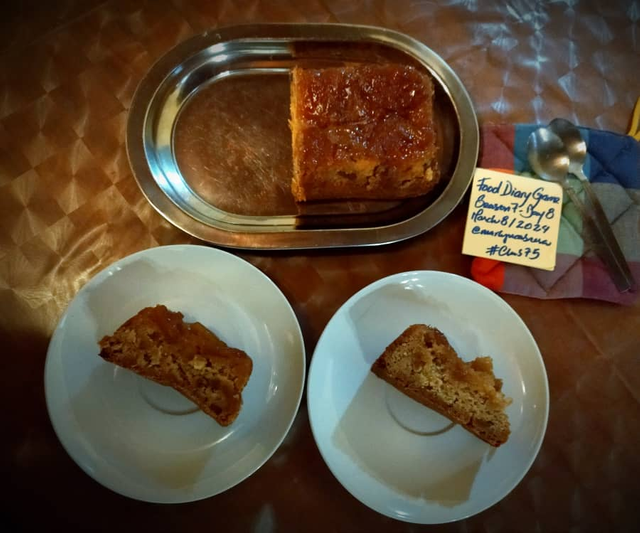 And these were the highlights of my food-day.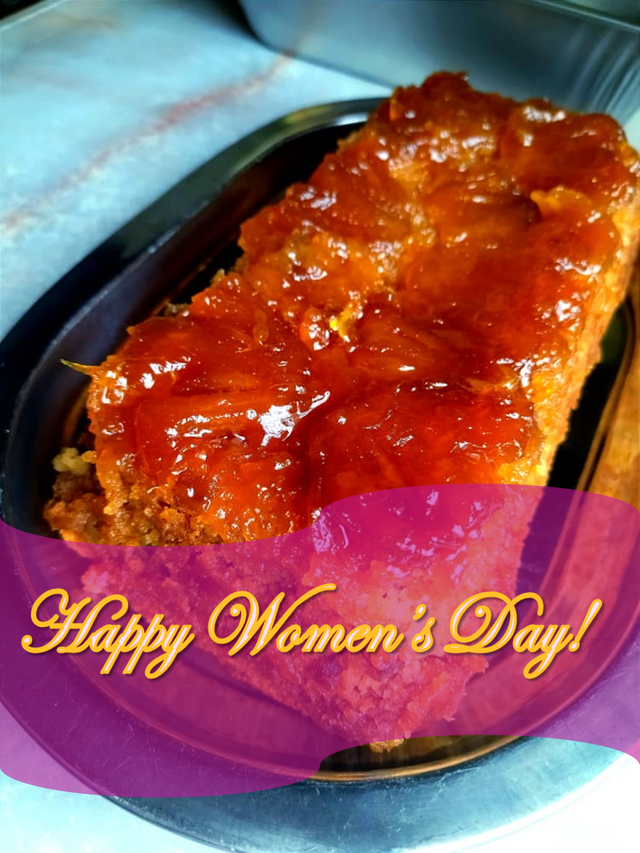 Text and pictures are mine.
If any GIFs here, I have used Gifmaker

Thanks for the visit.

Some of my most recent recipes on #SteemFoods

Buttered Spicy Potatoes

Traditional Heart-Shaped Chocolate Cake with Homemade Chocolate Pudding Filling


My Recipe of Orange Donuts