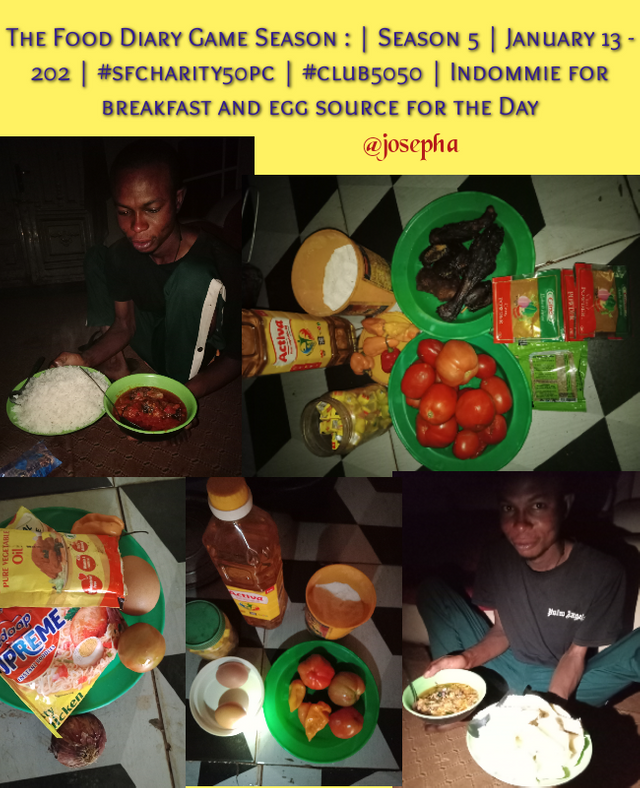 Season greetings to you my wounderfu and beloved Steemians in this grate community
#SteemFoods
community. Today been 13 January, 2022 is my Season 5 of the Food Diary Game. I am so much happy for what I did today. First and foremost let me use this opportunity to thank
@steemitfoods
community and
@alikoc07
for the noble they have been doing in this community , making sure that everyone is either in
#club5050
,
#club75
or
#club100
. Based on the wonderful work that
@steemitflods
has been doing am supporting
@sf-charity
with 10% of the rewards that this post will be generate. Without wasting much time now let's get to what this post is meant for.
Morning Food
Due to my teaching work, I have to walk up at around 5 am and say my 1 hour morning prayers before any other things can take place. After saying my prayers, I then went to kitchen and brought out 2 Indommie noodles, 1 egg, 1 onions and fried which I ate as my breakfast.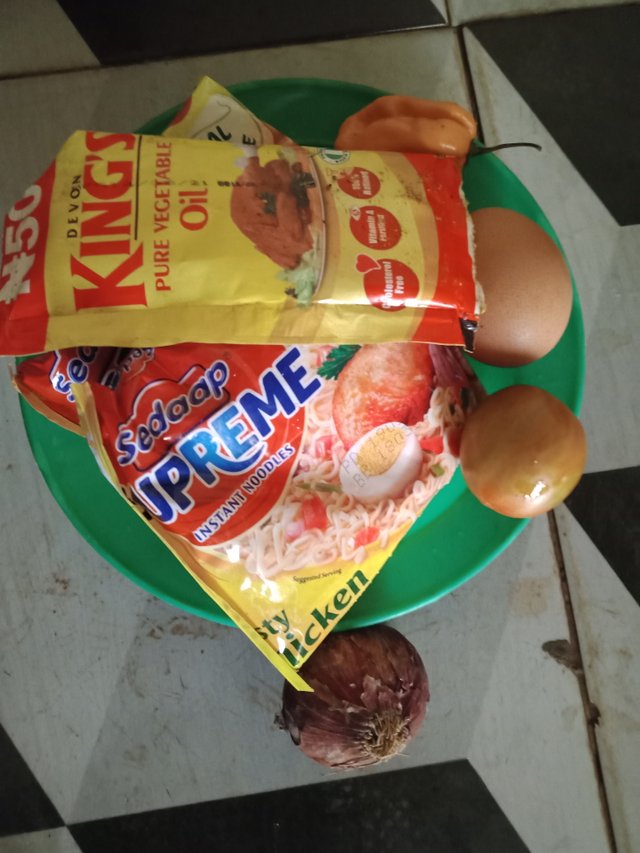 ---
Afternoon Food
In the afternoon I ate yam and egg source. My Yam & Eggs Source was prepared with the following ingredients which are; Yam, fresh tomatoes, tin tomato, 2 eggs,1 big onion, groundnut oil, vegetable leaf, salt, Maggi and dry-fish.
Procedures used:
The first thing I did was to used kitchen knife and peal then yam and sliced it into a pot where I then wash and added small quantity of salt and allowed it to boil untill it get ready for eating.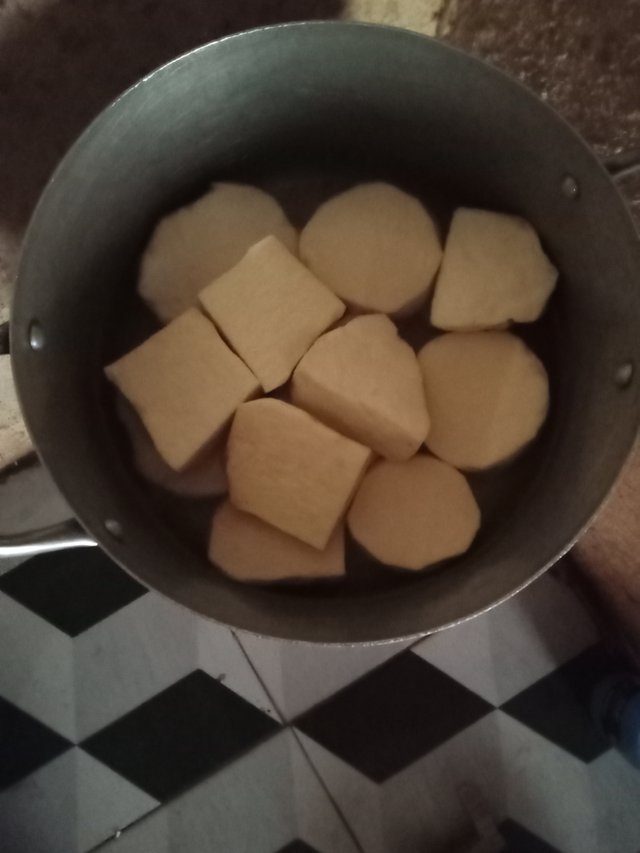 Secondly after I have finished cooking my white yam, I then slice the fresh tomatoes, onions, and cut my vegetable before I then turn small quantity of groundnut oil into pot and then k allow the oil to get hot before I then fried my slice onions.
After frying the onions for some minutes I then added fresh tomatoes and tin tomato and turn it before I then added my other ingredients like Maggi, salt, pepper, fish and vegetable leaf was the last ingredients I then added.
---
Evening Food
In the evening I ate Rice and Stew as my dinner. The rice and Stew was so delicious. It was prepared using the following ingredients; Rice, fresh tomatoes, pepper, 1 tin tomato, onions, dry fish/meat, groundnut oil, thyme, curry powder, salt and Maggi.
Procedure used:
I first wash and boil my rice and allow it to get done.
While my rice was on fire I was busy preparing the ingredients that for the stew, I wash and slice the fresh tomatoes, slice onions cut the dry-fish into pieces and then I removed the bone that is on the fish and finally to this I grende the fresh pepper.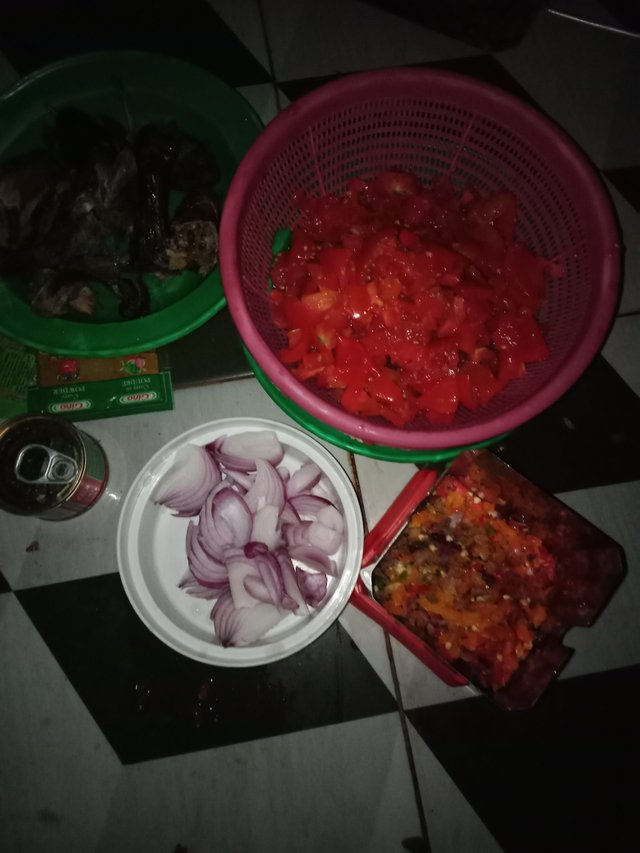 After I have finished preparing the necessary ingredients I then put small quantity of groundnut oil into pot and put the pot on fire which I allow the oil to get hot small before I then added onions and the fresh tomatoes.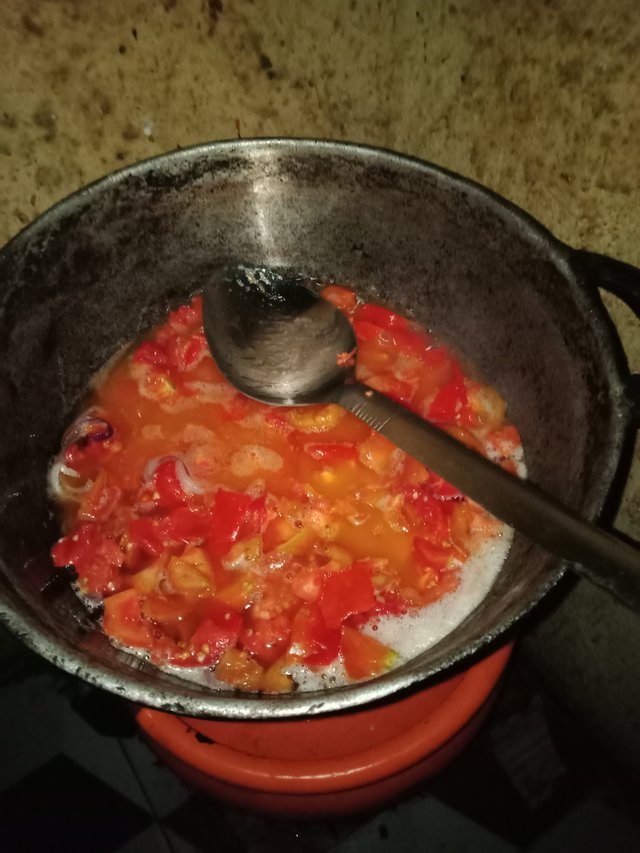 After I have added the onions and fresh tomatoes I then used spoon to stir it and allow it to dry small before I started adding other ingredients like, the tin tomato, dry fish, thyme, curry powder, Maggi, and salt and a very small quantity of water was added to the stew.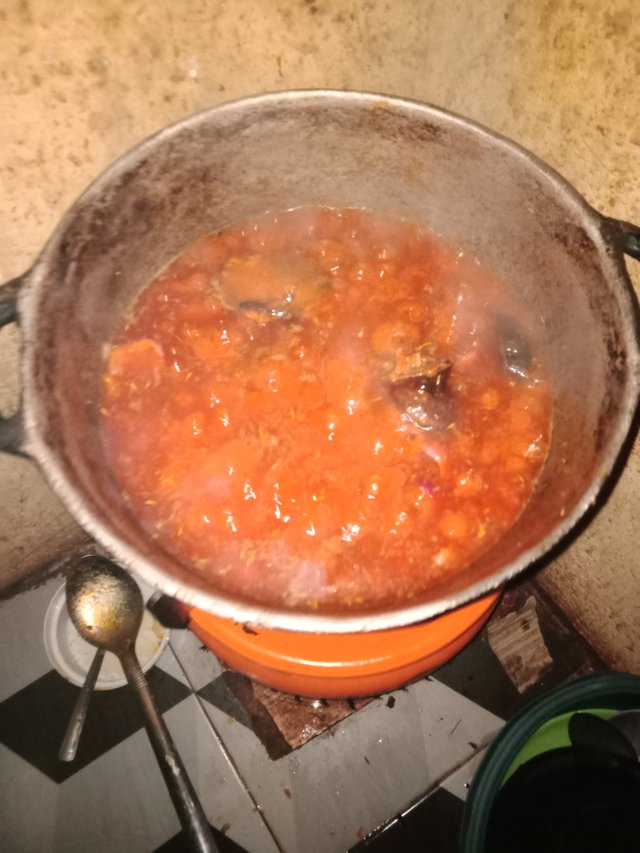 After i have added water to the stew I then cover the lot and allow the stew to boil for about 10 minutes and boom after that the stew was ready for human consumption.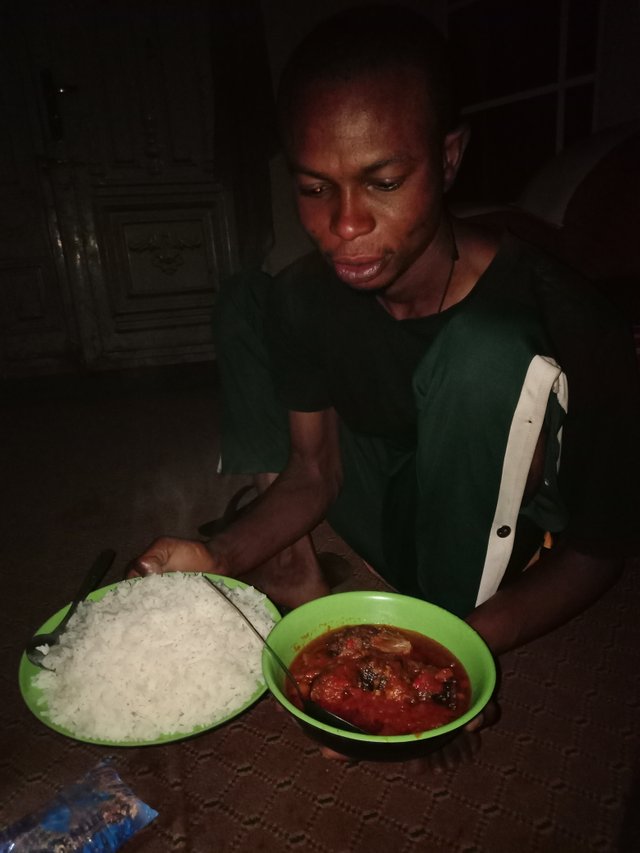 Thank you for your time here.....