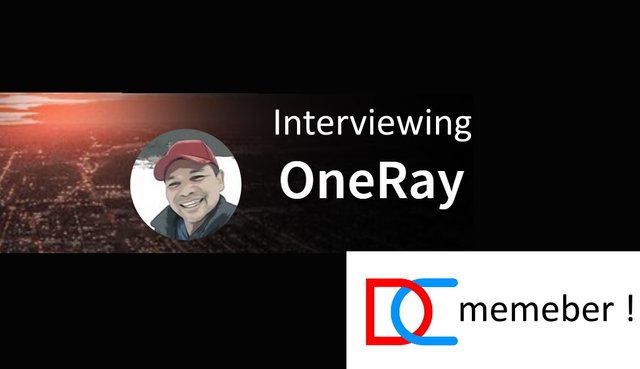 I'm running series of written interviews. Anyone can participate in them.
---
Here are the questions with answers from @oneray :
---
How did you join the hive ?
I joined the hive because of the fork. Before that, I was still fighting on twitter against the hostile steem take and the witnesses imposed by Sun and writing from my blog on steem about this topic.
How long have you been with the community?
My beginnings, like most others, was on the steem blockchain almost 3 years ago, when they told me about a social network in which they rewarded the content that they published on other social networks for free. They were spectacular moments and still are.
Tell me a little about your background?
I don't have much history to tell about my career, however, I can say that I have had good experiences. Right now, I train for the DJ team at @radiohive, and every Tuesday, my first radio show comes out in which we will talk about trading, blockchain, contests, how to grow on the blockchain and always with a guest who will speak from his experience on topics of importance to users. The objective is to grow our accounts.
I like to travel; This has been something I always look for an opportunity to do. In fact, right now I live in Chile, but it has been because of the precarious situation my country is going through in Venezuela. Apart from that, I like to live moments that I can tell others; I take photos of almost anything and I reserve them for the moment to tell their history, flowers, landscapes, insects, my work, among other things.
What do you usually post about?
I usually post about life stories; As I work in an event center, I take photos of the birthdays or marriages celebrated here, and I do a short interview with the entertainers to tell a bit of their story. I publish some reflections that I make for myself and the anecdotes that I have lived through. A friend always says: "We are not all bloggers, but we always have a story to tell" and I took that for myself; I have also published poems and am looking to participate in any contest where I feel comfortable writing.
Tell me about the communities you are part of?
I am involved in many communities, thanks to the invitation of the friends I have on the blockchain, however, I do not write in all of them. @radiohive, a Hispanic community, opened the doors for me and has allowed me to participate in radio as a DJ and now with a program that will come out on Tuesdays at 8 pm Venezuela time; This has been spectacular. I am also part of PowerHouseCreatives, where @jaynie has been an excellent guide to develop myself as a user. Dcooperation also opened its doors for me, doors that never close, and the Gems community. In all, I publish at least once a week, or if I can more I do it. In the other communities, although no less important as theterminal, I have to go back to a few things, and it was thanks to the people in this community that I went from being a redfish to a minnow. I believe that many choose to write in a particular community because of the quantity and quality of votes they receive and not to help strengthen the community that opened its doors; I think the goal in all of this is for all of us to grow.
How do you see the future of steem(hive)?
Steem(hive)'s future is bright; Being a decentralized blockchain, it grows and users are added every day. Initiatives by many renowned users, are positioning it more and more, supported by marketing that can be done on other social networks. I really like Hive. The steem blockchain was where I started and learned to write. He was a good reader, but not a good writer, and it was in steem that it all started. I still have friends there and I still have my steem account, trying to write there once a day. Attachments to things are not erased overnight. There are some initiatives that seem good to me to strengthen the blockchain and avoid total migration, however, it seems that not all are willing to break barriers and make alliances where the user is the beneficiary. I do not know with certainty what will happen in steem with the passage of time, I only dedicate myself to writing and guiding others to become better writers (I am still in that process) and keep my growth plan in both chains.
I hope you enjoyed reading the interview.
Thanks to @oneray for participating in this interview. Since he's the first who participated he'll get 50% upvote every single day from @dcooperation during a month.
All the earning will be used to power up the account.
---
Participate in the written interview and help me build the account to support our members.
Follow @oneray and enjoy his content !
---

Follow me in twitter here : https://twitter.com/Clixmoney1
Join @dcooperation community I'm building here : https://steemit.com/trending/hive-177976