Hi community members, welcome to another new week with a fresh contest. We will be engaging you again in this week's contest and we hope to see your steemexclusive contents just as expected. We are encouraged by all the support that we observe through your delegations as well as the beneficiary rewards. We say a big thank you for all the efforts and believe that the growth of the community is sure with all hands on deck. Your continued participation in the community has given us the required active stay on the platform and we pledge to always support all your steemexclusive contents.
In this week's contest, we would want to share your experience or history as it affects your Town. Our culture is our pride, a veritable heritage that distinguishes us from others. Just as our towns are located differently, so is the diversity in our practices. Therefore, in unveiling this week's contest topic, we are expected to write on My Town and Civilization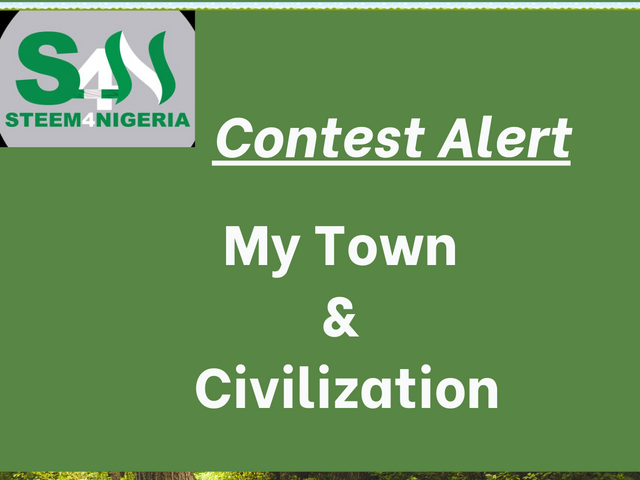 My Town and Civilization

There is no doubt that the effects of civilization in our different country towns have continued to replace some of those old/ancient norms and practices inherent in them. In some cases, there is a gradual loss of mother tongues (local languages) in the adoption of foreign languages. Our food recipes, dress patterns, ceremonies (weddings), and other events are tailored to foreign adoption due to civilization.
Not forgetting other traditional activities like the new yam festival which is gradually easing out, use of masquerade during festive and renowned periods also fading away. Some of these effects may be countless depending on historical changes or experiences from us. Tell us some of these effects in your town. The contest hints maybe help guide you while participating.

Contest Hints
What are some of the histories of your town before civilization?

Do the people of your town still keep some of the old practices.

From history or as a witness, what are the things you miss about the old practices before civilization?

Do you prefer the changes civilization has brought to your town or vice versa.

Contest Guidelines and Rewards
Write an article on the subject with at least 300 words and post it in this community.

Endeavor to subscribe to the community and follow our official account @steem4nigeria.

Leave reasonable comments on other entries from other participants.

Use the tag #steem4nigeria-cs3, #steemexclusive and club status in the first three tags. Invite your friends by mentioning them in your comment on this post and at the bottom of your entry.

10 STEEM would be shared between the top 3 winners. (5,3,2 Steem respectively)

Write quality content to stand out and also to be suitable for support. The contest ends on the 24th of July 2022.

Conclusion
In conclusion, we look forward to seeing quality entries on some of those old practices inherent in your towns which are either in play or changed due to civilization. We wish you success in your submission. Thank you.
---

---
Support the growth of Steem4Nigeria by delegating some SP

50SP
100SP
150SP
250SP
500SP
1000SP
1500SP
2000SP
2500SP
#steemexclusive #club75 #steem4nigeria #nigeria #steem #club5050 #clu5050