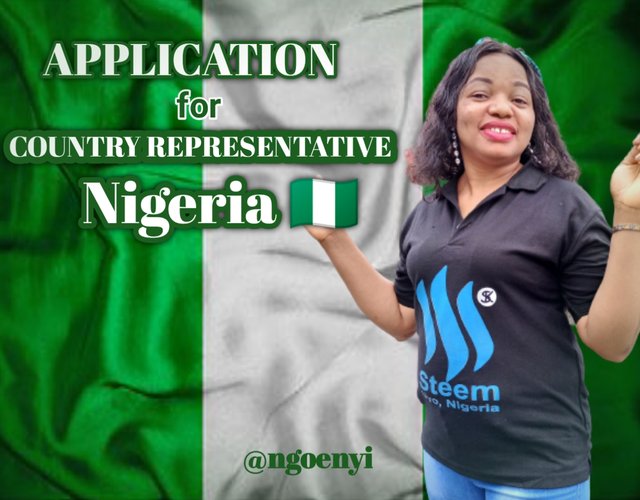 Dear @steemitblog
I hereby apply for the post of a country representative for Nigeria. I got the invitation to apply from your update which you released 5 days ago link.
It is always my delight to serve as a country representative for my country and I have been doing that for more than one year now. I am willing to take it up again and even do more than I have done.

Active on the platform for at least the past 3 months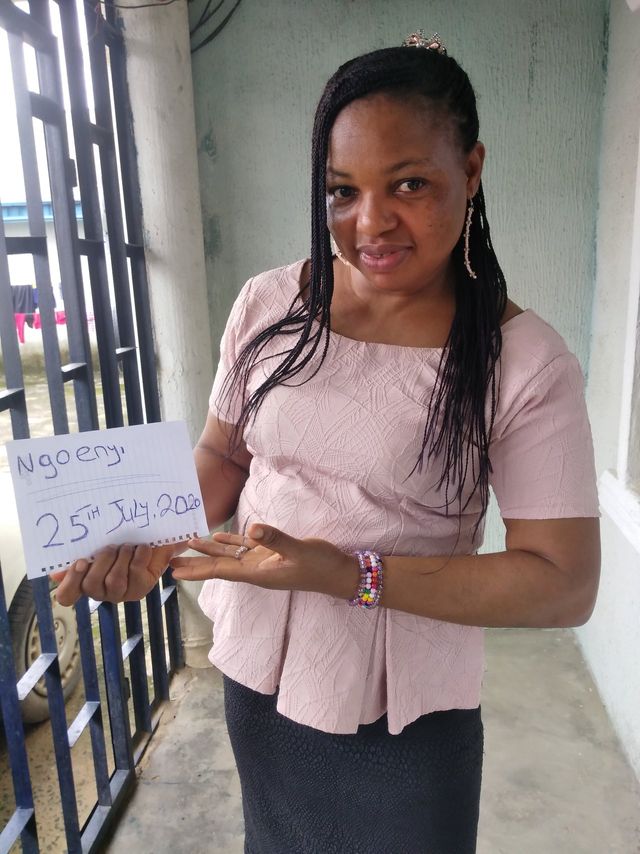 link
I joined steemit on July 25th, 2020 and since then, I have been active.
So I have been on steemit for more than 3 months as you can see from my picture above.

At least 1000 SP of their own (not delegated)

my owned steempower, a screenshot from my wallet
I have more than 1000 owned steempower as you can see from the screenshot above. I love building my steempower through constant powerups. I love investment and there is no better way to invest my earnings if not to power most of them up as steempower, little wonder that in less than 2 years I have been in steemit, I have accumulated+45k sp. Below is the link to the last dolphin post I made to show when I got to 9x dolphin 🐬🐬🐬🐬🐬🐬🐬🐬🐬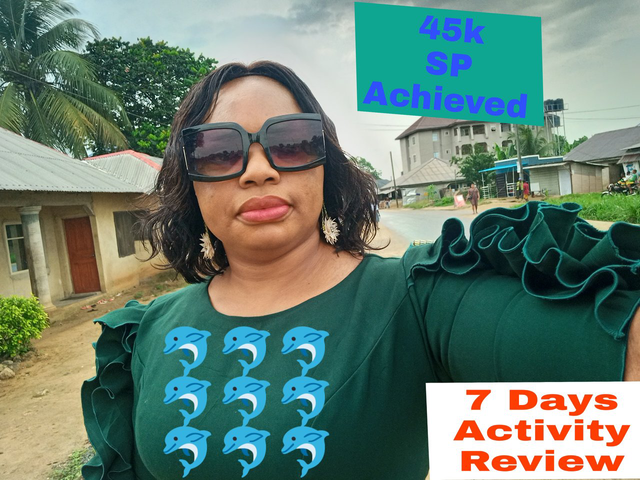 link

A reputation of at least 60
Yes, my reputation is already more than 60.

the screenshot of my reputation from my steemworld page

Live permanently in the country they want to be a Country Rep for
I am currently residing in my country. I have not left here to any other country and I have toured almost round my country with exception of the Northern part which I am planning to. So I understand my country very well.
I don't know what tomorrow will bring but I am currently living in my country and have not made any plan to reside in another country.
I am leaving in the south south part of my country at the moment, precisely Akwaibom State Nigeria.

Be fluent in the main language of the country they want to be a Country Rep for
Nigeria has 3 major languages which are Igbo, Housa and Yoruba but all communicate with English and English has become a general language of my country.
I am fluent in English and Igbo which is my mother tongue and as such, communicating with my fellow steemians in my country can never be a problem. Presently, English is the official language of all steemians in steemit who are Nigerians and we flow well on it.

Have a CSI and voting pattern that clearly demonstrates that they are already supporting other Steemians in the country they want to be a Country Rep for.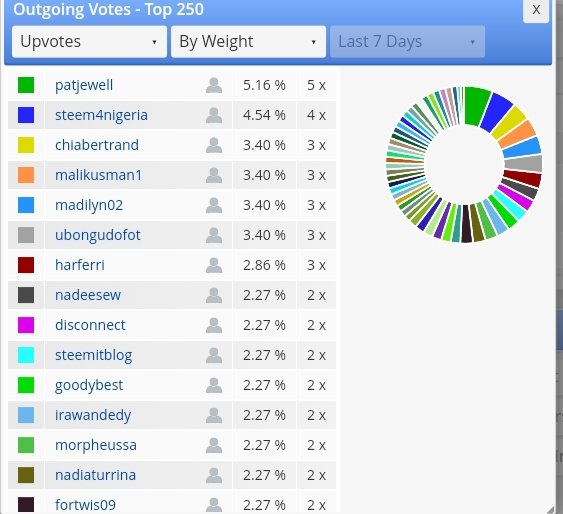 As a member of the 7up Curation team, we emphasize on voting CSI which is a pattern of voting that ensures that different steemians are voted and not just a set of people.
Even though a lot of factors play out on this like how many times a user makes post, ones duties at any point in time and so on, I try my possible best to upvote steemians from my country. In fact, majority of my upvotes go to them because I regularly go through their publications since I have several roles in steemit like being a greeter in newcommers community, mod/ African representative for both steemwomens club community and steemfoods community, Founder/co-admin in Steem4Nigeria community and as the founder of steemkids community.
The engagement challenge as well helps me to go through their publications and upvote them as well.
The screenshots above shows that as at the time of this application, my voting CSI is 16.4 without any self upvote.

Country Reps must also not have recently powered down and they should actively support the #club system.
I perfectly fit in here because I had not recently powered down and my current club status is club75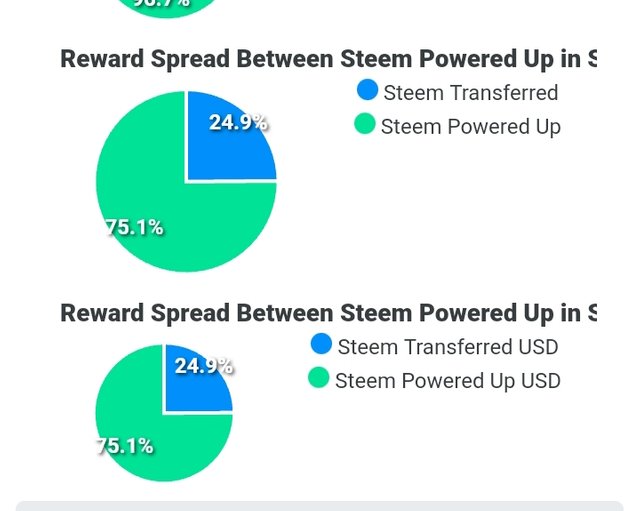 my club status. A screenshot taken from https://www.steemcryptic.me/club5050 page which covers a period of 60 days

You should also say, in no more than 200 words, why you think you would make a good Country Representative.
I understand the roles of a country representative very well, as one who will primarily provide advice and guidance to both old and new steemians in my country. I have been doing this and will continue to do it. I have the patience.

I understand that I have to help grow steem and steemit in my country through steem promotion and organizing public events. I have been doing these and Will continue to do it. I have the spirit.

I understand that I will always support projects and initiatives launched by both steemit Inc. and Tron. I do support all projects and initiatives launched by steemit Inc and Tron even before now like the club initiative, the burnsteem25 and the engagement challenge.

| | this is my burnsteem t-shirt to show my support |
| --- | --- |
| | this was the burnsteem post I made to show my support and to encourage others to join link |
| | here is a post I made to teach how to join the clubs |
| | I was very furious when my identity was stolen by an unknown murderer link |
I am selfless and I am always positive and active, I have not been inactive since I joined steemit and I am not going anywhere so as to be inactive.

I am steemexclusive which means that I am not active in similar social media platforms like hive and blurt and I don't cross post.

This is my introductory post here