Introduction
It's another precious time to share my diary game article in the community and I hope everyone is doing great today. This edition of the diary game I am sharing today would involve a few health challenges I have faced recently. Let's get into the context of the day.
---
The Diary
The day before was a bit challenging with a few symptoms of malaria not only that, it has persisted over the last few days and I have always been managing to carry out my duties. Some of the symptoms are headache, body ache, cold, sneezing, tiredness, and others, as such I deem it fit to get to understand the nature of the sickness. Well, I can't deny the fact that I have been exposed to many mosquito bites in the previous days.
My day began at 5 am while I had my silent time, commented on a few articles on Steemit, and chatted with a medical doctor in my compound who offered to carry out a home-based malaria test for me when the day breaks. After I had taken my bathe around 7 am, I navigated my way to the doctor's flat who carried out a malaria rapid diagnostic test with my blood sample using a test strip, and it was positive. Then, he prescribed some drugs for me.
I returned to my flat after the test. I must visit the pharmacy to get the prescribed drugs but then I had spent some time in the kitchen making beans before I could leave the house. The beans were well cooked at 9:30 am while I have intentionally skipped adding palm oil and pepper to the beans yet. I stepped out to get the drugs.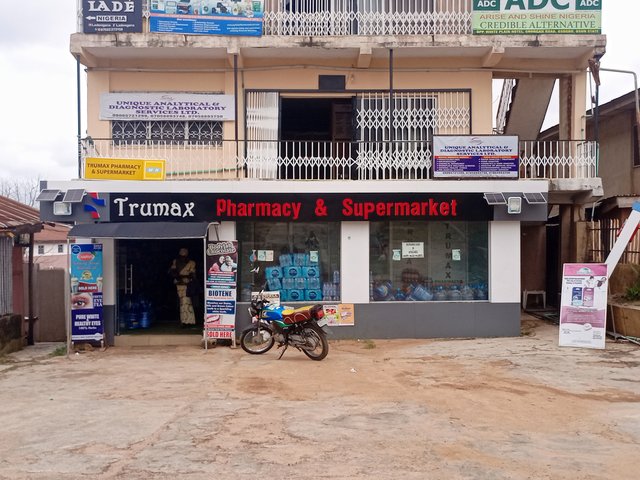 Arriving at Trumax Pharmacy | What3words Location
The pharmacy I had visited is Trumax pharmacy here in my town as can be seen in the image above. The pharmacy has shared a building with other small organizations and one of them is unique analytical and diagnostics laboratory service limited. I had reached out to the attendant for the purchase of the prescribed drugs.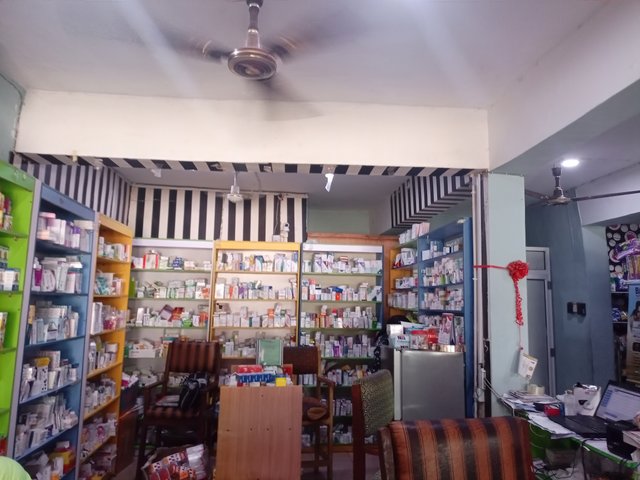 Inside the Pharmacy | What3words Location
The fuel scarcity continues and only a few petrol stations currently sell this product. There was also a power supply failure and I have left the house with the small container I have always utilized for fuel purchase, as such I have visited NIPCO petrol station to get some fuel after my purchase at the pharmacy. You can see a few vehicles at the fuel station below waiting for their turn.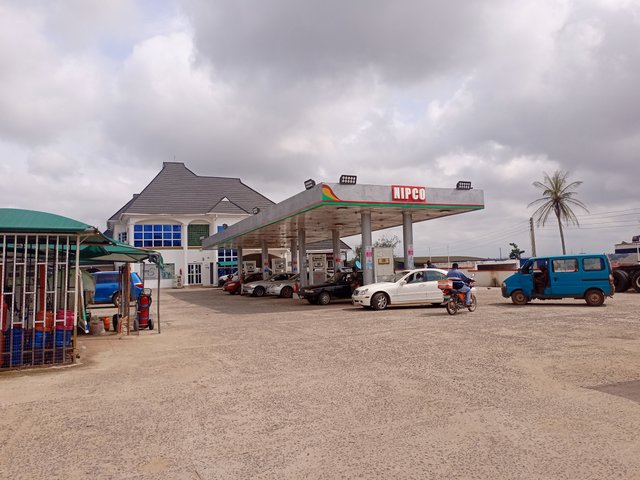 NIPCO petrol station | What3words Location
The queue was a bit relieved from what it has been in the previous weeks when there was an extreme scarcity of fuel. I have purchased petrol worth 600 NGN (4.6 STEEM) which was sold at 169.5 NGN per liter as such I have bought 3.54 liters of petrol.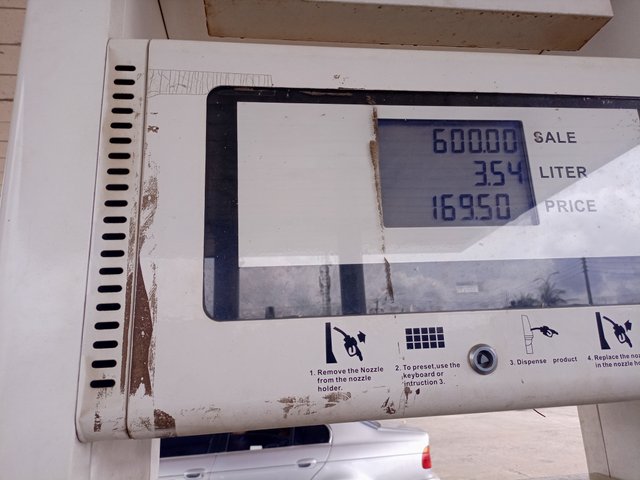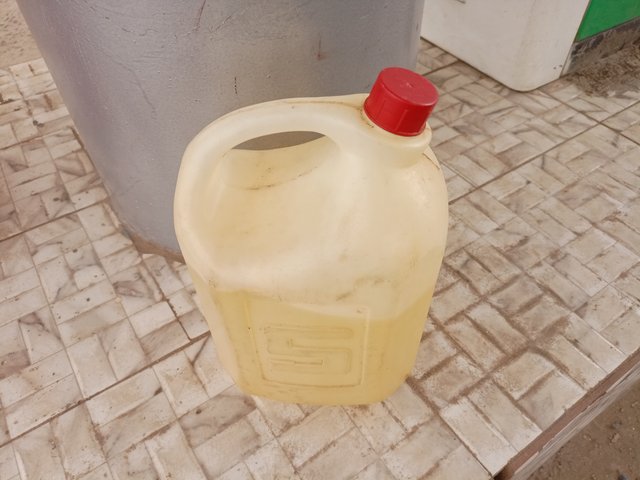 Fuel Price on the Pump and the Purchased Fuel | What3words Location
I got back to my flat and I was so tired, my eyes are weak and they ache. I fell off on the couch and rested for a while before navigating my way into the kitchen as I added palm oil and pepper powder to the beans and had the meal cooked for about 15mins. I have to eat before taking my medications, it's very close to noon already and that's the first meal of the day, as such a breakfast that is so close to lunch. I have taken the beans with bread.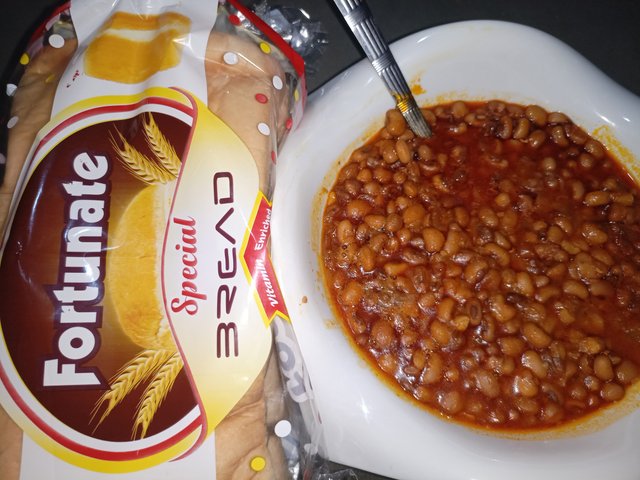 My Breakfast- Bread and Beans | What3words Location
After the meal, it's time to take my medications according to the doctor's prescription. I have bought Gvither tablets (Artemether + Lumefantrine), paracetamol tablets and antibiotics, and diclofenac injections from the pharmacy. The injections are not to be used now, it was only prescribed by the doctor should in case of malaria persists after three days of treatment with the tablets.
The Gvither tablets is to be taken at 8hrs interval daily for a total of three days. My total purchase from the pharmacy this morning was 880 NGN (6.8 STEEM). I took the tablets with water.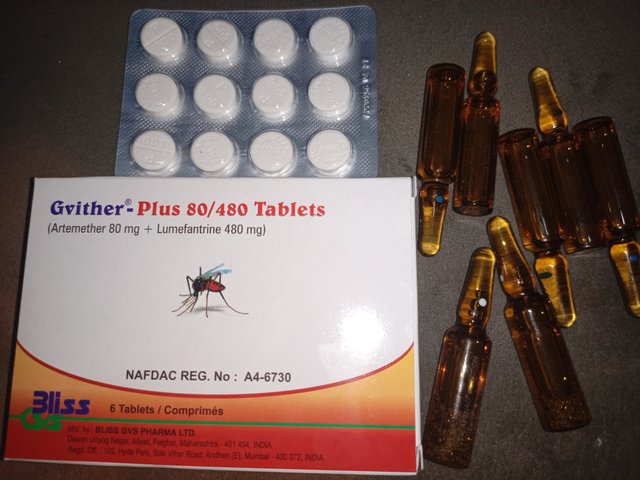 Artemether tablets and other injections | What3words Location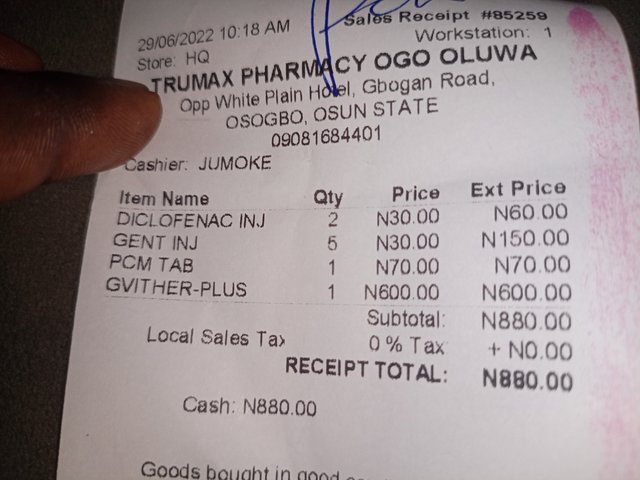 Receipt from the Pharmacy | What3words Location
For some time, I managed to watch a TV drama before my eyes grew very weak that it required that I sleep and that was around 1:30 pm. I had a quite long time to rest as it was 4:24 pm when I woke up. We can say that I have rested well for about 3hrs. I deem it fit to pen down my dairy for the day which I am still writing now.
---
Conclusion
In conclusion, it hasn't been an easy day dealing with malaria and of course, the Artemether drugs even weaken me but I'm glad that my health is improving. In this article, I have been able to share with you the detection of malaria in my blood, and how I have stepped out to get drugs and petrol to power the house.
It's 6:38 pm here when I am about to round up this article, I will just do some work in the community now and curate some articles well. Thanks for reading my diary today and hope I didn't bore you with my malaria story.
---
Written by:-
@fredquantum