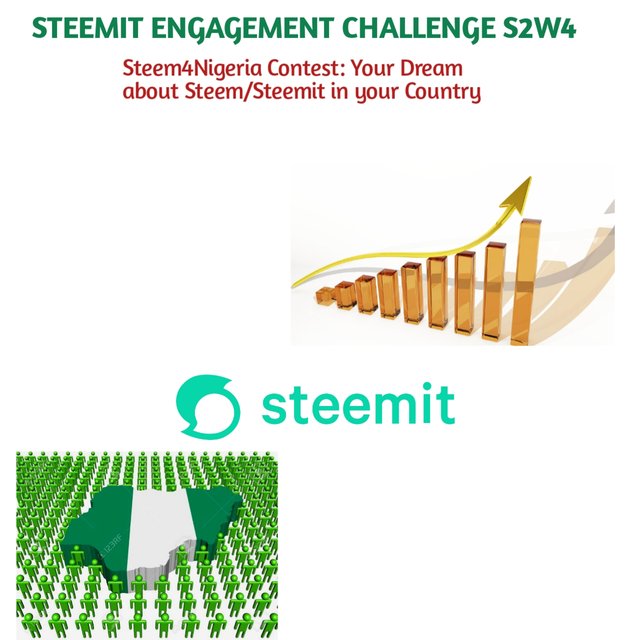 Warmest greetings to everyone here in Steem4Nigeria. I hope you all are perfectly doing well today? it's another time of the week to take part in Steemit Engagement Challenge in Steem4Nigeria Community. For the purpose / aim of this week's challenge, I will share my dream about steem/ steemit in my country. Also with the help of the contest hints given by the organizers on various subtopics which will be included in this entry.
Steemit is a social media with great benefits where we (the users) get to express ourselves better through words by writing, posting, earning, learning and also get to meet new people from different parts of the world.
I got to know about steemit through someone, so as such; I tend to do same by creating awareness and making steemit to be on everyone's lips in my country.
How do I make this dream come to reality? Let's get to find out below;
How Well Steemit is Known in my Country ( Nigeria), Do I Think it's Popular Enough or is There any Need for More Publicity?
Presently in Nigeria, many people are aware of the platform steemit and many are yet to know about the platform. In a scale of 1 to 100, I would say that 10% of Nigerian population are on steemit while 90% are yet to hear about the good news. Nigeria is comprises of 36 states and I have only gotten to meet more people from two states (Abia and Akwa Ibom) out of the 36 states in Nigeria.
Although other states are here but not that much. With this, I would say that; steemit is not popular enough in my country. We still need to put more efforts in the publicity. Nigeria is large and well populated, the number of steemit users today in the platform is very low.
All thanks to Steem4Nigeria for this initiative, this is a wake-up call for all steemians to promote, spread the good news and also make it a trending news in Nigeria. How can we achieve this? Yes, through promotion!
Ways in which I Think Promotion of Steemit can be More Effective in my Country (Nigeria)
There are many projects that can be carried out in order to promote steem and make it the talk on everyone's lips. This can be achieved by strategizing new methods of promotion; methods that everyone will be more comfortable with. Already, many strategies has been used to promote steem in Nigeria like wearing of branded t-shirts, cap and ID card, distribution of flyers, hosting of meetings and training for newbies. All these can still be done but in a more colourful and attractive way. But first it has to be one step at a time.
Let's see the steps;
Creating awareness
Proper orientation
Training / seminar
Motivation/ encouragement
Creating Awareness
This is very simple, it is just for us to show the world that something is happening and share what steemit truly entails by wearing our branded t-shirt face cap, ID card out.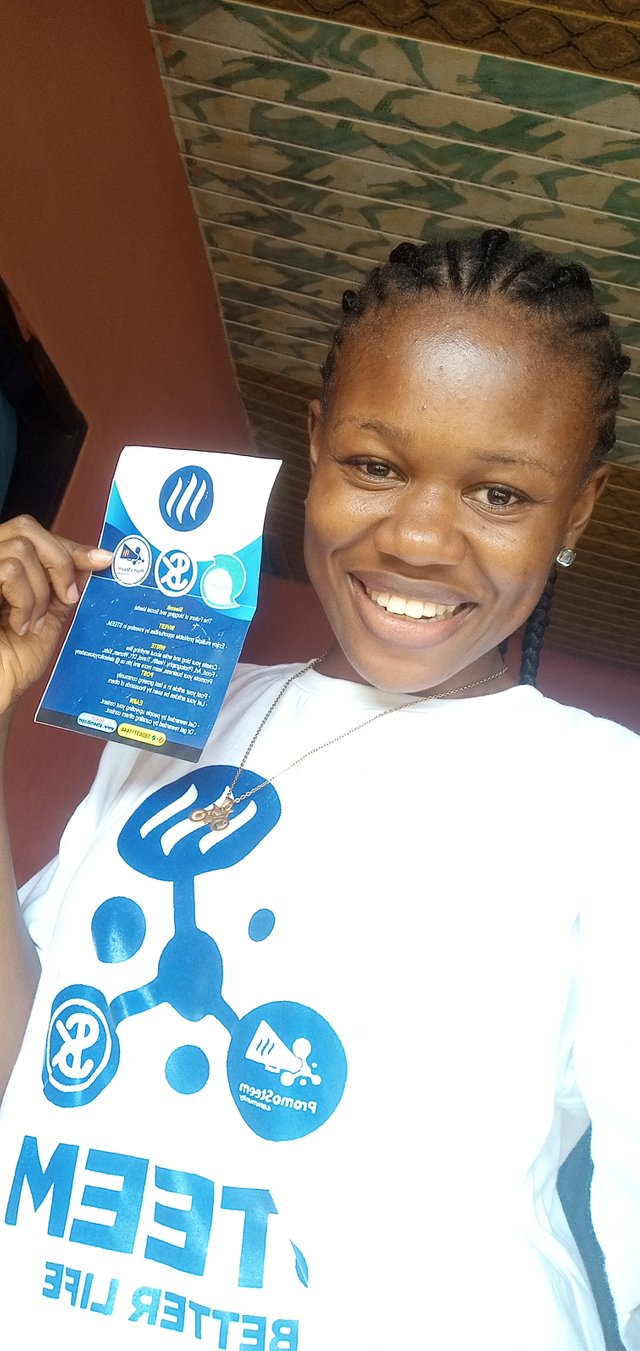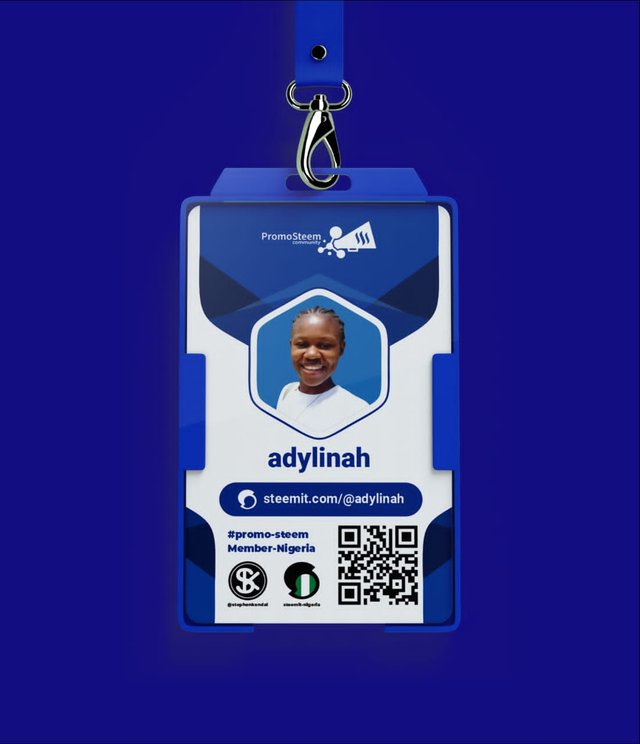 However, this might not be possible as thought, most steemians ( especially workers) might not likely have the opportunity to wear steemit branded t-shirts to work everyday. But, I have come up with a suggestion of making hand band with steemit logo designed on it. Steemit can be written on one side, the other side they can design write- post-earn and also ask me how on another side of the band.
The hand band can also be distributed to people with flyers.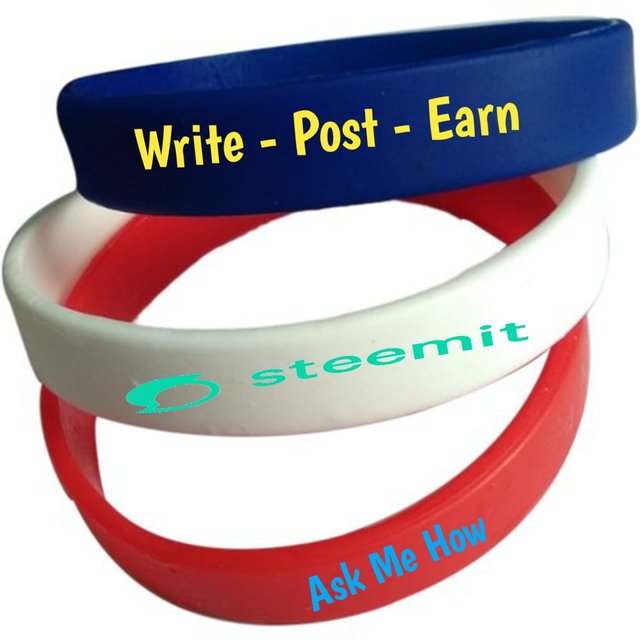 Designed with PixelLab by @adylinah
After giving flyers to some people, most of them fold it and dispose ( I do same too)😂 but this band will remind the person about steemit and make the person to also have a second thought.
What do you all think?
There is no how this will be worn out without it attracting eyes and people asking questions.
Social media advertisement too will go a long way because we can reach out to many people online.
In addition, giving out to the needies is another way to promote steemit. For those who are not always opportuned to go out for charity, you can also set percentage of your post payout to charity account in order to assist in carrying out act of kindness activities. You can set to @worldsmile, @smilenigeria, @steemkindness or any other charity account not listed here and it will be well appreciated.
Proper Orientation
What then happens after introducing steemit?, Proper orientation should be done so these newbies will understand and get more knowledge on what steemit is all about. I am very sure that during promotion, much information on the rules and guidelines will not be given in details. During orientation, steemit rules should be outline so the recruits will have idea of what he/she is signing up for.
Training/ seminar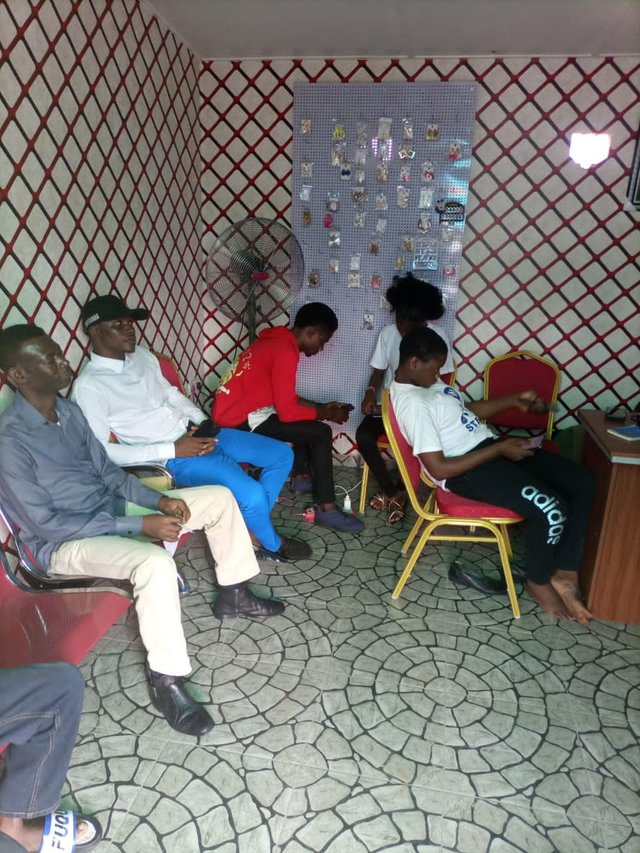 This is the avenue to train these people on how to create unique content and how they can also adhere to steemit rules in order to get support that they deserve.
Secondly, more can be done during the seminar apart from giving these people sweet words on how to create content and get rewarded, letting them know that steemit is beyond what they see should be added to the list. I think this is the reason why more people leave the platform easily when they don't get fast support as they were told during recruitment.
Motivation / Encouragement
Everything has a life cycle and this is a life cycle of steemit. If we don't get to this stage how well can the cycle continue?
Members should please develop the habit of welcoming and supporting newbies no matter how little. With this, they will have a reason to stay active, contribute to the platform happily and the cycle will continue ( they will be bold to tell others about the platform). Although, I know that consistency is the key in steemit, nothing comes easily but little appreciation (upvotes) will go a long way and also help in promotional activities.
Do you Think Steemit Would be Adopted more in Nigeria if the Points Listed Above are Implemented?
Yes!, Everything works with efforts, if these strategies are implemented, the rate of steemit users in Nigeria will rapidly increase in an incredible way. The more effective the promotion is carried out, the more it will attract eyes and make people wonder what steemit is all about. Most people in Nigeria who are self-employed will likely embrace the good news of steemit because now people hardly see good paying jobs, where to learn without paying for it and also where to share their talents and ideas.
How I have Contributed my Quota to the Development of Steemit in my Community
Since I signed up to this great platform, I have tried my possible best to spread the good news to others on my social media handles, my school and the environment where I live. I joined steemit when promotion was hot, I usually join other steemians in my city to promote steemit and the weeks that I'm unavailable to join them, I carry out my promotional activities alone wherever I am.
See pictures from my steemit promotion gallery;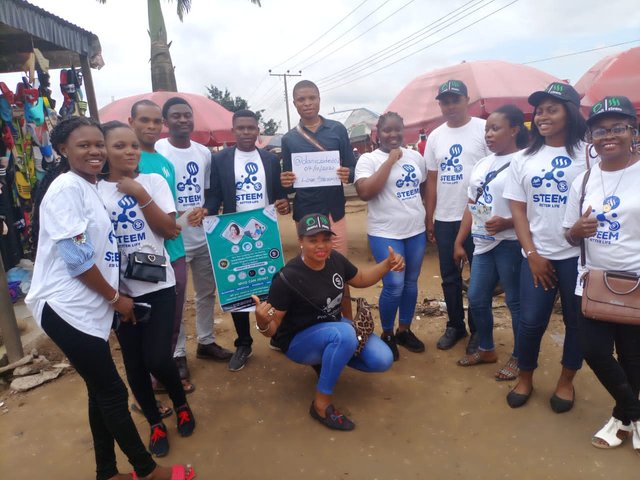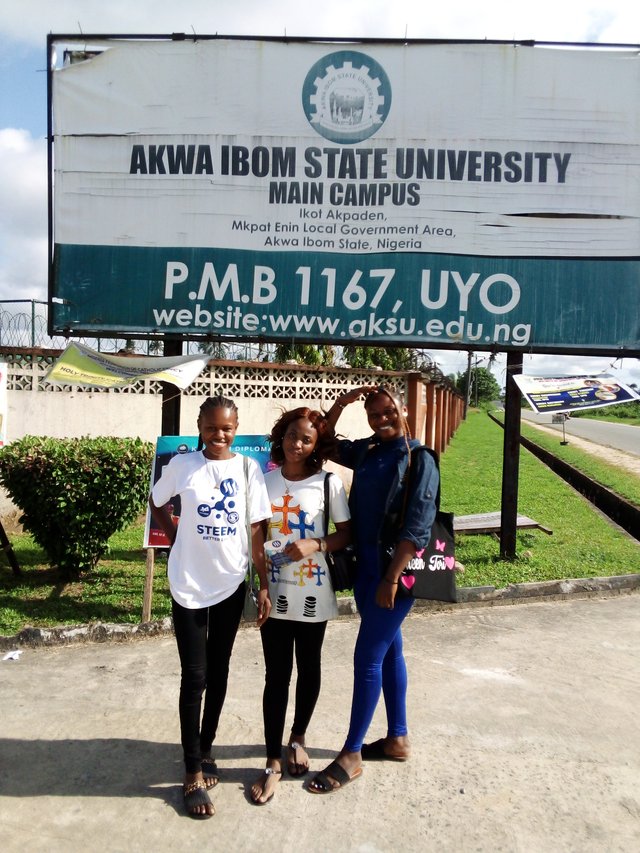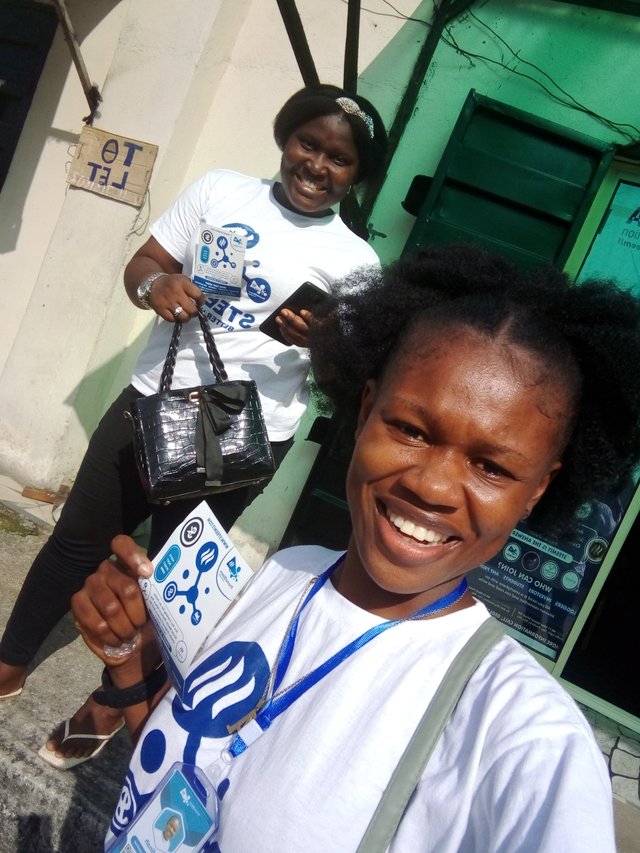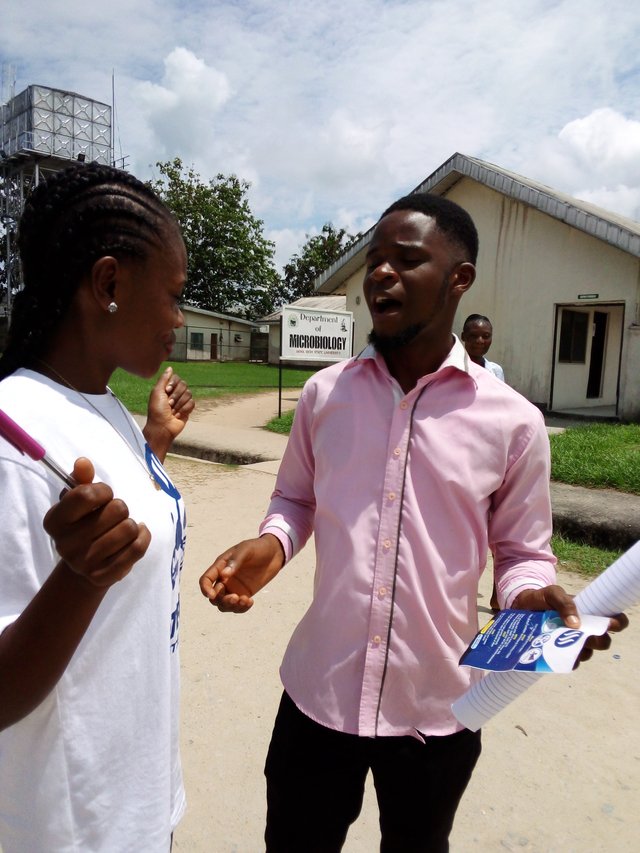 Steem promotion is amazing thing to do or experience because through it I was able to get to know about the platform and I am benefiting from it till today. Creating this awareness will surely make steemit to be on every Nigerian's lips and it will also add greatly to the growth of the platform. Thank you!
I would like to invite @wase1234, @patjewell and @ubongudofot to also share their thoughts on steemit promotion.