english below...
Normalerweise komme ich zu meinen Aufträgen auf die altmodische Art: im Idealfall erzählt ein zufriedener Kunde seinem Freund, Nachbarn oder Kollegen, daß er unglaublich zufrieden mit meiner Arbeit wäre und empfiehlt mich wärmstens weiter. Oder ein anderes Gewerk vermittelt einen erwünschten Kontakt. Auf diese Art starte ich mit einem unbezahlbaren Vertrauensvorschuß ins nächste Projekt. Außerdem reagiere ich auf Ausschreibungen. Bei manchen, gerade vielen förderfähigen Projekten ist eine öffentliche Ausschreibung zwingend vorgegeben. Bei anderen ist den Auftraggebern selbst an einer regulären Submission gelegen. Eigentlich finde ich diesen Prozeß auch gar nicht verkehrt, um sich und seine Idee von der Umsetzung angemessen herauszustellen. Leider ist hier der Aufwand für die Erstellung der bedingungsgerechten Angebote sehr hoch und steht in keinem Verhältnis zu der eher niedrigen Zuschlagsquote. Und Arbeit um ihrer selbst willen ist nun einmal echt unbefriedigend... Bei ganz seltenen Gelegenheiten hat es sich wiederum ergeben, daß ich zufällig in eine Krisensituation hineinplatze und mich direkt anbieten kann, das vorliegende Problem zu beseitigen. Also Held des Tages zu sein, ist auch nicht soo schlecht ;-))
Wie auch immer: vor einigen Tagen stolperte ich über einen Artikel in einer Berliner Lokalzeitung. Die nicht direkt dezente Schlagzeile: "Der Waldsee in Zehlendorf stinkt zum Himmel!"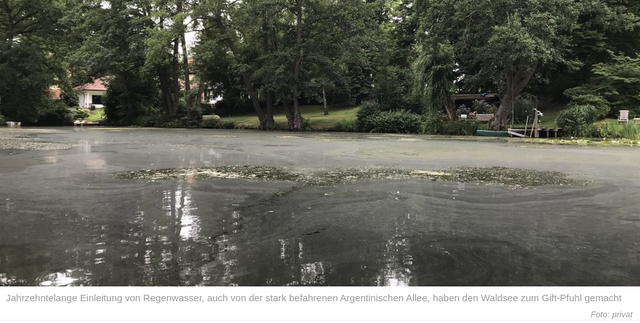 Neben diesem appetitlichen Bild enthielt er die Beschreibung des anscheinend seit mehreren Jahren andauernden Dramas dieses Sees in gutbürgerlicher Grünrandlage der Stadt. Die Rede ist von kieloben schwimmenden toten Ratten und Fischen mit aufgedunsenen Bäuchen, von nicht mehr nutzbaren Grundstücken in Ufernähe und von verzweifelten Anwohnern, die sogar einen Verein zur Rettung des Gewässers gegründet hätten. Und es wird das zuständige Bezirksamt zitiert mit der Aussage, der bedauerliche und unzumutbare Zustand des Waldsees wäre hinlänglich bekannt, allein zur Behebung fehlten die entsprechenden finanziellen Mittel.
Für Interessenten zum Nachlesen: https://www.bz-berlin.de/berlin/steglitz-zehlendorf/der-waldsee-in-zehlendorf-stinkt-zum-himmel
Beides - dieser verdreckte und vergiftete See in einer sehr schönen Ecke Berlins und die Ausrede der verantwortlichen Behörde - wollte mir nicht recht in den Kopf. Ich habe mich deshalb in Folge ein bißchen in das Thema vertieft. Betroffene Bürger haben tatsächlich vor vier Jahren einen Verein (Umweltschutz und Landschaftspflege für den Waldsee Zehlendorf e.V.) gegründet mit dem Ziel, wieder einen naturreinen See mit Naherholungscharakter zu bekommen. Die Mitglieder, insbesondere der Vorstand, scheinen sich auf sehr hohem Niveau Kenntnisse angeeignet zu haben sowohl in abwassertechnischer als auch in juristischer Hinsicht. Sie gaben ein Gutachten zur Wasserqualität in Auftrag, das ein Institut für angewandte Gewässerökologie aus Brandenburg in beachtlicher Tiefe erstellt und veröffentlicht hat.
Der analysierende Teil ist bemerkenswert, genau und fundiert. Mir selber hätten diverse Untersuchungsverfahren, die angewandt wurden, gar nicht oder zu nicht vertretbaren Kosten zur Verfügung gestanden. Ursache, Herkunft und Ausmaß der ständig zunehmenden Verunreinigung und deren Zusammensetzung wurden belegt und erklärt. Im weitesten Sinne ist die ungeklärte Einleitung von Straßen-Rinnwasser aus drei Bereichen im Umfeld verantwortlich. Darin enthalten sind natürlich neben dem Regenwasser Feinstaub, Reifenabrieb, Feuerlöschschaum, Blütenpollen, Zigarettenkippen und anderer Kleinabfall, Fäkalien und "weitere abgelassene Flüssigkeiten".
Das Gutachten ermittelt die drei Einleitungspunkte, deren jeweiligen Anteil an den Verunreinigungen, die unterschiedlichen Problemfelder Phosphate, Stickoxide und Verschlammung sowie deren Umfang.
Nachdem ich bis dahin voll des Lobes bin über die gutachterliche Ausarbeitung, komme ich zu den vorgeschlagenen beiden Verfahren zur Renaturierung des für sein Einzugsgebiet wirklich wichtigen Gewässers. Plan A aus Sicht des Institutes ist die Installation von Lamellenfiltern an jedem einzelnen Gully im Abflußbereich. Diese wären dann regelmäßig, mindestens dreimal monatlich auszutauschen. Das stellen wir uns bitte ganz kurz technisch vor: es dürfte um ca. 3.000 Gullys gehen, die notwendige Wartung würde mehrere Mitarbeiter permanent beschäftigen (vermutlich dennoch überfordern) und der Verkehrsfluß wäre für jede dieser Maßnahmen jedes Mal empfindlich gestört oder unterbrochen. Von den zu erwartenden Kosten ganz abgesehen hält das Institut selbst dieses Vorgehen für nicht praktikabel.
Plan B erfordert nichts dergleichen. Es wird weiter eingeleitet, was immer da kommen mag. Man würde einfach chemische Antagonisten für die beiden Hauptprobleme in den See schütten, die das Phosphor und die Stickoxide dann binden und als Niederschlag ausfällen. Okay, man räumt ein, daß nicht abschätzbar ist, wie das dann mit dem Fällschlamm am Grund des Sees weitergehen würde. Welche Auswirkungen die zusätzlichen Chemikalien auf das Biotop haben könnten und mit welchen neuen Belastungen die Anwohner ggf. zu rechnen hätten. Aber sonst - gute Idee ;-((
Das Bezirksamt hat dann erwartbar Plan A aus Kostengründen abgelehnt und Plan B als, sagen wir, unsinnig verworfen. Das ist nun der Stand seit 2019...
Ich habe zwei ganz simple, spontane Ideen dazu, die sicher nicht kostenlos wären, aber vergleichsweise erschwinglich und unaufwändig. Beide funktionieren mittels rein natürlicher Prozesse. Es wäre einfach realisierbar, an den Einleitpunkten Filterkammern mit Hanfmatten zu installieren. Der stetige Durchfluß macht sich die Eigenschaften von Hanf zunutze, die hier auftretenden Schadstoffe zuverlässig zu filtern und zu binden. Auch diese Matten müßten natürlich regelmäßig getauscht werden - ich rechne bei den angegebenen Mengen mit zwei bis drei Wechseln im Jahr. Diese wären ohne Beeinträchtigung des Umfeldes ausführbar. Vermutlich wird dieser Vorschlag am ehesten daran scheitern, daß der Einbau von Hanfmatten zu diesem Zweck in Deutschland noch nicht generell zugelassen ist. Es braucht Zertifizierung der einzelnen Projekte und der Beteiligten daran, also der Installateure und Hersteller. Und ja, das alles wird begründet mit dem Betäubungsmittelgesetz, obwohl Nutzhanf und seine Verwendung nicht das geringste mit halluzinogenem Cannabis zu tun hat. Ist Gesetz!
Mein zweiter Ansatz hat auch mit Filterbecken an den Einlaßpunkten zu tun: hier werden Wasserhyazinthen angebaut. Diese und ihr innewohnende Bakterienkulturen neutralisieren die Schadstoffbelastung des Abwassers und geben Frischwasser in Trinkwasserqualität aus. Phytoremediation. Fantastisches Zeug! Ich bin davon wirklich begeistert, auch wenn ich im Nebensatz anfügen muß: invasives Zeug. Je mehr Schadstoffe durch den Bewuchs fließen, desto mehr wuchert die sich aggressiv vermehrende Pflanze und wird damit zum eigenen Problem. Dem man mit wirtschaftlicher Verwertung begegnen könnte und dadurch sogar die Kosten für die Einbringung wieder herausholen. Ein sich selbst tragendes Konzept. Liest sich das nur für mich vorteilhaft? Die Frage wird tatsächlich sein, ob der Bezirk und die Anwohner die besagte wirtschaftliche Verwertung, also regelmäßige maschinelle Ernte, an ihrem See mögen können...
Was mache ich jetzt? Wende ich mich an den sehr engagierten Verein? Spreche ich 'mal beim Bezirksamt vor? Ist das aufdringlich und unbescheiden? Ich gebe zu, die Geschichte reizt mich einfach total...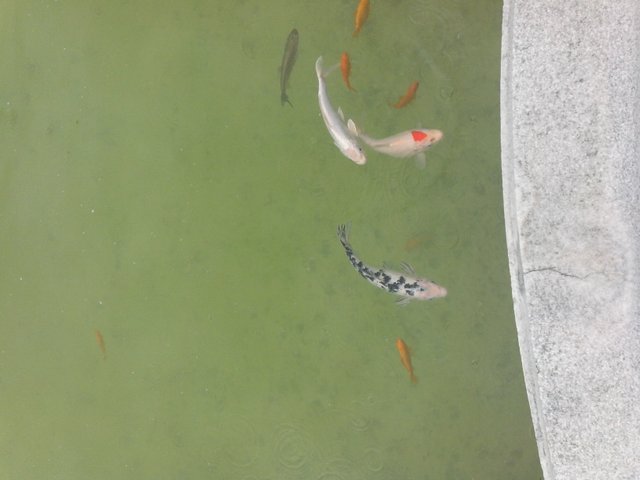 english version:
I usually get my orders the old-fashioned way: ideally, a satisfied customer tells their friend, neighbour or colleague that they would be incredibly pleased with my work and highly recommends me. Or another trade refers a desirable contact. In this way, I start the next project with a priceless reserve of trust. I also respond to calls for tender. For some projects, especially many that are eligible for funding, a public tender is mandatory. For others, the clients themselves are interested in a regular tender. Actually, I don't think this process is wrong at all, in order to present oneself and one's idea of implementation in an appropriate way. Unfortunately, the effort required to prepare tenders that meet the conditions is very high and out of all proportion to the rather low award rate. And work for its own sake is really unsatisfying... On very rare occasions it has happened again that I happen to barge into a crisis situation and can directly offer to eliminate the problem at hand. So being the hero of the day is not so bad either ;-))
Anyway: a few days ago I stumbled across an article in a local newspaper in Berlin. The not-so-discreet headline: "The Waldsee in Zehlendorf stinks to high heaven!"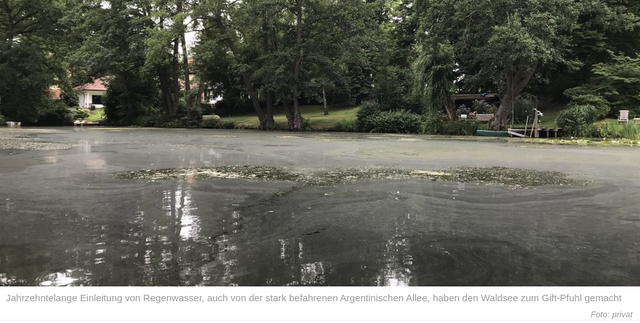 In addition to this appetising picture, it contained the description of the drama of this lake in a bourgeois green outskirts of the city, which has apparently been going on for several years. There is talk of dead rats floating on the keel and fish with bloated bellies, of properties near the shore that can no longer be used and of desperate residents who had even founded an association to save the water. And the responsible district office is quoted as saying that the deplorable and unacceptable condition of the Waldsee is well known, but that there are no financial means to remedy it.
For those interested to read: https://www.bz-berlin.de/berlin/steglitz-zehlendorf/der-waldsee-in-zehlendorf-stinkt-zum-himmel
Both - this filthy and poisoned lake in a very beautiful corner of Berlin and the excuse of the responsible authority - didn't quite fit into my head. I therefore delved into the subject a little. Four years ago, concerned citizens actually founded an association (Umweltschutz und Landschaftspflege für den Waldsee Zehlendorf e.V.) with the aim of restoring a natural lake with local recreational character. The members, especially the board of directors, seem to have acquired a very high level of knowledge both in wastewater technology and in legal matters. They commissioned an expert report on water quality, which was prepared and published in considerable depth by an institute for applied water ecology from Brandenburg.
The analysing part is remarkable, precise and well-founded. I myself would not have had access to various investigation methods that were used, or at unacceptable costs. The cause, origin and extent of the ever-increasing contamination and its composition were substantiated and explained. In the broadest sense, the untreated discharge of road runoff from three areas in the vicinity is responsible. This, of course, includes fine dust, tyre abrasion, fire extinguisher foam, pollen, cigarette butts and other small waste, faeces and "other discharged liquids" in addition to rainwater.
The report identifies the three discharge points, their respective share of pollution, the different problem areas of phosphates, nitrogen oxides and siltation, and their extent.
Since I am full of praise for the expert report up to this point, I come to the two proposed methods for the renaturation of the watercourse, which is really important for its catchment area. Plan A from the Institute's point of view is to install lamella filters on every single gully in the drainage area. These would then have to be replaced regularly, at least three times a month. Let's imagine this in a very short technical way: it would probably involve about 3,000 gullies, the necessary maintenance would permanently occupy several employees (probably nevertheless overtaxing them) and the traffic flow would be severely disturbed or interrupted each time for each of these measures. Quite apart from the expected costs, the Institute itself considers this approach to be impracticable.
Plan B requires nothing of the sort. One continues to initiate whatever may come along. One would simply pour chemical antagonists for the two main problems into the lake, which would then bind the phosphorus and nitrogen oxides and precipitate them as precipitation. Okay, it is admitted that it is not possible to estimate how this would then proceed with the precipitation sludge at the bottom of the lake. What effects the additional chemicals might have on the biotope and what new burdens the local residents might have to reckon with. But otherwise - good idea ;-((
The district office then predictably rejected Plan A on cost grounds and discarded Plan B as, shall we say, nonsensical. This is now the state of affairs since 2019....
I have two very simple, spontaneous ideas for this, which would certainly not be free of charge, but would be comparatively affordable and inexpensive. Both work by means of purely natural processes. It would be easy to install filter chambers with hemp mats at the discharge points. The steady flow makes use of the properties of hemp to reliably filter and bind the pollutants that occur here. Of course, these mats would also have to be replaced regularly - I reckon with two to three changes a year for the quantities specified. This could be done without disturbing the surrounding area. This proposal is most likely to fail because the installation of hemp mats for this purpose is not yet generally approved in Germany. Certification of the individual projects and those involved in them, i.e. the installers and manufacturers, is needed. And yes, all this is justified with the narcotics law, although commercial hemp and its use has nothing whatsoever to do with hallucinogenic cannabis. Is law!
My second approach also has to do with filter basins at the inlet points: water hyacinths are grown here. These, and their inherent bacterial cultures, neutralise the pollutant load of the wastewater and output fresh water of drinking quality. Phytoremediation. Fantastic stuff! I'm really excited about this, even though I have to add in an aside: invasive stuff. The more pollutants flow through the vegetation, the more the aggressively reproducing plant proliferates and becomes its own problem. This could be countered with economic recycling, thereby even recouping the costs of introduction. A self-sustaining concept. Does that only read favourably to me? The question will indeed be whether the district and the residents can like the said economic exploitation, i.e. regular mechanical harvesting, at their lake...
What do I do now? Do I approach the very committed association? Do I approach the district office? Is that pushy and immodest? I admit, the story just really excites me...