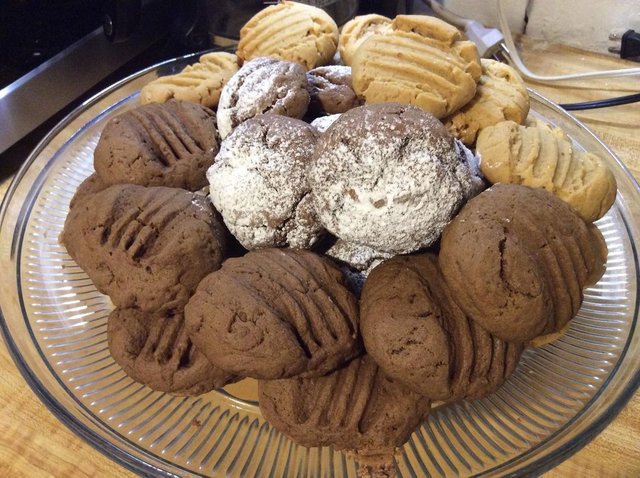 Good day, friends!...hope you enjoy this
RECIPE 🍪🍪🍪🍪
Flour 2 1/4 cup.
Baking soda 1 teaspoon.
Salt 1/2 teaspoon.
Butter 1 cup (2 sticks) at room temperature.
Mazcabado Sugar 1 cup. Chocolate powder can be "Choco Milk" or whatever you have 1/2 cup.
Vanilla 1 teaspoon.
Eggs 2.
PREPARATION: sift flour, baking soda and salt...set aside...beat butter, sugar and vanilla until creamy...add the chocolate powder...integrate well. ...add the eggs 1 at a time...beating well after each one...gradually add the flour...continue beating until well blended...take one tablespoon portions and roll into small balls...place them in the ungreased pan.... I put aluminum foil...leaving space between each one...and with a fork crush them a little...others leave them as "balls"...bake them at 350º degrees (180) for 10-12 minutes or 14 minutes if you want them more golden brown...be careful not to burn them. ...let them cool on the trays for 2 minutes...and then let them cool on a metal rack if you like some "round" ones add Glass sugar with a strainer...(as in the picture) 🍪🍪🍪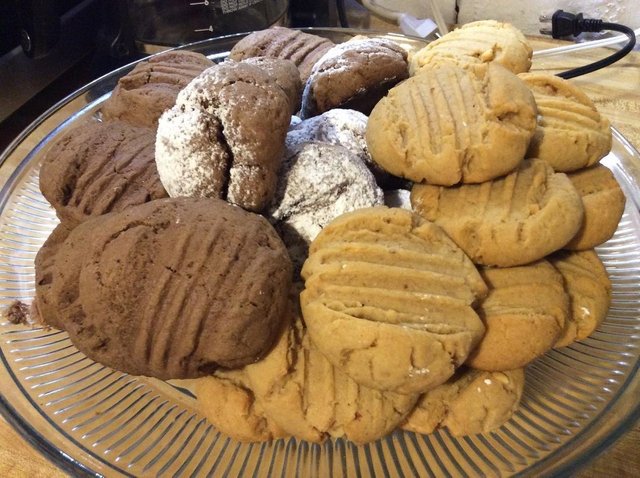 🍪...PEANUT CREAM GALLETAS 🥜?
HERE'S THE RECIPE:
Flour 1 1/4 cup.
Carbonate 3/4 teaspoon
Salt 1/4 teaspoon
Butter 1/2 cup
Peanut butter 1/2 cup
Peanut butter 1/2 cup.
Sugar 1/2 cup
Caster sugar 1/2 cup.
Egg 1.
Vanilla 1/2 teaspoon.
Sugar for garnish.
WORKING:
Sift flour, carbonate and salt...set aside....Mix butter, peanut butter, sugar and powdered sugar until creamy....add egg and vanilla, beat well...add flour, carbonate and sifted salt. ...beat until integrated...roll into 1 1/2 inch balls, roll them in sugar, place them on the baking sheet and flatten them with a fork, making an "X"...bake at 350 degrees for 10-12 minutes...making sure they don't burn...ready! Enjoy with your glass of milk 🥛 or coffee ☕️.