ESPAÑOL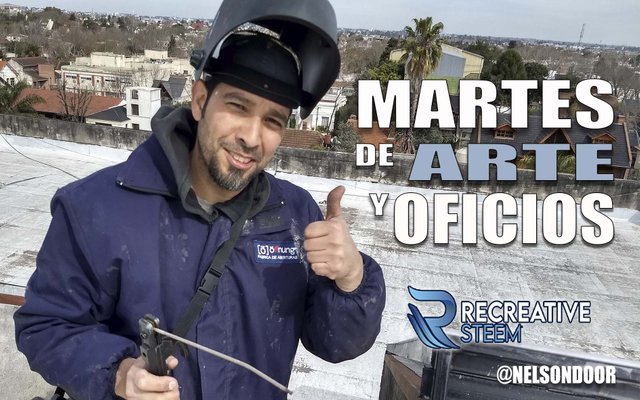 Los Martes de Arte y Oficio, es un espacio para todos los que tienen destrezas en sus manos, uniéndome a esta iniciativa quiero compartir este trabajo realizado en la terraza de un edificio antiguo, que tenia unas filtraciones de agua, con cerca de 40 años sin resolver, por muchas razones, en lo económico y en lo estructural, a pesar de ser una institución educativa. Debido a la antigüedad no se podía caminar sobre este techo conformado por paneles de vidrio, a mas de 20 metros de altura por debajo del mismo, por lo cual ameritaba todo un montaje que elevaba en gran manera los costos de reparación. El reto era realizar una estructura liviana, que nos permitiera reducir los riesgos de instalación, cumplir con esto, nos permitió ganar la licitación. Presentamos un proyecto de un techo de estructura metálica, con laminas de policarbonato, construido a medida, que posteriormente se pudiera deslizar sobre el techo antiguo reduciendo a nivel cero los accidentes laborales y lo logramos.
Una ves terminados los planos del proyecto y el calculo de materiales, arrancamos la obra.
Cortamos a medida los tubos estructurales.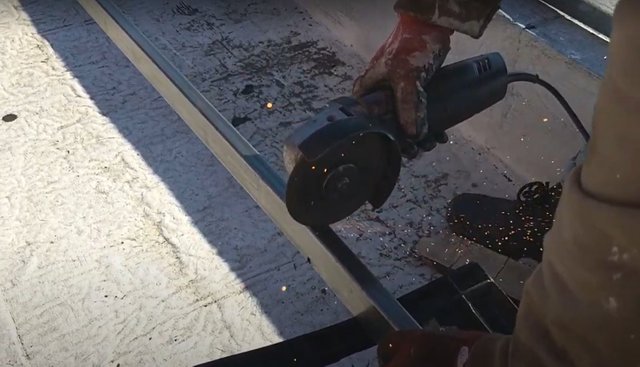 Utilice esta maquina de Soldar Inverter, una maravilla tecnológica, pesa menos de dos kilos, pero trabaja como una maquina industrial.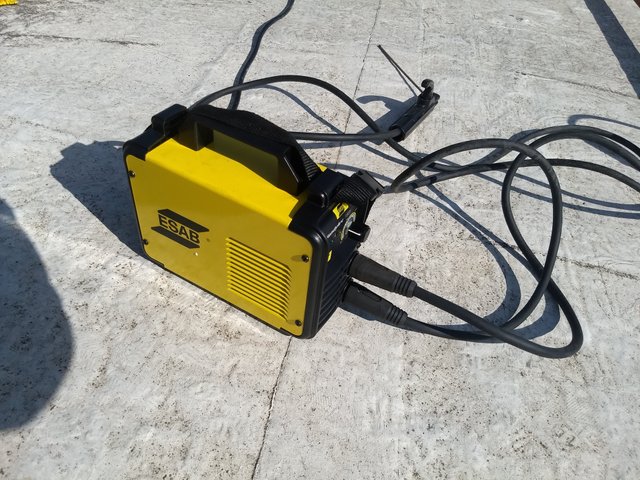 ---
○ La mayor dificultad fue trabajar sobre este piso lleno de desniveles, cualquier error impactaría directamente la obra,
a la hora de instalar, y el tiempo es dinero.
|
---
○ Utilizamos tornillos auto perforantes con la ayuda de un atornillador inalámbrico.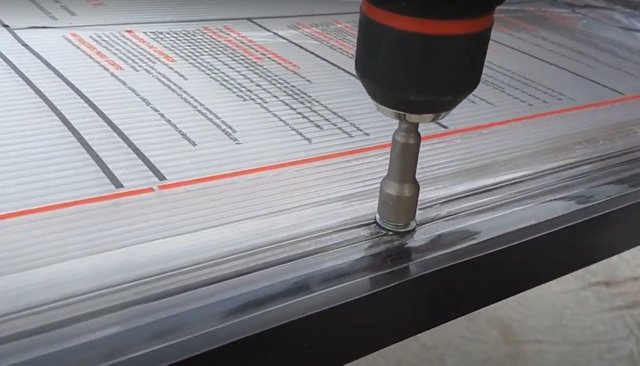 ○ En medio del trabajo, valió la pena admirar este hermoso crepúsculo.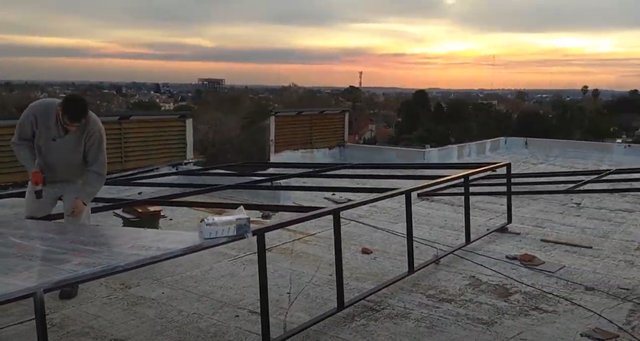 ---
○ Como si fuera un regalo de navidad, retiramos el plástico protector de las laminas de policarbonato.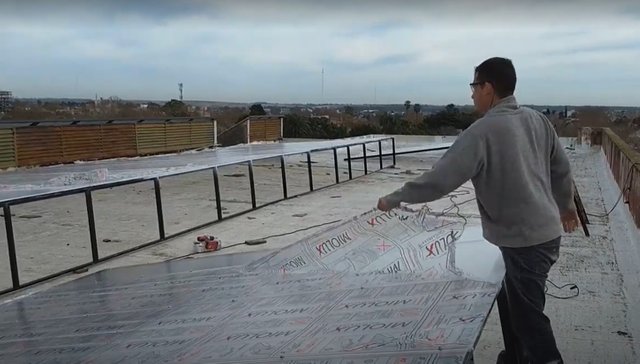 ---
○ Para mi este fue uno de los mejores momentos del día de instalación, ya que la estructura nueva se deslizo sobre el techo, sin ningún tipo de inconveniente, como fue planificado y procedimos a asegurarla con puntos de soldadura.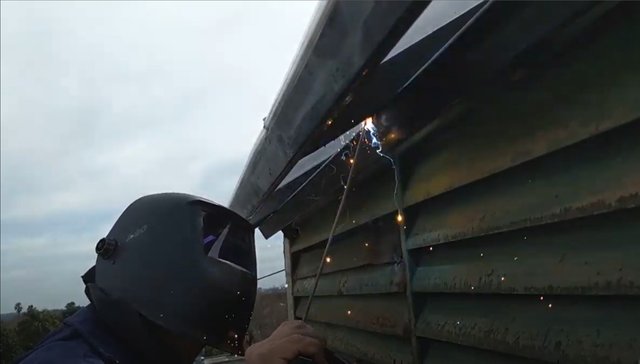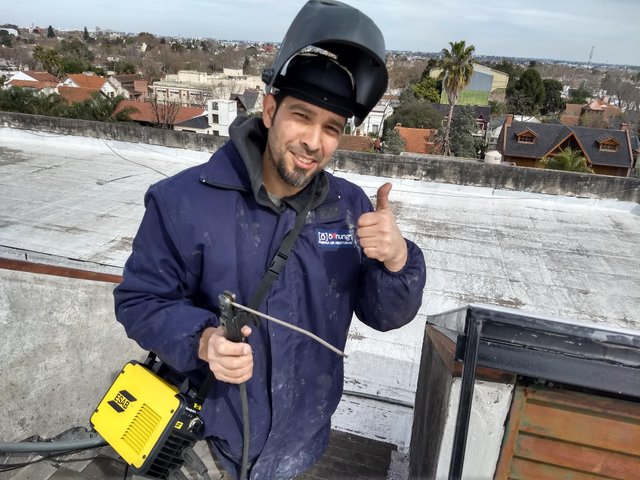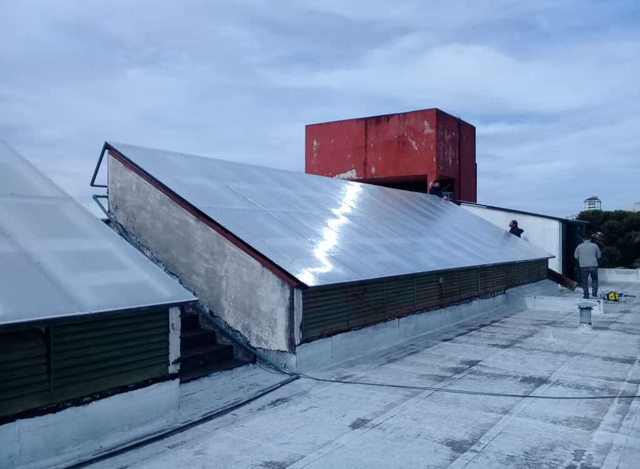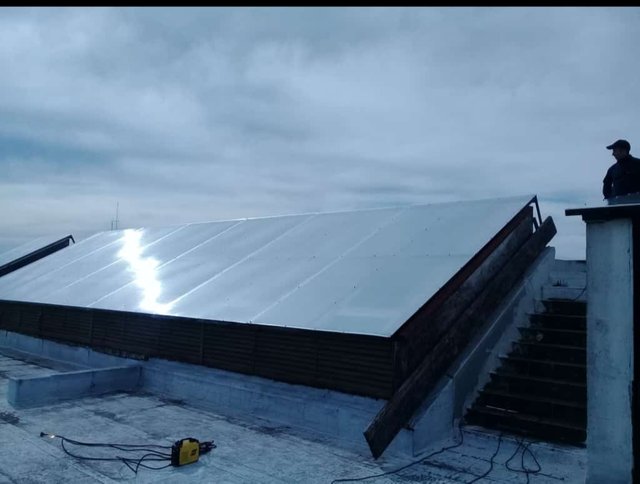 Al final solo quedo contemplar la obra terminada en medio del atardecer, lleno de satisfacción por haber logrado la meta. Les extiendo mi gratitud por leerme hasta aquí, esperando haya sido de su grado!!

Todas las fotografías son de mi autoría tomadas con mi Smartphone
♦ Configure esta Publicación con el 15% en Apoyo a RECREATIVE STEEM ♦

Síguenos en nuestras redes sociales:
Twitter
Discord
Instagram
Gracias por ser parte de RECREATIVE STEEM COMMUNITY

ENGLISH
.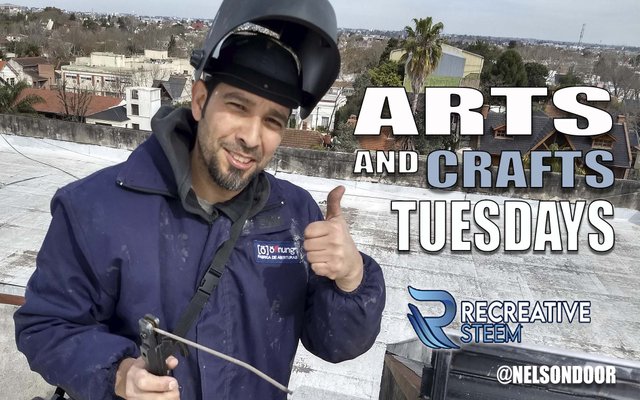 Tuesdays of Art and Craft, is a space for all those who have skills in their hands, joining this initiative I want to share this work done on the terrace of an old building, which had some water leaks, with about 40 years unresolved, for many reasons, economically and structurally, despite being an educational institution. Due to its age, it was not possible to walk on this roof made of glass panels, more than 20 meters high underneath it, so it required a whole assembly that greatly increased the repair costs. The challenge was to create a lightweight structure that would allow us to reduce the risks of installation, which allowed us to win the bid. We presented a project of a metallic structure roof, with polycarbonate sheets, built to measure, that later could slide over the old roof reducing to zero the work accidents and we achieved it. .
Once we finished the project plans and the calculation of materials, we started the work.
We cut the structural tubes to size.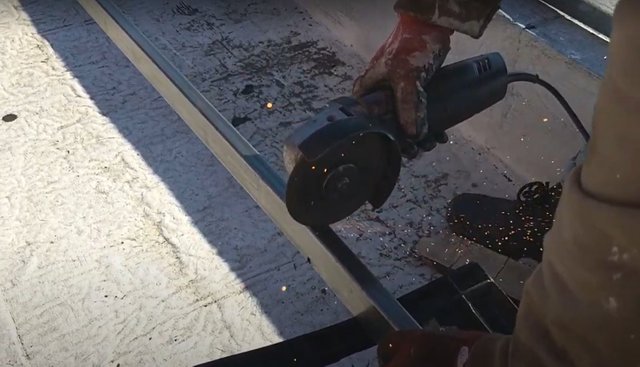 Use this Inverter Welding machine, a technological marvel, weighs less than two kilos, but works like an industrial machine.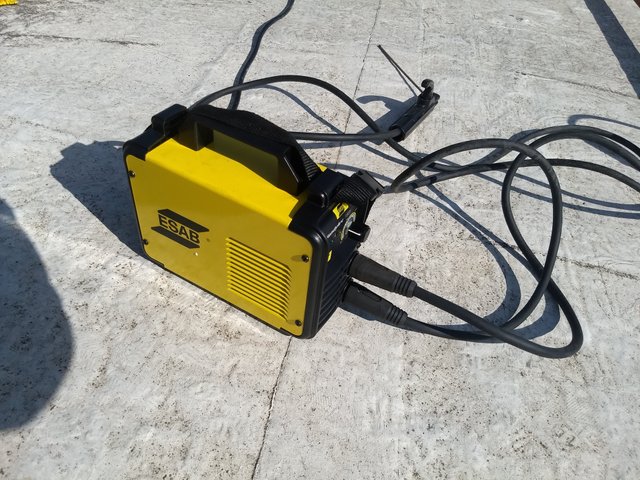 ---
○ The biggest difficulty was working on this uneven floor, any mistake would directly impact the work,
when it came time to install, and time is money.
|
---
○ We use self-drilling screws with the help of a cordless screwdriver.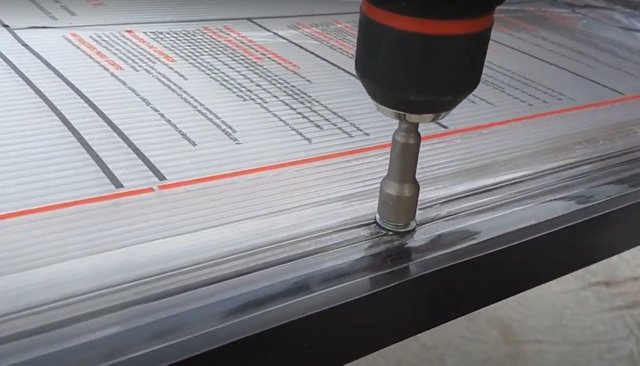 ○ In the middle of the work, it was worth admiring this beautiful twilight.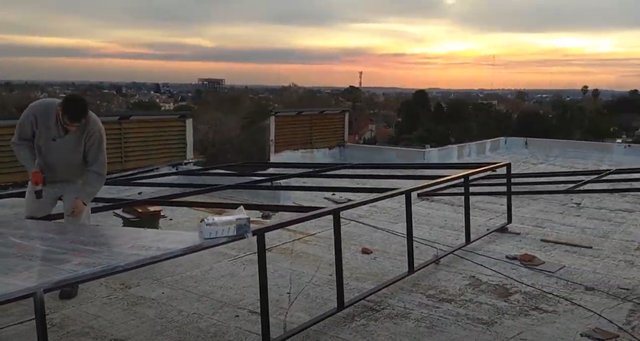 ---
○ As if it were a Christmas present, we removed the protective plastic from the polycarbonate sheets.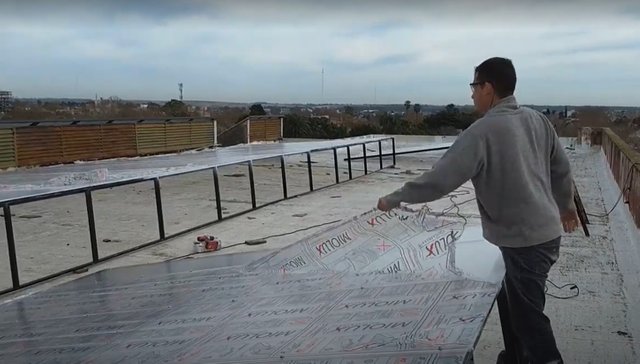 ---
○ For me this was one of the best moments of the installation day, as the new structure slid onto the roof, without any inconvenience, as planned and we proceeded to secure it with spot welds.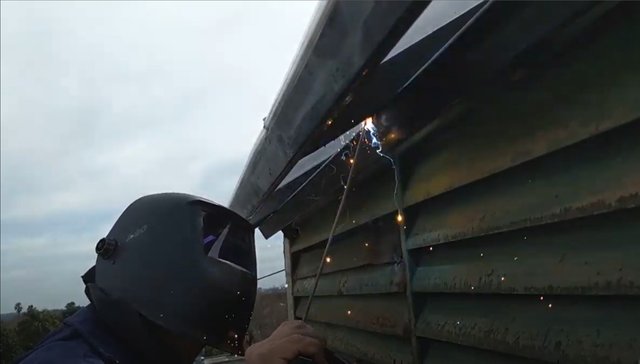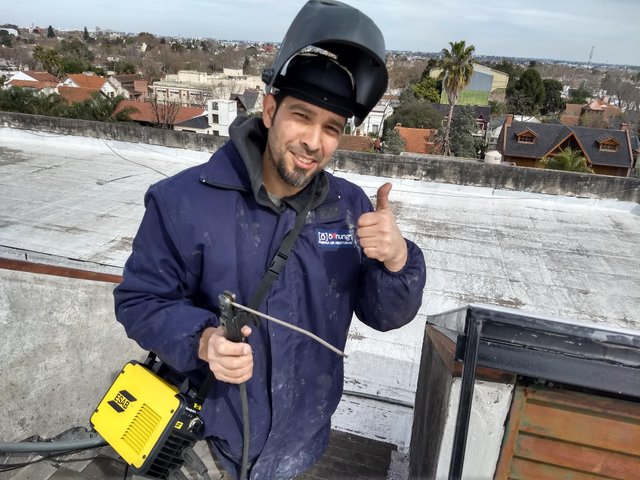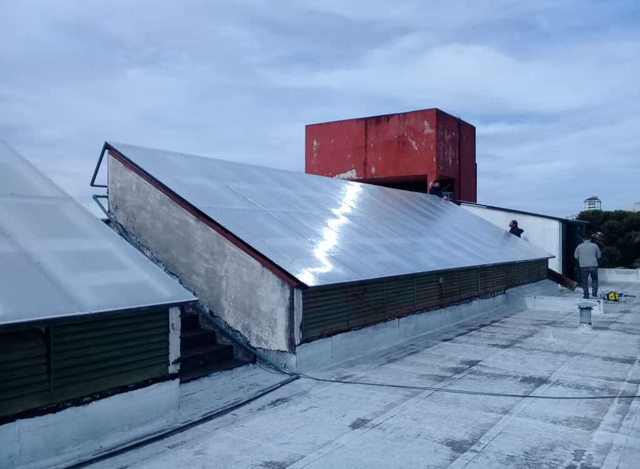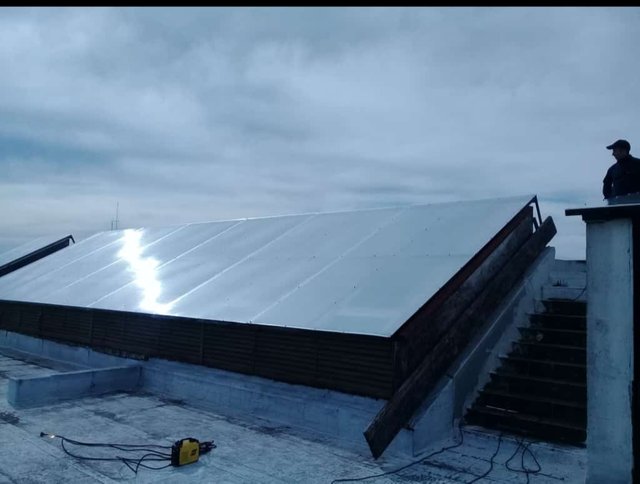 In the end, all that remained was to contemplate the finished work in the middle of the sunset, full of satisfaction for having achieved the goal. I extend my gratitude to you for reading me this far, hoping it has been of your degree!!!

All the pictures are my authorship taken with my Smartphone.
♦ Set this Publication with 15% in Support of RECREATIVE STEEM ♦
.