ESPAÑOL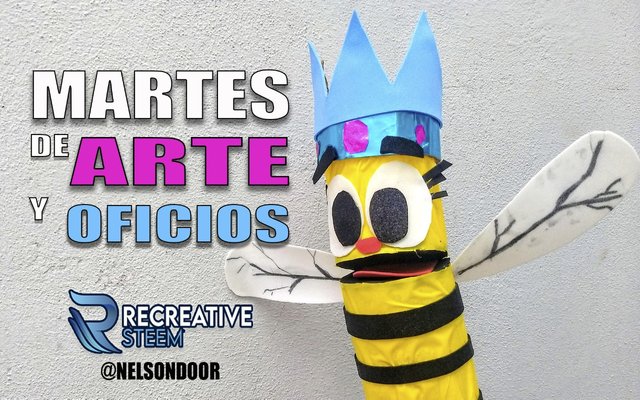 Hoy me presento con algo diferente a lo habitual, para mi las artes y las manualidades van de la mano, en búsqueda de hacer algo aprovechando los recursos que tengo al alcance, como materiales de reciclaje, al ver una botella plástica de gaseosa, se me ocurrió la idea de hacer un títere de Abeja que nos servirá para jugar y despertar la creatividad a los mas chicos de la casa, enseñándoles que cualquier material puede servir para hacer manualidades. Creo que hoy es una alternativa económica, permitiendo desarrollar la imaginacion si los incluimos en el proceso creativo.
Espero les guste y se animen hacerlo en casa creando sus propios personajes.
---
• Materiales utilizados: botellas plástica, alambre, pistola de silicón, tijera, pinza, goma eva de colores, cartón, trozos de papel decorativos y papel amarillo autoadhesivo.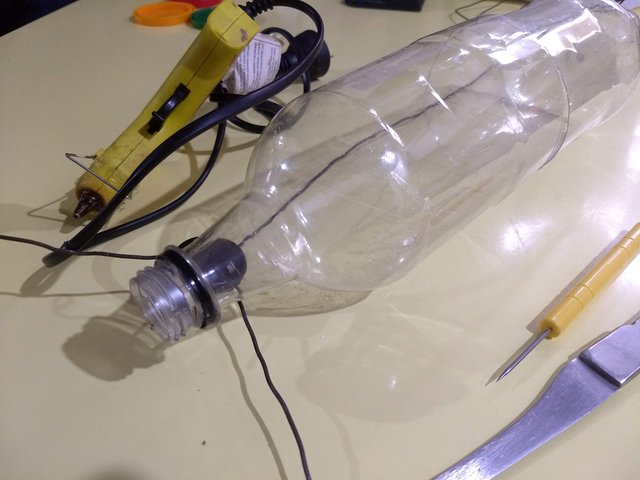 ---
• Realice una abertura a la botella, luego corte un pedazo de cartón y goma eva negra que cubriera el orificio para hacer la boca, deje un espacio de 1 cm para dejar espacio y posteriormente pasar un alambre el cual le dará movimiento a la boca del títere.
---
• Pegue el papel adhesivo amarillo alrededor de la botella, corte un cartón en forma de corona que luego decorare con goma eva azul cielo y papeles decorativos. ¡Ah se me olvidaba! también corte unas tiras de goma eva negra brillante que nos servirá para hacer las rallas que distinguen a las abejas.
---
---
• Con ayuda de alambre, goma eva blanca y la tapa de la botella hice un sencillo mecanismo que le dará movimiento a las alas.
---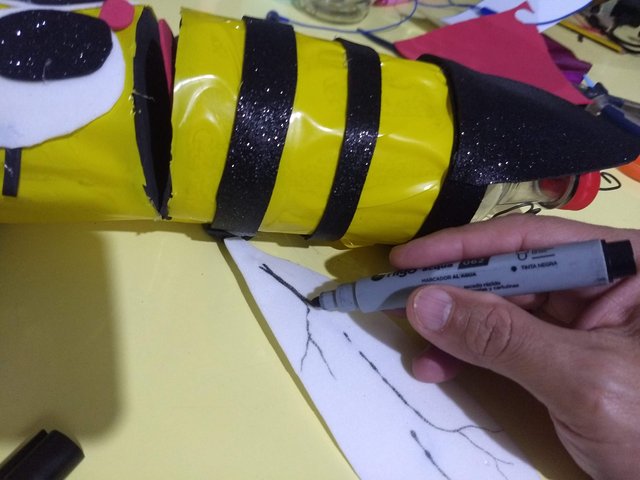 ---
• Así quedo terminado nuestro personaje, les invito a ver el video y así pueden observar como funciona el títere de Abeja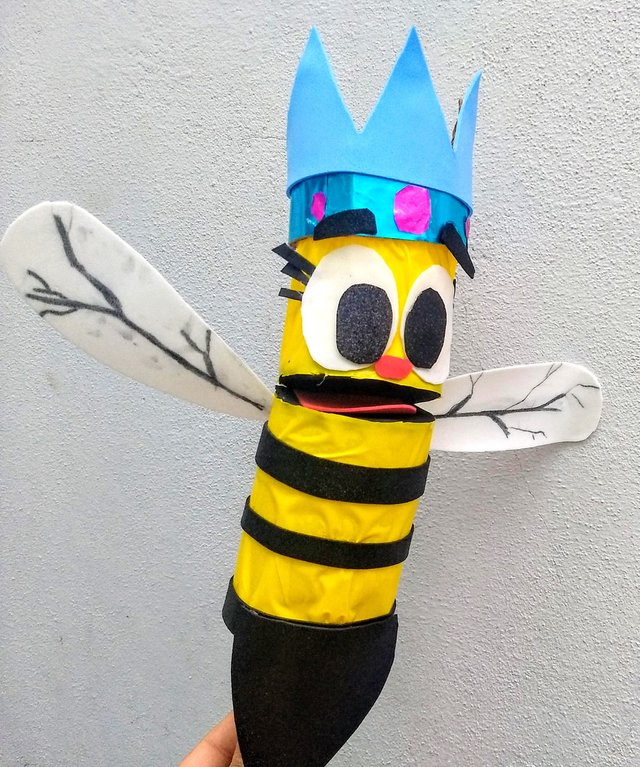 ---
---

Todas las fotografías son de mi autoría tomadas con mi Smartphone
♦ Configure esta Publicación con el 15% en Apoyo a RECREATIVE STEEM ♦

Siguenos en nuestras redes sociales:
Twitter
Discord
Instagram
Gracias por ser parte de RECREATIVE STEEM COMMUNITY

ENGLISH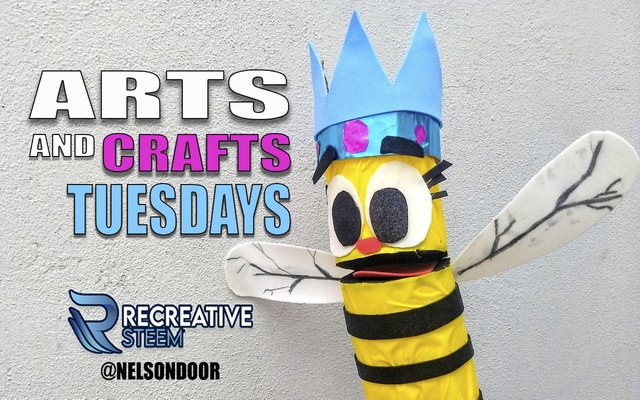 Today I present myself with something different from the usual, for me arts and crafts go hand in hand, in search of doing something using the resources I have at hand, such as recycling materials, seeing a plastic soda bottle, I came up with the idea of making a Bee puppet that will serve to play and awaken the creativity of the children of the house, teaching them that any material can be used to make crafts. I believe that today it is an economical alternative, allowing them to develop their imagination if we include them in the creative process. I hope you like it and encourage you to do it at home by creating your own characters.
---
• Materials used: plastic bottles, wire, silicone gun, scissors, tweezers, colored eva rubber, cardboard, decorative pieces of paper and self-adhesive yellow paper.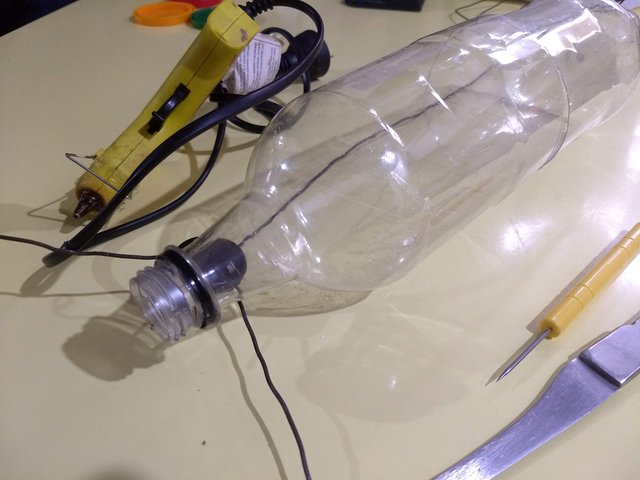 ---
• Make an opening in the bottle, then cut a piece of cardboard and black eva rubber to cover the hole to make the mouth, leave a space of 1 cm to leave room and then pass a wire which will give movement to the puppet's mouth.
| | |
| --- | --- |
---
• Glue the yellow adhesive paper around the bottle, cut a piece of cardboard in the shape of a crown that I will later decorate with sky blue eva rubber and decorative papers. Oh, I forgot! I also cut some strips of shiny black eva rubber that will be used to make the stripes that distinguish the bees.
---
---
• With the help of wire, white eva rubber and the bottle cap I made a simple mechanism that will give movement to the wings.
---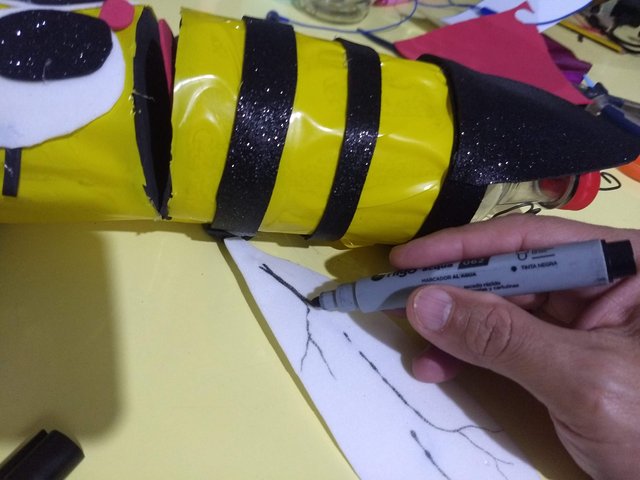 ---
• I invite you to watch the video so you can see how the bee puppet works.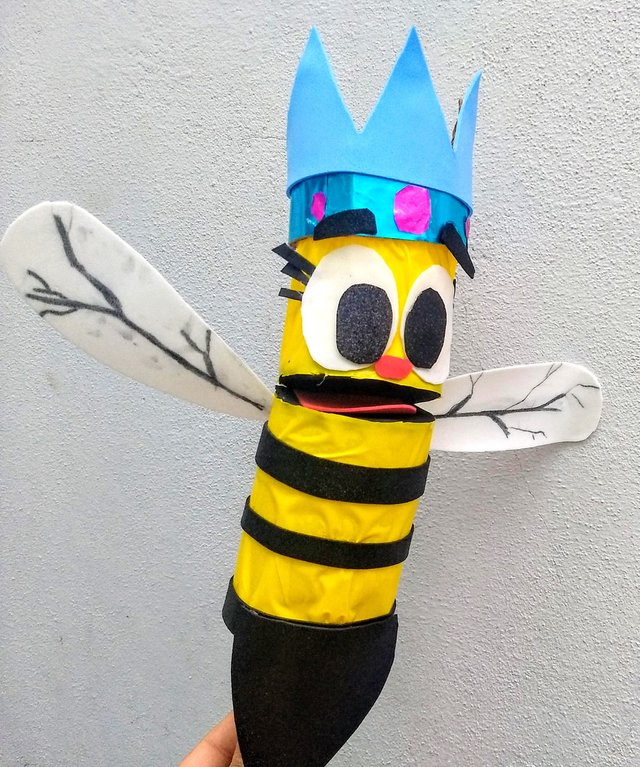 ---

---
Remember that your artwork, illustrations and drawings must be exclusive, do not use those you have already published on another social network, so that you can use the
#steemexclusive
tag to create original content for Steemit.
---

All photographs are my own, taken with my Smartphone.
♦ Set this Publication with 15% in Support of RECREATIVE STEEM ♦
Read our posted articles about the rules and the verification process:
RECREATIVE STEEM RULES
USER VERIFICATION
And to delegate with us:
DELEGATIONS.