¡Un gusto saludarlos, queridos amigos de la plataforma #Steemit!
Me complace informarles que 23 cuentas hicieron powerup y se unieron al gran #club5050
---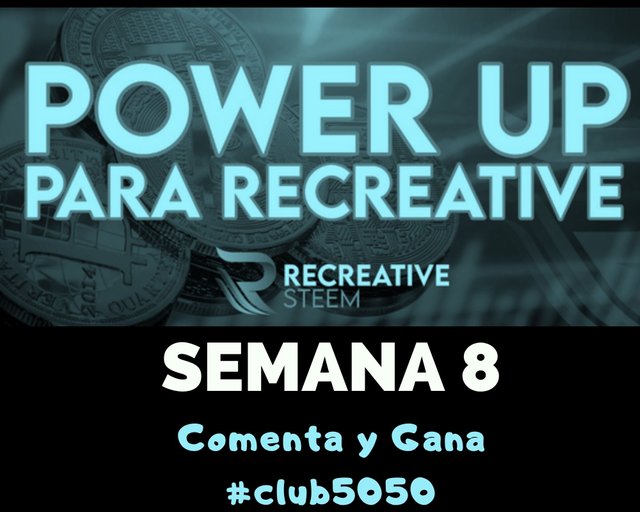 ---
Nos complacemos en anunciar los participantes de la Semana 6 del Concurso: HAZ POWER UP, COMENTA Y GANA.
PARTICIPANTES:
---
%20CHIPS%20DE%20CHOCOLATE%20(1).jpg)
| Powerup recreative steem semana 7 | Tokens powerup |
| --- | --- |
| Total power up RECREATIVE STEEM WEEK 7 | 808.567 |

GANADORES:
15 STEEM
---
SIGAN CRECIENDO
---

Capture de transferencias de los premios
---

CONCURSO SEMANA 8:
HAZ POWER UP, COMENTA Y GANA
Hacer power up es una de las buenas prácticas que debe realizar un buen blogger dentro de steemit. Ya que de este modo vamos poco a poco fortaleciendo el steem power de nuestra cuenta y nos hacemos más fuertes.
A veces resulta un proceso lento, pero si lo vemos como una forma divertida de crecer, el camino se hace más agradable. Les queremos proponer algo muy interesante:

¿Cómo Participar?
Es muy sencillo participar, la idea es que hagas tu Power Up esta semana y compartas tu publicación con el paso a paso del mismo dejando tu entrada en la caja de comentarios.
Queremos que te unas a esta iniciativa de hacer power up con tu cuenta con los steem que dispongas y realices una publicación del proceso, de cuanto ha sido tu encendido y tus expectativas de crecimiento para lo que resta del mes.
También deseamos que nos compartas 2 de las publicaciones que más te han gustado de otros bloggers dentro de RECREATIVE STEEM, colocando el usuario, la publicación y la razón por la cual te gustó su post., esto dentro de tu publicación
Esto nos ayudará a estrechar lazos de amistad dentro de la comunidad y las personas se sentirán valoradas por tu mención.
Si deseas participar en la iniciativa de @steemitblog en la cual te comprometes a encender el 50% de tus ganancias, eres Bienvenido a usar también la etiqueta #club5050.
---
¿Cuál es el Premio?
El Fondo de Premios es de 15 STEEM:
1er Lugar: 5 Steem
2do Lugar: 5 Steem
3er Lugar: 5 Steem

Reglas del Concurso
---
Aceptamos publicaciones en cualquier idioma.
Resteemea y vota esta publicación, así más personas se enteran del concurso.
Asegúrate usar las siguientes etiquetas: #powerup #steemexclusive #club5050 (si enciendes el 50 de las recompensas recibidas en tus publicaciones) y la de tu País de residencia por ejemplo #argentina
Comparte el link de tu publicación en un comentario. No tendremos en cuenta las entradas que no estén anunciadas en este post y que no estén publicadas en RECREATIVE STEEM
Comparte tu publicación en Twitter, etiquetando a @steemit, o en cualquier red social que prefieras (deberás mostrar prueba de ello)
- Las publicaciones se aceptarán hasta el 10 de Noviembre, 22.00 hora de Argentina

Recuerda, las mejores publicaciones podrían ser seleccionadas para el soporte de curación con las cuentas en auge. Así que esfuérzate por destacarte en tu prolija publicación y comentarios a otros bloggers que hacen vida en la comunidad.
ESPERAMOS TUS ENTRADAS Y LES DESEAMOS MUCHOS ÉXITOS A TODOS!

La cuenta comunitaria @hive-141434 habitualmente desde su fundación es una cuenta destinada para administrar todas las operaciones de la comunidad RECREATIVE STEEM. Esta cuenta se utiliza para encender casi la totalidad de lo que entra a través de recompensas por curación y también para pagar los premios en los concursos, tops y recompensas por delegaciones.
Así que nos sumamos a la idea de crecimiento e inversión en steem, uniéndonos al #club5050 propuesto por @steemcurator01
Como todos saben este Lunes 01 de Noviembre fue nuestro evento #spud4steem y en RECREATIVE STEEM todos los meses nos sumamos a promovemos el encendido de nuestra cuenta con el fin de apoyar esta iniciativa de @kiwiscanfly y motivar a todos a que también lo hagan.
---
Para modificar la configuración de las recompensas de sus publicaciones te dejamos esta publicación:
If you want to know how to modify the configuration of the rewards of your publications we leave you this publication:
COMO MODIFICAR LA CONFIGURACIÓN DE LAS RECOMPENSAS DE SUS PUBLICACIONES.
Participa en los procesos de delegación de steem power, si tienes dudas de cómo hacerlo:
Participate in steem power delegation processes, if you have any doubts about how to do it:
APRENDE A CÓMO DELEGAR STEEM POWER (SP) A CUALQUIER USUARIO EN STEEMIT.
---
Otra forma rápida para delegar es utilizando los siguientes Links predeterminados para el proceso, solo necesitas tener tus claves a la mano para finalizar el proceso:
You can also use the following default links for the process, you just need to have your passwords handy to finish the process:
---

---
Nos despedimos Agradecidos con @steemitblog por el apoyo que nos brindan con la cuenta soporte Booming, Agradecidos con cada uno de nuestros suscriptores por su confianza, por sus palabras en cada comentario lo cual nos da mayor motivación para continuar es nuestra labor. Se vienen cosas lindas para Recreative Steem donde todos podemos participar, no hay limites, no hay distancia, ni barreras, estamos todos invitados a participar en esta su Comunidad.
We say goodbye grateful to @steemitblog for the support they give us with the Booming support account, grateful to each of our subscribers for their trust, for their words in each comment which gives us more motivation to continue is our work. Beautiful things are coming for Recreative Steem where we can all participate, there are no limits, no distance, no barriers, we are all invited to participate in this community.
---

Editor:
@graceleon
Image designer and separator designer
@yanelpuerta

Thank you for trusting us and supporting us!!!!

The rewards from this publication will be used to Power up and strengthen the community account @hive-141434
---