Saludos mis Recres!
Hoy es el día del Rock, Oh yeah!!!!!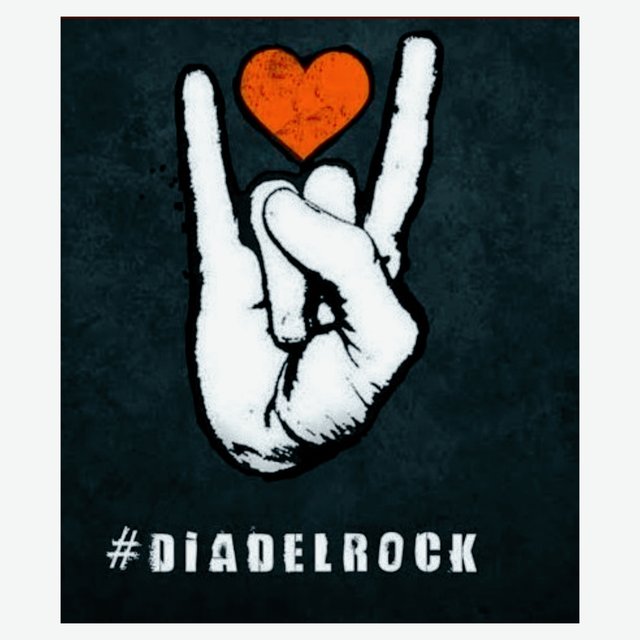 Imagen extraída de Twitter y editada para ser utilizada exclusivamente en éste Post.
No podía pasar ésta fecha sin recordarles que hoy se celebra un evento genial, que conmemora aquel encuentro de músicos en 1985 que participaron del Concierto de Rock más grande y significativo de la historia: El LIVE AID.
Un espectáculo que se hizo de forma simultánea en la ciudad de Londres, en el Wembley Stadium 🏟️ y en Filadelfia, Estados Unidos. Cuya retransmisión para 72 países, lo convirtió en el evento más visto de la historia.
Un concierto apoteósico que recaudó más de 100 millones de dólares para mitigar la hambruna en África que ocurrió entre 1984 y 1985, principalmente Etiopía y Somalia.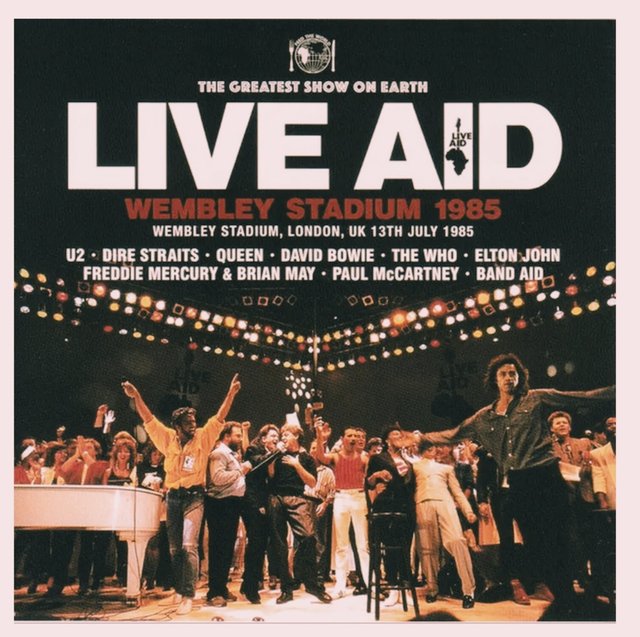 Imagen editada
Fuente
Artistas que participaron:
Albert Collins
Alison Moyet
Ashford & Simpson
B.B King
Billy Joel
Billy Ocean
Black Sabbath
Bo Diddley
Bob Dylan
Bob Geldof
Boy George
Bryan Adams
Bryan Ferry
Cliff Richard
Crosby, Stills & Nash
David Bowie
David Gilmour
Dire Straits
Duran Duran
Elton John
Elvis Costello
Eric Clapton
George Thorogood & The Destroyers
Hall & Oates
Howard Jones
Huey Lewis & The News
INXS
Joan Baez
Judas Priest
Keith Richards
Kenny Loggins
Kool & the Gang
Kris Kristofferson
Led Zeppelin
Lionel Richie
Madonna
Mick Jagger
Neil Young
Nik Kershaw
Nile Rodgers
Ozzy Osbourne
Patti Labelle
Paul McCartney
Paul Simon
Paul Young
Phil Collins
Queen
Reo Speedwagon
Ron Wood
Run DMC
Sade
Santana
Simple Minds
Spandau Ballet
Steve Stevens
Stevie Wonder
Sting
Tears for Fears
Teddy Pendergrass
The Beach Boys
The Boomtown Rats
The Cars
The Hooters
The Power Station
The Pretenders
The Style Council
The Temptations
The Who
Thompson Twins
Tina Turner
Tom Petty & The Heartbreakers
U2
Ultravox
Waylon Jennings
Wham!
La participación del grupo Queen fue la más importante y la mejor de su historia.
Y para celebrar este súper día, quiero compartirles
una canción icónica del Rock que pondrá a moverse a más de uno, porque identifica una época y un sentimiento. Cualquiera que se haga llamar rockero, sabe de qué hablo con "Paranoid".
Video cortesía de YouTube, propiedad del canal oficial de la banda Black Sabbath.
El rock es para mí un sentimiento, una melodía apasionada, un despertar de los sentidos, euforia y magia.
¡Feliz día del Rock! 🤘
Bienvenidos a mi Blog.
Derechos de autor reservados.
Cuida el planeta🌎, ahorra tus recursos, clasifica tus residuos🗑️, no aceptes bolsas plásticas, lleva contigo un bolso ecológico. 🛍️♻️
---
#club75 #steemexclusive #music #recreative-music #art #learnwithsteem #rock #rockday