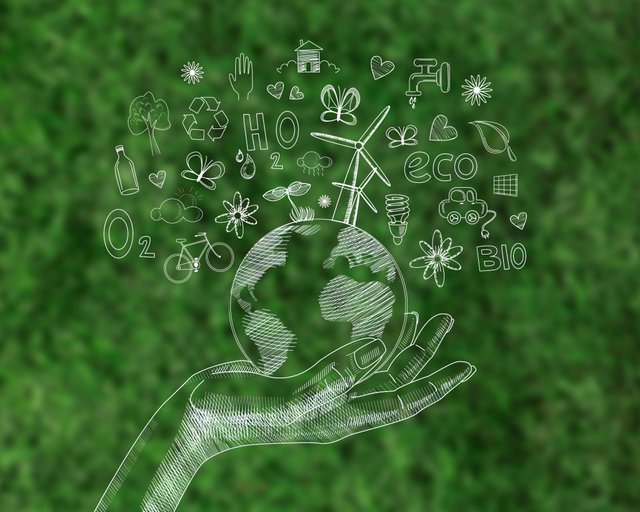 Image Source
Hello Steemkids members, welcome to my blog. Today I am participating in this wonderful contest prepared by @steemkidss about how I take care of my environment.
INTRODUCTION
There is a saying that cleanliness is next to godliness, which is why everyone should take having a clean environment seriously. Taking care of the environment lies with us living in it, taking care of it, and making it a healthy place for everyone to live in. There are many ways we can take care of the environment, it is in our everyday activities, the little things we take for granted not knowing that these little things can make the most impact on human lives.
HOW DO I TAKE CARE OF THE ENVIRONMENT?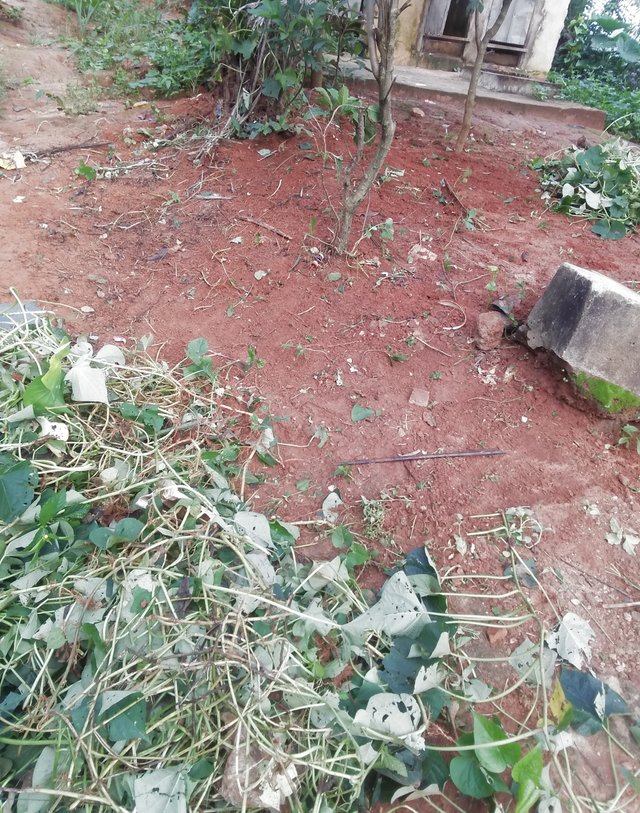 clearing weeds from the compound
I buy exactly what I need. Sometimes, we are tempted to buy more than we need, but what we do not know is that we are encouraging overproduction, which results in filling up one's house with unnecessary things that we might end up not using. In the end, it comes as a waste of money and littering.
I recycle. Recycling is a very good and active way of caring for the environment. Recycle bottles/cans for putting chilled water in the fridge. Use plastic nylons to package things around the house, and use big plate containers to store/preserve food in the fridge.
I shop with a jute bag/shopping bag. My father always advised me to carry a bag from home while shopping. This way, we reduce the number of plastic bags that will fill up the house and protect the earth from imperishable materials that would only be floating around making everywhere look untidy.
When I sweep our compound, I gather the green leaves under a tree. These organic materials decompose and produce methane which nourishes the earth and also acts as natural fertilizers for the plants.
I avoid throwing dirt anyhow on the streets. If I eat anything in the box, throwing the dirt away is hard for me, I either wait until we get to a refuge bin to throw it away or put it in my bag and throw it when I get home.
I save water. Water is a natural resource with limited supply. To preserve the environment, I use the amount of water I need thereby conserving water.
Save energy by switching off the bulbs when I am not using them or when I am going out.
I sweep, weed, pick dirts around the house to make it look neat.
HOW OFTEN DO I CARE FOR THE ENVIRONMENT?
As often as possible. I take care of the environment when I seep the compound, gathering all the green leaves to decompose for manure.
I take care of the environment when I use just enough water and switch off the bulbs when I am going out to preserve energy.
I take care of the environment when I package my refuge and toss them into a refuge bin instead of throwing them away in the street making them look untidy.
WHAT DO I USE?
Broom
Jute bag
Shovel
rake
Shopping bag
HOW DO I FEEL WHEN I CARE FOR THE ENVIRONMENT?
Taking care of the environment is like taking care of nature and that makes me happy. Knowing that efforts are for the greater good. I like that I can breathe easily, have less pest moving around, learn new things along the way and also save money when I use less of what I need is a good feeling.
DO I SOMETIMES FAIL TO TAKE CARE OF THE ENVIRONMENT?
Yes, sometimes I fail to take care of the environment. Sometimes I let weeds grow all over the place. This invited mire mosquitoes than we have to feast on our body more than usual. No one is perfect, we do things that may be harmful to the environment without even knowing It. It could be in form of loitering my surroundings with snacks wrapper, groundnut peels, sachet water, or snacks I eat on the road. It could be in form of bathing with more water than I need.
BENEFITS OF CARING FOR OUR ENVIRONMENT?
The most important benefit is that we create a safe place for everyone.
Gradually eliminate the risk of being injured and infected when we have a clean environment.
Air pollution is reduced, then we have clean air to breathe in.
EFFECTS OF NOT TAKING CARE OF THE ENVIRONMENT.
Dirty environment is a risk to our health.
The air becomes polluted
Not taking care of the environment makes everywhere look untidy and an eyesore.
We stand the risk of being injured.
DOES ANYONE ASSIST ME TO TAKE CARE OF THE ENVIRONMENT?
Taking care of our environment lies on the shoulders of everyone. It is not a one-man job.
We help each other make the world a better place.
#steemkidscontest-w4 #steemexclusive #contest #nigeria #club100