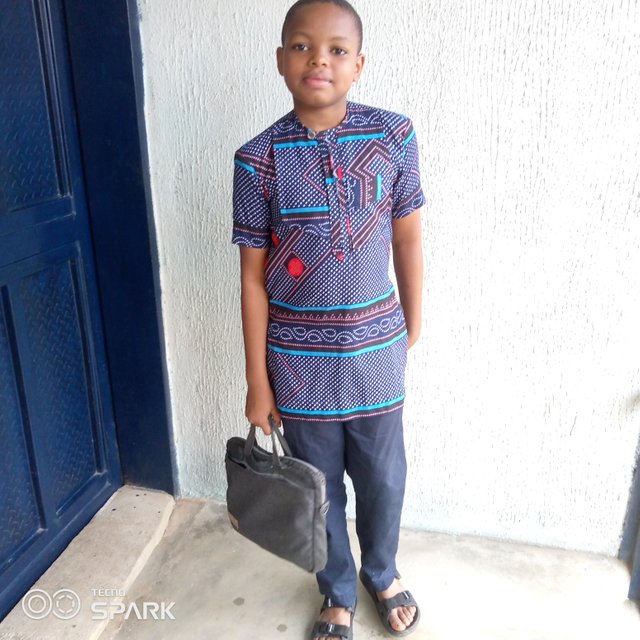 Hello friends of this beautiful community, i am back again to report my lifestyle review for day 1.
So my day was actually very interesting and i really enjoyed, so please read along as i cover the categories that involved my day.
The first category i would love to talk about is my fashion.
Your Fashion
Today we really were going to have an exciting day, so i really chose good clothes for my fashion today, and for me they were really nice, we were going for field service that day, and so i picked something modest.
I wore a traditional top and a black trousers,i find those more comfortable for me to where and the rhymed really well i didn't expect it to be so nice then i carried a grey-colored bag and a pair of black sandals, that was all for my fashion for today.
Here are the pictures:
The pictures above where my fashion for today.
Your Food
Wow. That particular aspect of the day was actually my best, ot was really nice to consume those meals for the day.
In the morning, we decided to eat noodles for breakfast, we chose this because we were really in a hurry to love out and we were right behind time, so we decided to pick a quick meal.
The preparation for the food preparation is very simple, and takes 20 minutes at most to be ready, so it was a really good idea.
Then we had our next meal, we came back late and what we ate at night was rice and vegetable sauce, which had a very good combination, all you need to do to boil the rice, then cut the vegetables, add tomatoes, eggs pepper and it prepared.
The pictures above show my food for the day.
The traffic along the way
The traffick for today was indeed a very free road, there was not any traffic on the road, it was possible for cars to pass by easily, and no much horns were heard ringing which would always be ringing in my ears, i was so relieved, we took public transportation today as well, and there was not so much hold up on the road.
And we mostly did the trekking ad well today, the road went up and then down, so the road was also still interesting.
Your overall feelings for the day
In all my feelings for today was just perfect, i really enjoyed today, there was nothing other than joy on my heart.
I was able to help people learn about Jehovah God, and the smile on their faces was priceless for me.
The morning food was already a good startup for my mood, the noodles brightened the beginning of my day, it was really yummy with enough pepper, so it started our my day properly.
Then followed by the joy of helping learn about Jehovah, down to the the evening meL, every single atom of today made me happy.
My plans for tomorrow
I intend to first of all enjoy my food as usual 😁😁
Then make some posts in steemit, before joining the family in personal study.
That is my overall plan, we leave tomorrow's worry for tomorrow.