Hello kids, greetings to see you again with me, and of course greetings are always compact for all friends of the steem kids community, how are you today, I hope you are fine and I hope that I will continue to be passionate about writing and working in the world of steemit.
Greetings to friends of steemkids, and greetings also to community admins and moderators who I really love today, I hope that they will always be enthusiastic and always in good health in developing this beloved community.
Tonight, I will write a post of mine, which of course cannot be separated from the world of children according to the instructions and recommendations from the Steemkids community team.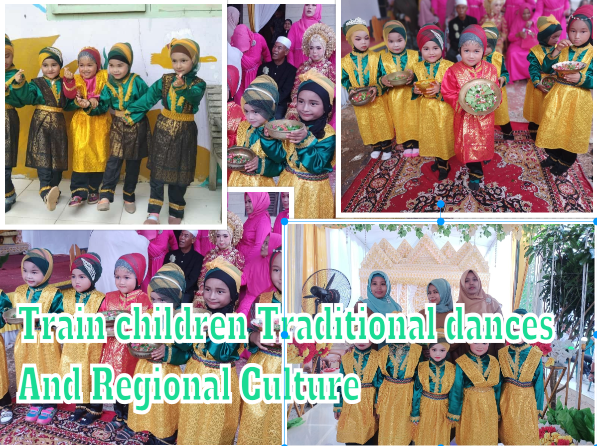 Alright friends, in today's post it's back again in the post on the world of children, and this time I will show children's learning activities for one of the traditional dances of the region, and this time it's learning about the Lenggang Lenggak of traditional dances in Aceh. in kindergarten level school children.
By eating complete traditional aceh clothes, it will look very interesting to look at and as if these kindergarten children have grown up,
But that is one of the aceh arts which is complete with dances and clothes that must be made for children, so that the practice of this dance will be more enthusiastic.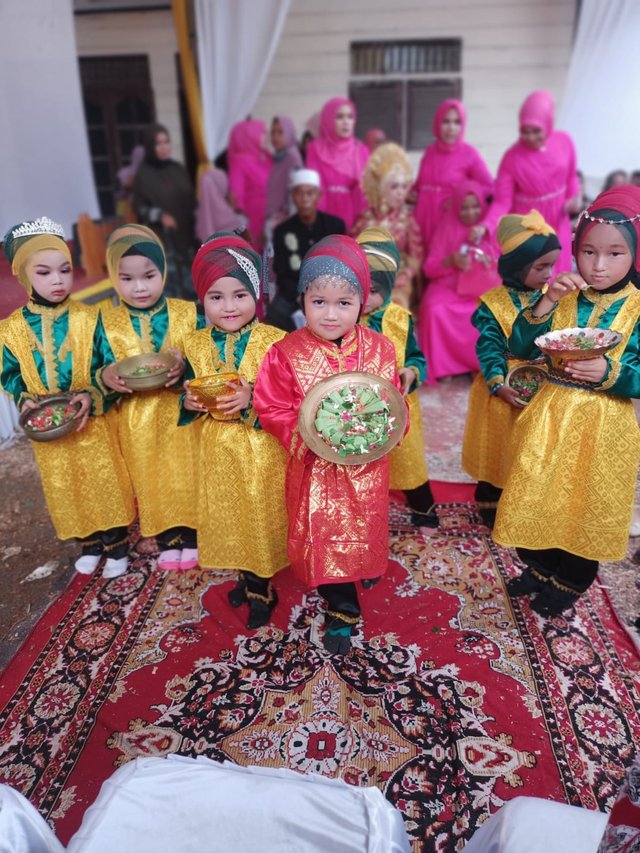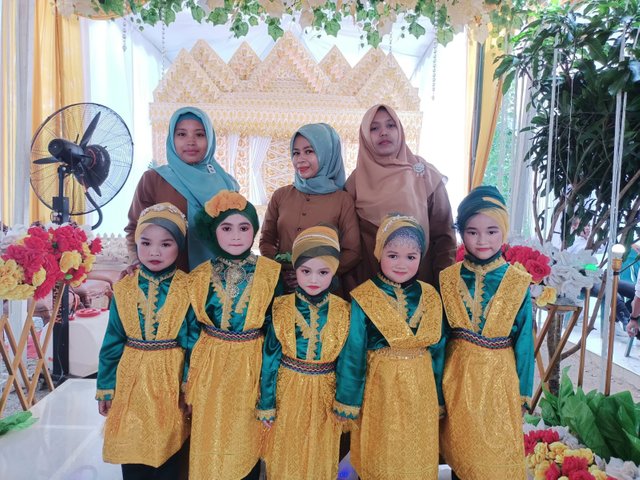 This traditional aceh dance activity is guided directly by several councils of traditional art teachers who already have expertise in dance and art, then after they are fully dressed like a bride, they are lined up and guided with special music for aceh customs.
In this dance, what must be considered is the movement that must be compact in children, and they also understand this in creating cohesiveness in every movement.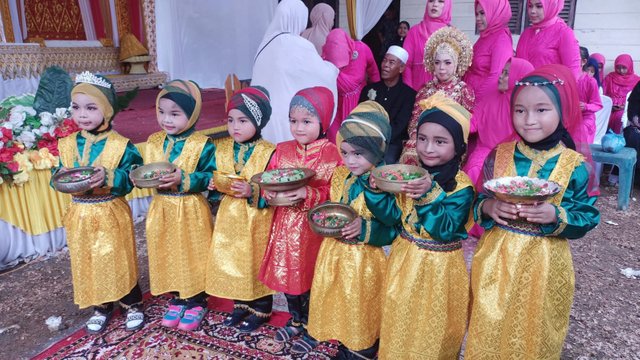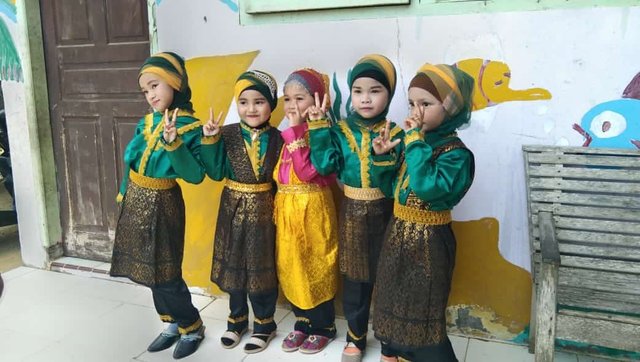 The Acehnese traditional dance, RANUP LAM PUAN, that is the name of this dance, and all students who follow it have been selected beforehand because they must be really agile in their movements in order to create beauty in each of these dance movements.
For this aceh dance practice, students are often trained once a week so that they can really be able to remember every movement so that they are not awkward when on stage.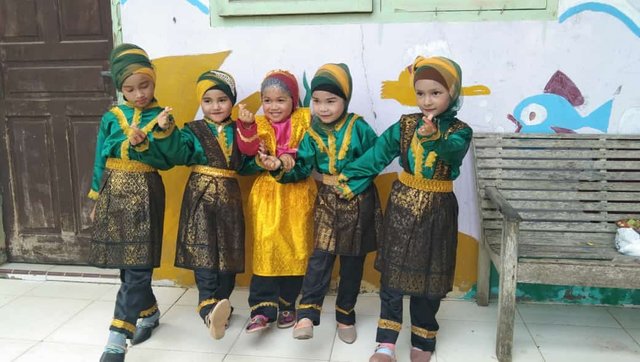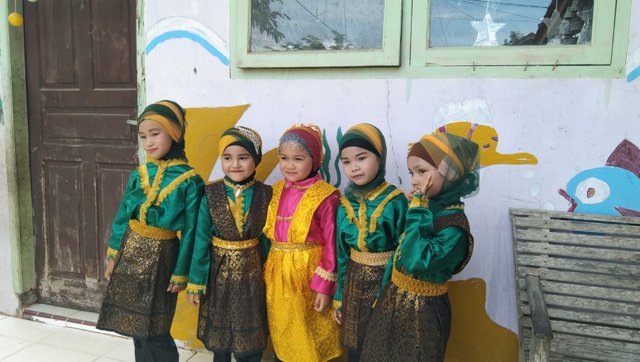 It is very important for young children to be taught customs and culture so that they can become acquainted with their own culture so that this existing custom is not easily lost in the future.
Thus the hope for all of the children who are currently being taught about this culture and customs will be very developed for the future.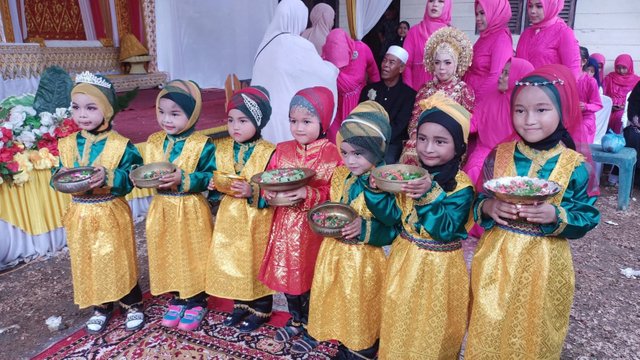 Therefore, how important it is for generations to provide knowledge of the strong customs and culture that have existed since ancient times, so with this it will be the tone of things that must be taught to children to know the strong culture that exists in this country. , and to make them more familiar with the customs and culture that are very strong in Aceh today.
It would be wonderful if the culture and customs with this one dance with an art form that must be introduced to children today so that they will continue to develop if they will later become the successors of this holy nation.
Let us all as lovers of regional art to continue to be able to develop and re -preserve our own regional culture, and reintroduce it to the new generation so that they will know more about the importance of traditional arts and culture that must be maintained.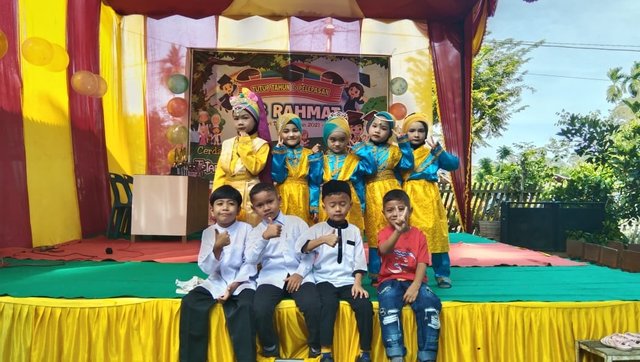 Hopefully by introducing this culture and customs to the children of today, this is our way to maintain the customs that exist in the area of Lita and will continue to grow until the time that will continue to run.
That's all my friends, all good exercises for the introduction of customs and culture to children and of course this will have a big influence in the future.
Thank you to all friends who have read this post, and hopefully it will be very useful for all of us.
regards
@ustazkarim