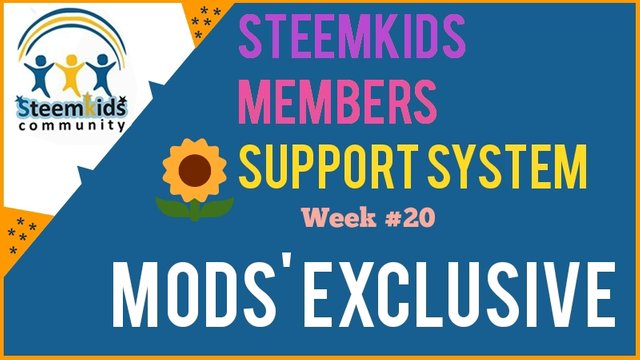 Greetings dear esteemed moderators of steemkids community, it is yet another week in this our quest to ensure that we fish out plagiarized contents and thus support the deserving users who are always active in our community. It is already the 20th week. All members are doing their part, publishing quality and wonderful publications and our MOD's are doing their best to make everyone feel at home, reviewing every publications and making meaningful comments on them.
We hope that this kind gestures from steemkids community will encourage all to engage with one another while making quality publications free from plagiarism and which are steemexclusive.
We are glad to announce that every publications that were dropped by the MODs in the last edition of the MODs exclusive post has been attended to or will be attended to in no time. Supporting the members and most especially the kids are our ultimate goal and we are achieving it little by little.
We also want to encourage all our members to please, endeavor to engage with others by making comments on their publications. To help you see the Publications easily, please join our telegram post links group
There, you can drop your post links to all the Publications you make in steemkids community and you can see the ones from others, click on them and make comments as much as possible so that your publications can also receive comments.

REWARD FOR MODERATORS
Because we want to keep encouraging all the mods that are actively working hard in the community, making comments and dropping them at the comment section of our MOD's exclusive post, we have decided to support them too.
Hence, each week, we will send 2 Steem each to all the MODS that worked for previous week, next week will be the same and continues. This is in addition to supporting all the publications they publish in the community with 100% upvote from the community account. So, if anyone is not seen, it means the mod will not receive the award of appreciation. We hope that the little gesture will assist them to carry on.
For last week, these MODs did the needful and 2 Steem each, has been sent to them all
@bossj23
@benton3
@eliany
@madilyn02
@goodybest
@peachyladiva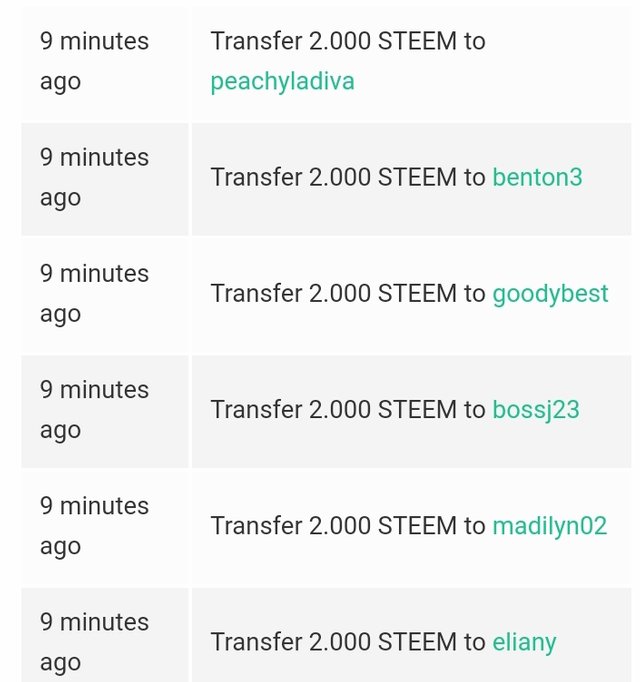 IMPORTANT REMINDERS 👇👇👇
This week is yet another awesome opportunity for us all to do our best. We encourage all members to please, comply with the announcement made in this post by @ngoenyi with regard to not upvoting oneself as we will not continue to support any user who consciously upvotes him or herself. Please, I encourage all MODs to take note of this fact.
Additionally, we want to encourage all members to take advantage of the fact that the community curators have began their curation work and make use of the specified hashtags and apply all rules as mentioned in this post by @ngoenyi. This will place us all in a good position to receive upvotes from the community curators.

WEEK #19 SUPPORT SYSTEM
Week 19 support system was awesome. We were able to support all the publications that were dropped there by the mods. It is therefore very important that the MODs try hard to drop all the publications they have left remarks on at the comment section of this new support system as we visit there regularly to upvote the links dropped. Any publication that is missed may be as a result of that. But we will keep doing our best. But this 2 Steem might vary according to the amount of work done by each mod. At our description, we might add additional steem to any who is doing the work more than the others.
Hence, for this week #19 support system,
Our support is still strictly on all who has been following all rules in our community. The MODs will continue to work hard to ensure that you are supported by checking up on your posts regularly, dropping comments on them and then drop the links under this post's comment section for the community to then support it.
What we mean is that, our hardworking MODs will comment in the publications made in our community after the post have complied with the rules of quality posts in our community.
Quality posts that are steemexclusive and use the tag: #steemexclusive. What this means is that you are only publishing this article in steemkids community and steemit alone.
The post has to be up to 300 words or above and well formatted. Markdown styles makes your publications great. Visit this achievement 4 and learn how to apply Mark down styles.
Your post must also be plagiarism free. The mod will check for it and include in the comment section of your publications whether they are plagiarism free or not.
They will also check if you have set beneficiary, delegated and joined our trail. These things are important to us because it will show that you have our best interest at heart. We too have yours at heart that is why we will see to it that we support you as much as we can.
Another important thing is that your publications must be in line with our community purpose. We are community for kids and as such, we only accept kids related contents. Visit this post for more information on content creation in steemkids community.
After all these and other things are met and the mods are ok with your publications, they will drop the publication link under the comment section of this post for our curators to visit it with support.
We hope that this arrangement will make you happy and active and as well help build your steempower so that you can support us the more

CONCLUSION
We are hopeful that this week's support system will be great and we will achieve more results and make our active members rejoice in the knowledge that we care about them.
We are always grateful to @steemitblog
and @steemcurator01 for their continues supports.
I, @ngoenyi appreciate the tireless efforts of all MODs. You can check up their activities in the last week's post below 👇👇👇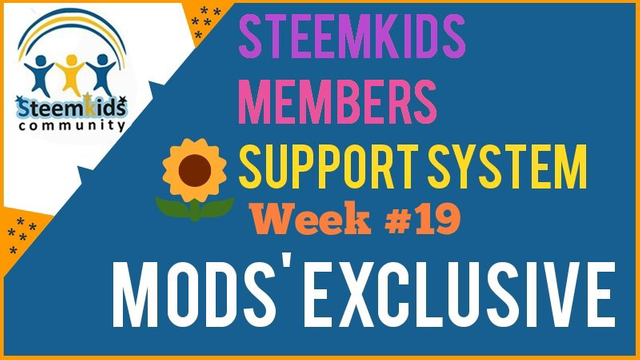 Link
I also upvoted some of your comments to encourage you all.
With this, it is possible to note the MODs that are working hard for the community. Thank you all for all your hard works. It is highly appreciated.

Support us by delegating STEEM POWER.

Best regards
@steemkids Community team


Join our discord channel:::::::Join our telegram group::::::subscribe to our community