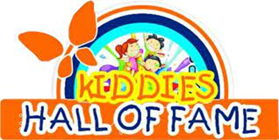 Hello kids!
Welcome to the new week of our Hall of Fame. We know you are excited and ready to join, it will really be fun. We care about you and we want you all to enjoy this community as it is for you, our lovely kids.
In the the past season of the hall of Fame, you kids did really well, and we're always receiving considerable entries from you.
Season 3 week 4
We are continuing from here with our weekly challenge for the kid celebrities. We hope to see your participation for this week. Also try to invite others to join you in participating.
Lets remember that this hall of fame is only for those verified kids that have won the kid celebrity for any month and that has been added to the hall...
Thus, only kid who have this type of label below:


Hence, the entries of those kids that have not won the kids celebrity will be disqualified.
The other kids celebrities that didn't take part for the past season, we believe that it could have been one problem or the other that made them miss the first week. But the third season will record more entries and of this we are sure.
Topic for this week
Your Favourite Outfit
This week we want you to tell us what you like about that outfit . how often do you wear it? if you have pictures, you can show
Dear kids, your opinion is very important and so we would like to hear from you. Feel free to share your thoughts....
Rules
If you can drop it as a comment under this post, no problem but we will prefer you making a full post .

It has to be steemexclusive and plagiarism will not be tolerated.

Pictures must be yours.

Set at least 10% beneficiary to steemkidss if it is a full post

If you are making a post,,. include the tags: #kidieshalloffame-S3w1
#steemexclusive #country

You must be in at least #club5050
Our Kids Celebrities
Since November 2021, our kids have been doing exceptionally well when it comes to interacting with their fellow kids. After each month of 4 weeks, the overall winner emerges who then becomes the one to win our t-shirt.
| | November, 2021 |
| --- | --- |
| | December, 2021 |
| | January, 2022 |
| | February, 2022 |
| | March, 2022 |
| | April, 2022 |
| | May 2022 |
| | June 2022 |
| | July 2022 |
@ibtisamwaqas
@kishwarsumbal
@bossj23
@chukwu10
@fortwis09
@binwaqas
@leyxi209
@geoscary21
@imohmitch
Other kids will join the rank as they win from the skids-corner project.
The race has just begun, make your way to the top
Therefore, I am calling on you all to please take part as often as you can.
Remember that it is all fun for you kids, make it as fun as you will like.
The most active at the end of the week 4 in this Hall of Fame wins the delegation from our sponsors.
Remember that we will check your activities to see how active you are in the community in terms of posts, comments and engagements.

Thanks to you all and to our sponsors
Cc: @patjewell
@chiabertrand
@ngoenyi
More sponsors are needed
We are grateful to the initiator if this event, @patjewell
Best regards.
We are also grateful to steemcurator01 and steemcurator02 for their support
@steemkids Community team


Join our discord channel:::::::Join our telegram group::::::subscribe to our community

Support us by delegating STEEM POWER.
50SP
100SP
250SP
500 Sp
1000SP
2000SP
2500SP