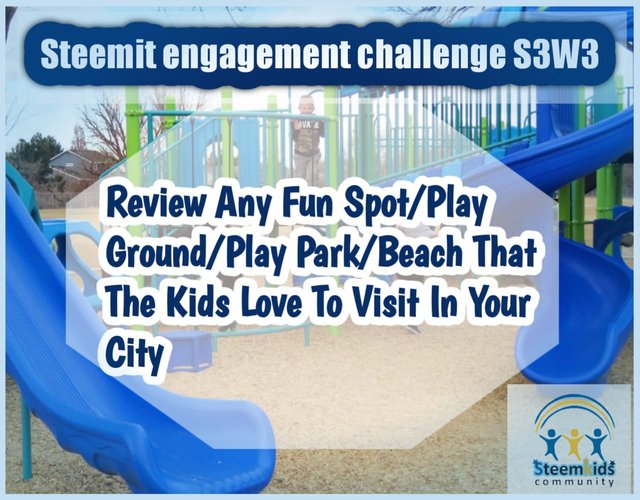 Hello dear friends, welcome to week #3, of this season #3 community engagement challenge. The second week was awesome and we received wonderful entries. We did our best to review these entries as quickly as possible which made most of these entries to receive massive upvotes from the chief curators. We are glad about these. It is yet another week and the race is on again. The winners for week #2 will soon be released.
For this week #3, we have chosen a different topic that concerns kids. What is it and what are we expected to do?
Kids love outings and they love to go to attractive places that are fully equipped with all that they can play with.
This week, we want you to review those places that the kids like to visit.
It could be any place at all, a play park, a play spot, a garden, an eatery with kids play ground, Beach and so on.
Contest Tips
In your City, do you have a play ground for kids? What is the name? What is the physical address of the play ground (Include what3words location coordinates)
Capture at least 4 play equipments there or 4 different locations including interesting sights and write about them
How much is the entrance fee in your local currency and steem equivalent
Did you visit there with the kids or have you been there before? If not, just tell us if the kids do enjoy their experience there.
Rules of the contest
✓ Publish your post in Steemkids community using any language of choice
✓You must be at least in club5050 to participate.
✓The minimum length of your post is 300 words
✓This contest will start on 00:00(UTC) Monday 01/08/2022, to 23:59(UTC) Sunday 07/08/2022.
✓Drop the link of your entry post as a comment on this post. Invite 3 friends to participate
✓Make sure to follow @steemkidss. Vote and resteem this post
✓Plagiarism of any sort will be detected and you will be disqualified.
✓Include only original images of the location.
✓Include #steemkids-s3w3, #steemexclusive and your club status among your first 3 tags.
Note: Remember that the purpose of this engagement challenge is to promote quality engagement. Visit other participants entries and engage meaningfully with them. We will check the engagements when determining our final winners
Our Review System
---
| Status Club | club100/75/100 | 2 |
| --- | --- | --- |
| Steem Exclusive | ✅/❌ | 1/0 |
| Plagiarism Free | ✅/❌ | 1/0 |
| BOT Free | ✅/❌ | 1/0 |
| Verified User In Steemit: | ✅/❌ | 1/0 |
| Markdown styles : | | 1 |
| Content Quality: | | 3 |
| Grade | | 10 |
| Voting CSI | | xxx |
| Verification date: | | 24-07-22 |
---

Periods of 1 or 2 or 3 months
CASH OUTS | 0 STEEM
POWER UPs| 720.092 STEEM
---
Contest Prize
We will award 12 steem to 3 outstanding entries in the order presented below 👇👇👇👇.
1st prize --- 6 steem
2nd prize------ 4 steem
3rd prize------ 2 steem
It is an engagement challenge and as such, you have to be outstanding to win.
NOTE: It is possible for your entry to receive upvotes from the chief curators. But it is not guaranteed. Also, the community curators can also upvote your publications if it falls within their theme. So for this contest theme, you can use #lifestyle.
Note: To help us grow our steempower, we will appreciate it if you could please set beneficiary of any percentage to @steemkidss. It is optional though. But your support will mean a lot to us. Thanks in advance for your supports. This will in no way affect your grade or review.
We, from the steemkids community wish you all the best for this week #3.