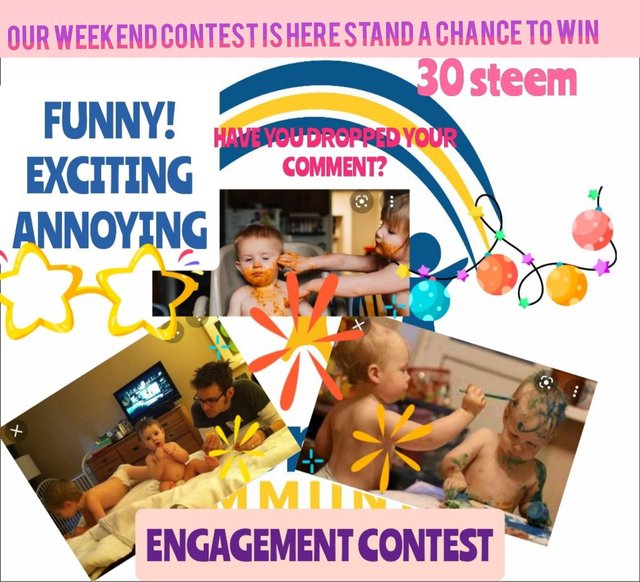 Hello dear members of steemkids community, trust you are all doing great? We were happy to see all your entries last weekend. This weekend I believe you will do more. Remember it is a comment, let's have fun this weekend together with your kids. To win, remember to observe all the rules, yes let's go
LAST WEEK WINNERS 🏆
First winner:@veronica 8 Steems
Second winner: @emmybless 6 Steems
Third winner:@anderannahysa 4 Steems
The remaining 12steems was shared among all the participants: Each person received 1.7 Steems
@patience90
@gracyakan
@joy04
@skhsohag
@saikat000
@leyxi209
@jueco
Please note that all your reward has been sent to your wallet, you can confirm this.
HOW TO JOIN
This is a comment and engaging contest where everyone both kids and those whose kids are below 13 years are expected to give us updates on how their weekend is going.
The kids will tell what annoying, funny and exciting thing they are experiencing during their weekend while the kids lovers will give us update of how the kids around them are behaving.
We can't wait to receive entries at the comment section of this post.
HOW TO WIN
We will count the number of entries you have made within the weekend, the highest participant wins. You can make entry as many times as possible. But please, try to make comments on other Participants entries. And the pictures should be real ones. Don't edit it and don't add any effects on them.
Engagement is the main reason why we have brought this contest back. So we expect to see at least one comment you make at other people's post for any entry you drop.
Remember to tell us which country you are making your entry from and what time it is there.
Can we do it????, Yes we can, let's do it
REWARD POOL- 30 STEEM
1st place- 8 steem
2nd place- 6 steem
3rd place- 4 Steem
We will then share 12 steem to all other Participants.
CONTEST RULES
Pictures must be yours and must represent what is actually going on around you as regards the kids or you our kids. Please I've observed that some people will be saying one thing but the picture depicted something else, this kind comment will be invalid

Your entries must be what is happening around you and so there must be a backup picture

Each comment must be upto 50 words

You must upvote this post, resteem it to get more popular and you must follow steemkidss

We will consider those who have joined our Curation trail and set it at 100%. We will also consider those who have Delegated to steemkidss to help us grow. To join, and delegate, please click here
Plagiarism of any kind will not be tolerated

Entry ends on Sunday 24/04/2022 by 11:59pm Nigeria time.
Please make sure you follow all the rules religiously
I wish you all success, enjoy your weekend
.
CC:
@focusnow
@brightobias
@stephenkendal
@whitestallion


Join our discord channel:::::::[join our curation trail]
(https://worldofxpilar.com/dash.php?trail=Steemkidss&i=1):::::::Join our telegram groupsubscribe to our community


Support us by delegating STEEM POWER.
50SP
100SP
250SP
500 Sp
1000SP
2500SP