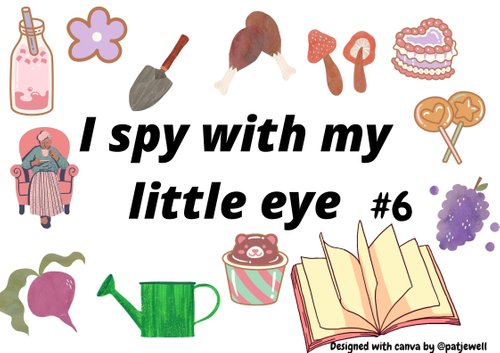 Hi kids!
Yip! It is Wednesday and I am back!
Guess what? We got a winner!
First, let's take another look at last week's clues:
1. It is a 11 letter word
2. You will find it in nature
3. It is a brown, greyish color
4. It is about 60 to 90 cm long
5. It can hurt you!
And the word is… PYCNOGONIDA
🕷 Pycnogonida is also known as sea spiders
🕷 They are difficult to see because of their color
🕷 They've got a tiny body with LONG legs
🕷 They have one eye with four parts (four tiny eyes)
🕷 They can have four, five or even six pairs of legs
🕷 The female will release +/- 100 eggs at a time
🕷 The male will gather these eggs on his legs
🕷 They are not harmful to humans but their legs can sting you
Congratulations to our winner @imohmitch who receives 4 Steem.
For guessing and trying hard to figure out the word I am giving 1 Steem to @seeger


Time for your next game!
The game is exactly like last week;
The game "I spy with my little eye" is sort of a detective game. The "spy" is the person who sees something and the rest of the players must then guess what the spy is seeing.
Of importance it must be something that you can see and not something you can feel like an emotion.
BUT, "I spy with my little eye" is so much more than just a spy game;
It is a thinking game
It teaches you how to use your logic and reasoning and
It grows your vocabulary
The contest
For today I am going to give you the letter with which the word starts plus 5 points or "clues" which you can take in consideration to figure out what the word can be.
Ready or not… let's learn, play and win!
I spy with my little eye something that begins with the letter "C".
Clues:
1. It is a 10 letter word
2. It is an electronic device
3. It is made of durable type of plastic
4. A binary code is used to process numbers
5. You have to put something in to get something out

How to participate?
You can reply on this post by posting your word or you can write an article about your word
You can only enter once
What is up for grabs?
The first correct answer will take home 2 STEEM this week.
The word and the winner will be announced next week and it there is no winner the prize will carry over until there is a winner.
Until next week, keep guessing!

@ibtisamwaqas @binwaqas @kishwarsumbal @bossj23 @madilyn02 @leyxi209 @geoscary21 @chukwu10 @dorismos @favour11 @princeifeko @yeri52 @katherine012 @fortwis09 @chimeroselam @ghani12 @wizzyboy3 @deben @tarazona14 @jlvillamizar @joymm @david-o @jueco @elyayo
10% to Steemkidss