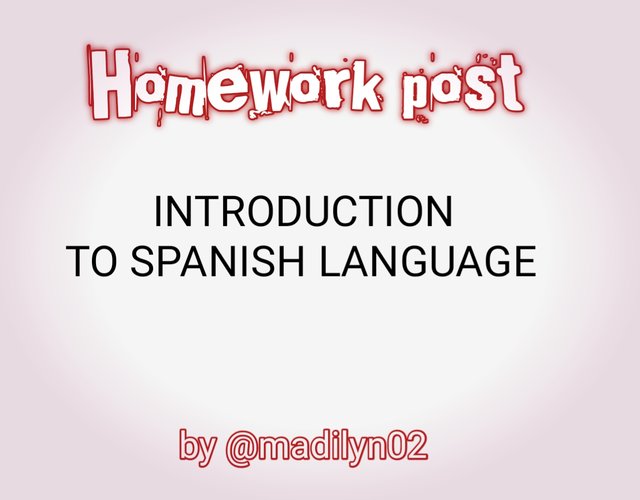 They say learning is good and acquiring knowledge is the best. In the past few weeks I've been learning a lot from the community, reading the different lessons, I've been able to acquire a lot more knowledge and I'm very much grateful for that. Thanks to all the teachers who spent their efforts to teach us.
This will be my homework post for Spanish lesson that was brought to is by @franklingcol. I will be answering all the questions that was stated in the homework. Here we go!
🛶🛶🛶🛶🛶🛶🛶🛶🛶🛶🛶
in your own words why you would like to know the Spanish language. (write from 1 to 10 how much you know about this language)
The Spanish language is very important, it is one of the most spoken languages in the world, it appears third in the list. For me, I'll love to learn the Spanish language for the following reasons:
Improve my memory
To communicate well with friends from there
To improve my career and business
Spanish is very similar to English so I believe it's an easy one to learn
Since the Spanish language is not my native tongue, I've been practicing it to learn. I listen to Spanish songs, watch tutorial videos, make use of learning app, translators, and for this reason I already know a little about the language.
I can say greetings in Spanish language, common name of individuals like Mother, Father, Sister, brother, and the rest. Also I can recognize many other phrases and some sentences.
I believe that if I continue practicing and learning and listening to Spanish speakers, I'll be learning a lot more and more so I'll be speaking the language fluently.
Write some reasons, other than those in class, why it is so important to speak the Spanish language.
Even though I feel that most of the reasons why it is important to learn the Spanish language has been covered in the lesson. I'll still add something:
Learning the Spanish language is important because spanish countries are our most important trading partners, so if one knows the language, he will better be able to build trading relationship with latin American countries.

An English tutor needed to learn Spanish to be able to teach Spanish-speakers who want to learn English.

Learning Spanish language makes it easier to travel to the Spanish speaking countries and thus be able to learn heir culture...
Write some reasons that you think might make it difficult for you to learn the Spanish language.
Learning a new language can be difficult, you not only need to learn the words and pronounce them but you also need to practice word groupings, sentence making and correct pronunciation.
For me what has been difficult in Spanish include:
Unlike in English, the Spanish language has gender. Every word has a feminine on masculine gender and so most times it's difficult to place them where they belong.
I learnt that the basic rules is that words that end with O is masculine and those that end with A are feminine, but there are also many exceptions that I've noticed.
Since I'm not a native Spanish speaker, it has been difficult to master the accents for Spanish speaking. I tend to pronounce the words the way I would pronounce English.
There is also one more thing that makes it difficult to learn Spanish, it is the irregularity of verbs.
There are verb forms that don't look like their own infinitive forms.
Most times it is difficult to know where to place the verb forms or which ones to use.
For now those are the few difficulties I found with learning Spanish, maybe I'll see more I don't know.
🛶🛶🛶🛶🛶🛶🛶🛶🛶🛶🛶
Thank you so much
@franklingcol
for offering to teach us the Spanish language. Hopefully I'll be learning a lot from the lessons.
I will like to invite my friends:
@kishwarsumbal
@ibtisamwaqas
@bossj23
To participate in the lesson.