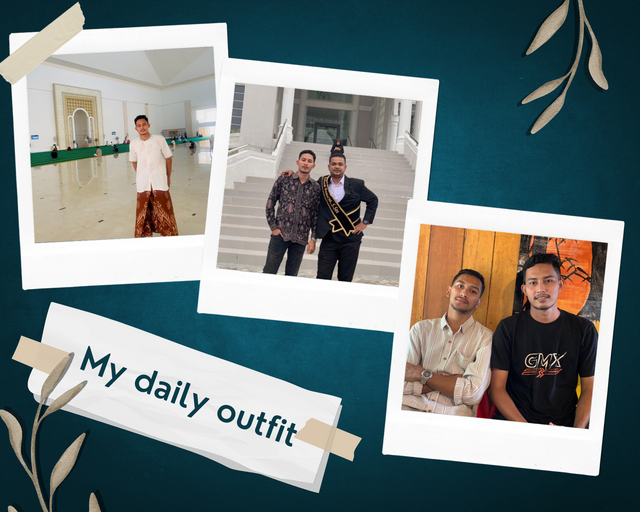 Introduction
Dear steemkidss,
My name is Ikmal from Indonesia, a student who loves to travel. Praise be to Allah for the gifts and graces given to us today, may we be in good physical and spiritual health.
This is my contest entry in the steem kids community held by adinda @madilyn02 with the theme I Love to Take Photos : My Daily Outfits. Contest with an interesting theme because here we can see all kinds of clothes used by each participant with their own culture. Truly extraordinary.
My Daily Wear No 1 : Muslim Dress
Muslim clothes are my favorite everyday clothes. The reason is because I wear these clothes when I do worship as Muslims do. Last Friday I wore this dress when I was praying Friday at the mosque.
It feels good to go to worship Allah. Muslim clothing is more suitable to be worn with a sarong rather than pants. It will look polite and dignified. In my closet I collect more Muslim clothes than shirts, batiks and t-shirts. These three types of clothes I collect a little in the closet.
My Daily Clothes No 2 : Batik
The type of batik clothes is the second choice that I wear if the Muslim clothes are still unwashed (dirty). All activities related to weddings, reunions, tahlilan and court events, graduations and graduations, I prefer to wear batik.
You can see it in the image above. Last month, I wore Batik clothes to attend an invitation to my friend's thesis trial at the Lhokseumawe City Islamic and State Institution (IAIN). Batik with a combination of black jeans and slip shoes looks cool and elegant.
My Daily Clothes No 3 : T-shirts
T-shirts are a type of clothing that is often used by most people in general with a variety of routines such as staycations, sports and light work. T-shirts are a type of replacement clothing. I usually wear it for daily activities, both indoors and outdoors. When I buy it I often choose the type of cotton material, it will be comfortable when worn.
Not long ago I was looking for fresh air with a staycation with friends to the Gunung Salak area at the D'Ground Coffee Premium cafe. At the time I was wearing a T-shirt because it was my best choice for the holidays. There I will look confident and comfortable and even really enjoy it.
Conclusion
For me to dress it does not need to be expensive. Its cheap but it makes us happy. That's really amazing because we are looking for convenience not expensive price. Not necessarily with an expensive price will make us comfortable. The type of clothes I wore above I bought it at a low price and it certainly made me very comfortable and happy.
In this contest I also invite @salim001 @gamcantoi23 @sailawana. Regarding detailed information about this contest, you can go to Link.
Best regards


Author ✍🏻
@ikmalhariamuna
Aceh - Indonesia
About me