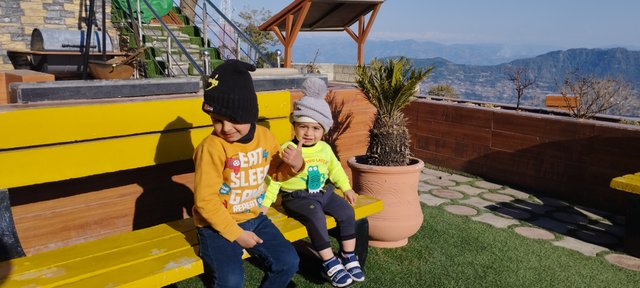 My handsome boys
Location : Lower Topa - w3w location
---
I remember, when I was a child, my father used to care a lot about my education. Whenever, we used to come back from a family trip, I had to write an essay afterwards. No doubt, I developed love for reading and writing at an early age of 7. It may seem a late age nowadays but it was a big deal then.
Now, I am a parent and I want the same for my son. He's 5 and so good at role playing and imaginative stories. You wouldn't actually believe him the kind of stories he weaves from his mind. His thought process is just incredible.
---
Today was a PTM (parent-teacher meeting) at his school. I was eager to be there and know about his performance at school.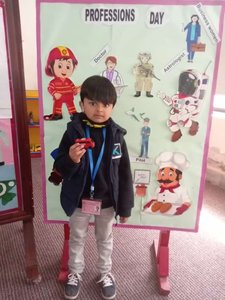 My son wans to be a Firefighter
[Profession's Day at his school]
I was pleased to know that his teacher was very happy with his performance.
My son happily showed me around the school. He's a confident and sensitive child. He's never given me hard time in any matter except eating habits of course. We love spicy food in Pakistan and he can't stand a dash of spice in his food.
Previously, I was worried about him because he was too innocent of a child. No naughty behavior at all. I had to never worry about things like electrical sockets, water, stairs and other hazardous things for children which they love to explore as a child or baby. My son always stayed away from things that he knew could hurt him. I was worried because he didn't like to play with children of his age as they act like children and were naughty. But this changed since he started going to school. He hasn't become naughty now but he keeps teaching other children to behave. XD
(My younger one is completely opposite and a naughty child. They don't both get along.)
---
So far my son's academic activities are going great and I am very happy about it.
What I do to polish more creativity and feed more curiosity in my son?
---
He can't read properly yet but he figures out most of the words himself now. Since he was a baby, he was fascinated by books so I always encouraged his interest by getting him books.
On our recent visit to the library, I let him take a book of his choice and he got a comic book.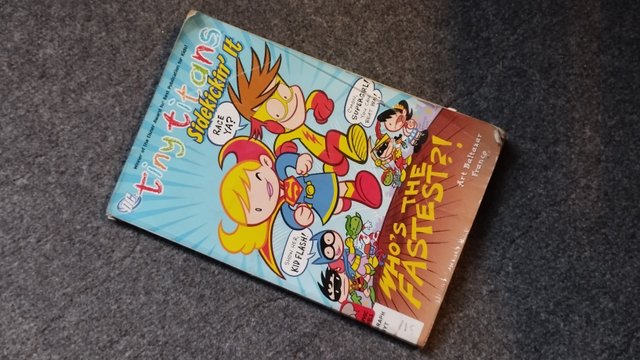 Book Name: Tiny Titans by Alt Baltazar and Franco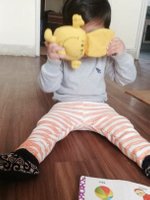 My one year old, reading
Now, I read some pages to him daily and he really enjoys this activity.
Watching us reading, my younger son who is just one year old has also developed an interest for books. He has his own books now and he acts like he is reading and understanding everything like his elder brother does. XD
---
---
I have never stopped my kids from watching TV. In this modern world of technology, it seems a little unfair to me to keep them ignorant of it.
I supervise what they watch. However, like I said my elder son is too good of a child. He has always liked best quality shows. XD
One of his favorite show is Blippi. A guy named Blippi teaches kids about different things from what a firefighter does to how different plants are grown. How an aircraft works to how raspberries are plucked and taken to the factory.
My son learned so much from this show. At the age of 3, he could tell things which many elders don't know.
I totally recommend every parent to let their children watch this amazing show. Attaching an episode so that you get an idea.
Blippi visiting a Science Museum - Click to Watch
---
Besides that, he loves painting and role playing games. I encourage him in everything and don't force him to learn anything which he doesn't like.
---
Hoping to create one better person in the form of my son.
---
Proud mommy,
event-horizon