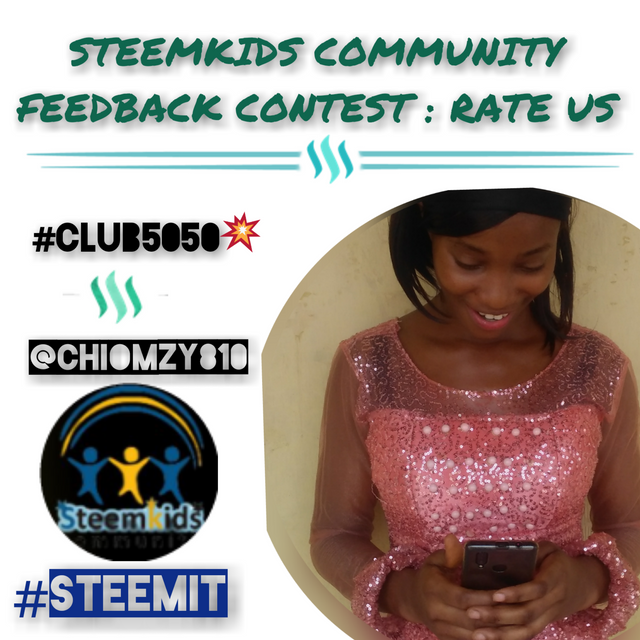 Edited With Collage Maker
---
---
Greetings!!
Hello dear friends of steemkids community, i greet you all and kindly welcome you into the new week! I believe you had an amazing weekend and a glorious Sunday . Before us is an amazing contest every member of this community should take part in, to enable us know the rank we place steemkids community, because i know indeed is a great community. Here is my contribution and ranking, would also love to review yours, Thank you!.
---
I WILL GO ACCORDING TO THE GIVEN CONTEST TIPS
---

WHAT I HAVE TO SAY ABOUT STEEMKIDS BOOMING SUPPORT


It have been so favourable so far and no favouritism attached. The supports we gain from booming is quite unique, and yours could have more increased which equally depends on the more quality of the post. As Steemkids Community still have the booming support, she (steemkidss) in her power make sure to appreciate every post that has quality and are plagiarized free. And this is a huge encouragement to its member to enable them to keep posting quality content thereby adding value to the community.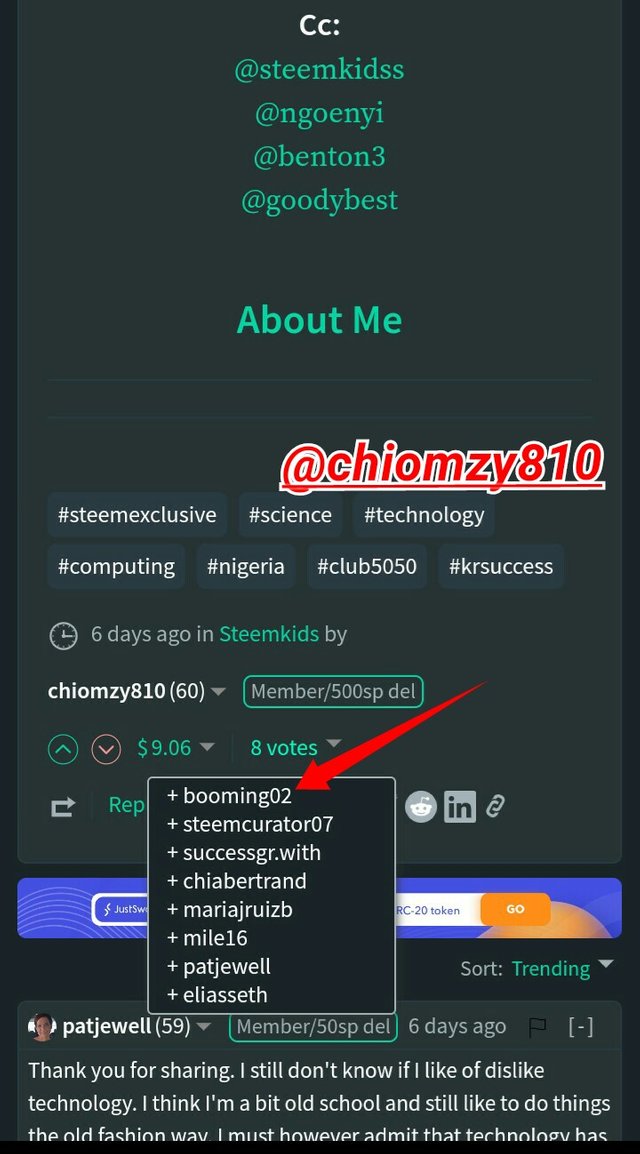 My post
---
---

WHAT I HAVE TO SAY ABOUT STEEMKIDS PROJECTS


Steemkids community is one community that i have seen so much commitment and dedication. Talking about the oriented projects that steemkids community have been building, it have been very great, encouraging and profitable to every member of the community and including the steemkids team and the community itself.
I mostly adore the on board project steemkids came up with which is the #SteemSuperSavers which encourages every steemkids member to save up by sending a weekly due of any amount of steem you wish to send, which is done yearly. I greatly applaud the managers of the account, @ubongudofot @benton3 and @chiabertrand who have tried in their power to keep updates and help the account to grow. I appreciate you all!.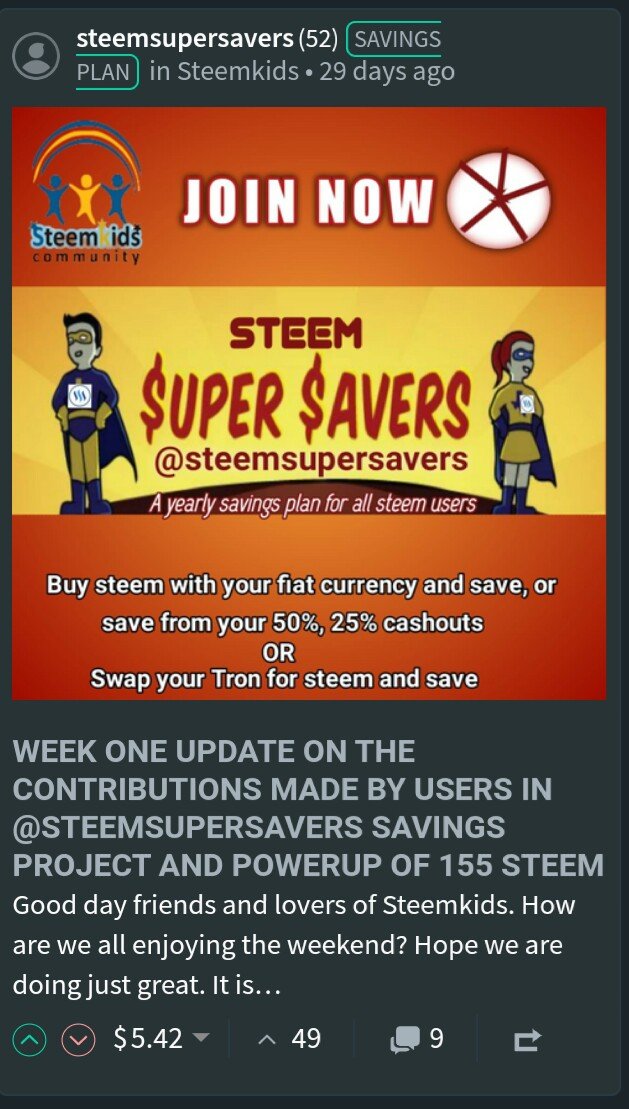 Image source
---
---

WHAT I HAVE TO SAY ABOUT STEEMKIDS COMMUNITY CURATION ACCOUNT


Accurate upvotes is been given to users according to the quality of their post, the votes from the community curation account increases when we delegate more to the community account @steemkidss. Generally the upvotes gained from the community account is cool, i appreciate their great effort. As we put heads together to grow steemkids community by considering delegating to the community and setting out some percentage of our post payout, am convinced we could get more and better upvotes.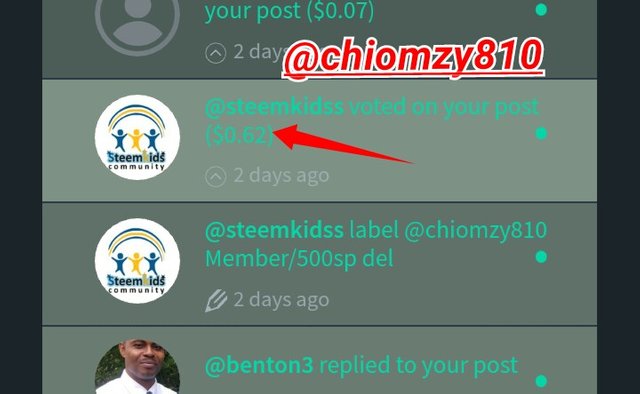 Screenshot From My Notification board
---
---

STEEMKIDS OVERALL PERFORMANCE


Overall performance of steemkids which include the steem prizes that is given out to winners of contest participants. In all, steemkidss and its team have tried in their ability and power to sustain the community with their steady commitment. There are so many ways steemkids have tried to keep the community busy and going and together including the delegation rewards that is been given to delegators every week to show appreciation and encouragement. Steemkids overall performance is recommended. Kudos to a great community!!..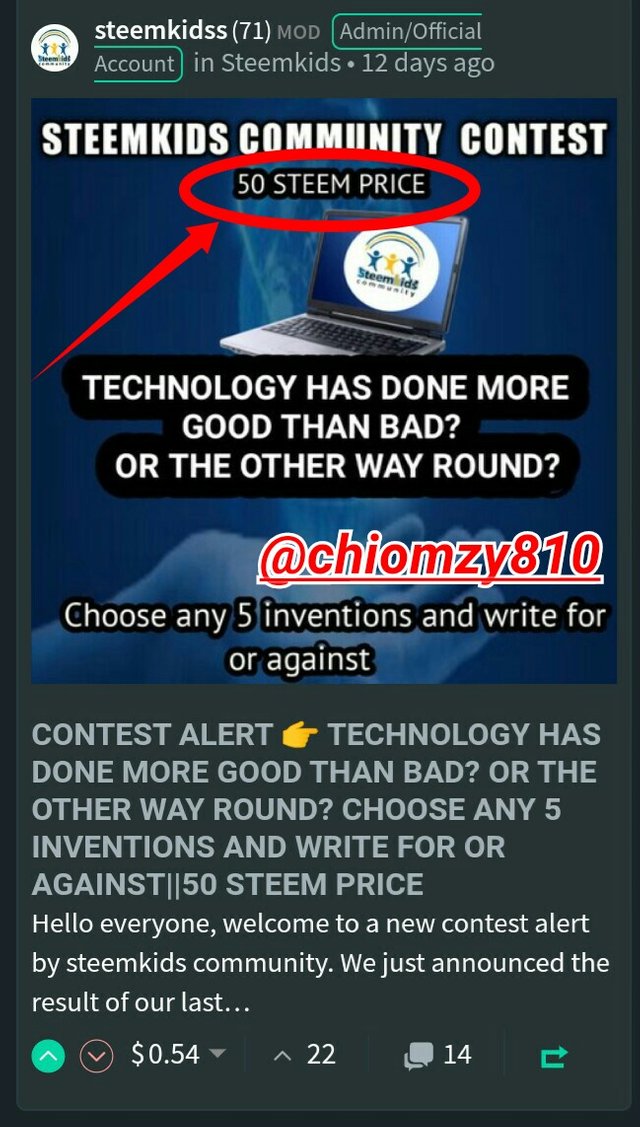 Image source
---
---

WHAT I HAVE TO SAY CONCERNING THE SUPPORTS FROM THE CHIEF CURATORS


The chief curators have shown a very huge and great support to our community but it might have not been all of us who have experienced this favour from the chief curators in steemkids community, thence, we hope and try to make more quality contents to be appreciated by the chief curators. I personally have long gotten favour from them both in this community and others, in all i just try to make more quality post to see if i can attract that favour again.
---
---

MY SUGGESTIONS FOR IMPROVEMENTS


To add up to the achievements made by steemkds community so far, i will suggest that;
Delegation should be made compulsory for old members of steemkids community and consider the newbies to gradually grow their SP and join in delegating.
I would love to see steemkidss organize a special contest for just youths of steemkids community.
---
---

CONCLUSION:
This feedback contest is truly an exposure of thoughts. As i have clearly stated my opinions & thoughts just the way i have it stored in my head. Am grateful to @steemkidss for such a wonderful contest. At least, at one point in time, we will get to be sharing out opinions concerning the community. This is really amazing!!.
I invite my dear friends @mariez , @ebunoluwani and @wonderbowy to join in this contest.
Thank you all for reading!

Here's the LINK to my introduction post

Cc:

---

---